Top Industries Thriving in Hong Kong: Opportunities for Entrepreneurs
October 17, 2023
In recent years, Hong Kong has emerged as a global business hub, with multiple industries thriving constantly in the region. This is the reason why Hong Kong is offering numerous opportunities for entrepreneurs. Hong Kong is the best place to start your business or invest in these businesses, as the return on investment is significantly higher in Hong Kong in comparison to other cities. 
The industries which are constantly thriving in Hong Kong and contribute towards strengthening the economic landscape of Hong Kong include financial services, e-commerce and retail, innovation industry, health and education industry. So, if you are planning to set up a business in Hong Kong, then there could be no better article than this. We will be discussing the top industries in Hong Kong in detail and the opportunities they offer to businesses and working professionals.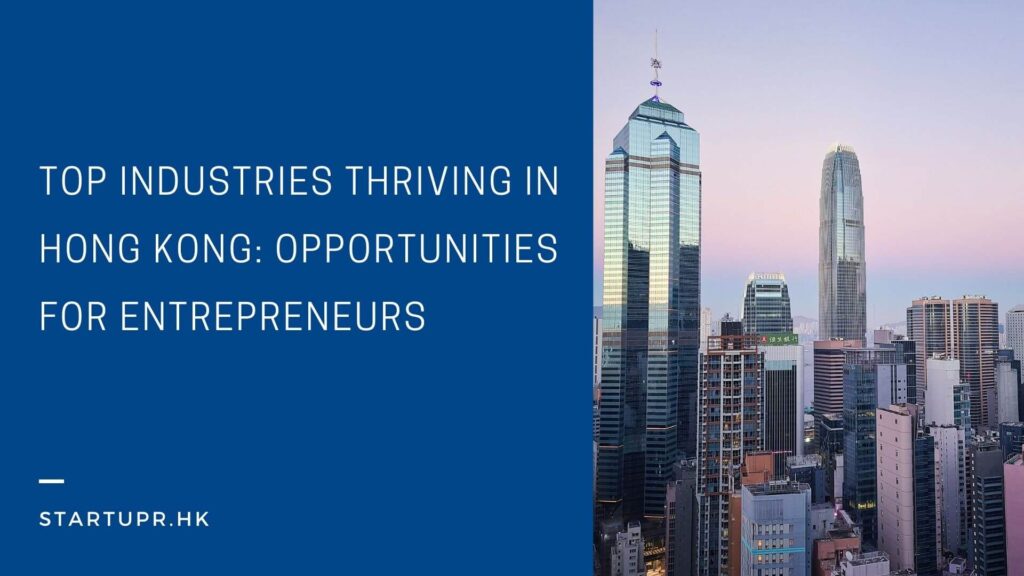 Importance of Identifying Thriving Industries for Entrepreneurial Success
Identifying thriving industries is just the tip of the iceberg of entrepreneurial success but is extremely important to achieve the goals of the business. Identifying successful sectors should be the first step when planning a business. It gives an idea of the basic requirements which would be needed to start the business and makes it more likely for your business to be prosperous if you follow the trends. Moreover, the chances of getting support from the government increase if you invest in a thriving industry, as the government will benefit from the business. So, identifying thriving industries is remarkably important for the success of a company in Hong Kong. 
Top Thriving Industries in Hong Kong 
Now, let us discuss in detail the top thriving industries in Hong Kong.
1. Financial Services and Fintech
Financial services and fintech in Hong Kong are one of the most rapidly growing industries. Hong Kong holds a strong position as a global financial hub and is counted among the top cities when it comes to providing the best financial services in the world. Hong Kong has the best infrastructure in the world and a productive business environment which helps in keeping Hong Kong at the top position as a global financial hub. 
The rapidly growing financial sector of Hong Kong attracts investors and entrepreneurs from all over the world, increasing the demand for traditional banking services. Hong Kong provides ample opportunities in conventional banking, investment and wealth management. Investing in the thriving industries of Hong Kong could be highly beneficial for investors as the odds of failure in thriving industries are exceptionally low. Additionally, the increase in the wealth of residents and businesses in Hong Kong makes wealth management services a thriving sector in Hong Kong.
The disruptive fintech startups in Hong Kong can be highly successful as the innovations they are bringing into the fintech market play a vital role in modifying the business landscape of Hong Kong. These innovations provide a competitive edge to the business, and this creates multiple opportunities for disruptive startups in Hong Kong.
2. E-commerce and Retail
The e-commerce and retail industry is among the fastest-growing sectors in Hong Kong. With robust infrastructure and cutting-edge machinery, Hong Kong has experienced an astounding surge in e-commerce adoption. Also, digital consumer trends have been one of the reasons for the rise in demand for e-commerce. The e-commerce industry in Hong Kong provides its customers with convenience and satisfaction, which positively impacts the customer's shopping experience and helps in creating a flattering image.
When it comes to online marketplaces, logistics and delivery services, Hong Kong offers numerous opportunities in these fields. Online marketplaces can be a perfect solution for expanding your business and reaching a vast number of customers. Online marketplaces provide comfort and save time for busy working professionals. With the increase in the use of online marketplaces, the demand for logistics and delivery services is also increasing. If businesses can solve the existing problems of the market and deliver services on time, they can grab the attention of the customers resulting in profit for the company.
Retail tech is also among the big players in Hong Kong that solidifies the economy of the city. With all the modern technologies and AI-centric business models, smart mirrors, digital payment solutions, smart fitting rooms, virtual try-ons and many other technologies are improving the retail market of Hong Kong. These innovations and personalized services furnish customers with innovative customer experiences.
3. Technology and Innovation
Hong Kong's commitment to technological advancement has helped it to earn the reputation of a global innovation hub. The world-class infrastructure, robust legal framework, supportive government and innovative research institutions have fostered a strong base for the technology industry in Hong Kong. The commitment to technological advancements is why Hong Kong stands at the top in the field of innovation and technology in the world. 
Being a tech hub, Hong Kong provides ample opportunities to businesses and professionals operating in AI, IoT, cybersecurity and cloud computing. AI is one of the most useful technologies which can help with managing businesses in a better manner. The support it provides in healthcare, bill management, logistics, finance and education makes it a thriving industry in Hong Kong.
IoT is also among the thriving industries in Hong Kong, which helps to connect with several devices at a time smartly and enhances the experience of the customers. With the digitalization of businesses, the need for cybersecurity can never be neglected. Cybersecurity is in high demand in the market as it can protect essential data and information from potential cyber-attacks. Cloud computing provides scalability to businesses and orders global access and cost-effectiveness, which helps create numerous jobs for cloud engineers and architects.
With the visible growth of technology and its importance, the government is also showing faith in tech startups in Hong Kong. The Hong Kong government is supporting tech startups and has launched various funding schemes for tech startups. One such funding scheme is Innovation and Technology Funds (ITF) which facilitates startups with the funds to support them financially. 
4. Health and Biotech
The health and biotech industry has shown an unpredictable surge in Hong Kong's business landscape. With the rise in health awareness and the aging population, there is no doubt that the demand for healthcare products and services is increasing. This demand has led to betterment of the healthcare services and the fabrication of an improved healthcare system. Health and biotech industries in Hong Kong are working day and night to meet the requirements of the residents and provide high-quality services to them.  
The healthcare system in Hong Kong has been exceptionally good at adopting modern healthcare facilities and equipment. Telemedicine has evolved as a game-changer in the health industry and provides the convenience of treatment and consultation remotely. Healthtech in Hong Kong is facilitating healthcare workers with modern technology, including wearable devices, AI-driven machinery and digital healthcare monitoring. Moreover, everyone needs to have the best healthcare services, which require advanced medical devices and builds opportunities for medical device manufacturers. 
Hong Kong has been a hub for biotechnology and pharmaceutical research in recent years. The support from the government and research institutions makes biotech a growing industry in Hong Kong. Modern molecular research, genetic modification, medicine development and drug studies have caused Hong Kong's biotech industry one of the biggest and most successful industries in the world.
5. Education and EdTech
The education industry in Hong Kong is experiencing a booming demand for quality education and lifelong learning. The residents of Hong Kong have realized the importance of quality education in this competitive world which is resulting in the establishment of high-grade educational institutions. These institutions provide valuable life skills and learnings that are required to survive in this world. 
Online learning platforms, language education and skill development courses provide a plethora of opportunities to employees. Being a global business hub, Hong Kong needs to have the best workforce, which needs educated and well-learned employees. Online learning platforms provide access to global courses and teachings. Furthermore, the competitive landscape requires a multilingual workforce which could be achieved through language education. Lastly, skill development helps you to regularly learn new things, which keeps you at the forefront. 
The integration of technology in the education sector has revolutionized the way of learning. Edtech has played a critical role in changing the educational landscape of Hong Kong. The use of digital tools and learning platforms has allowed students to learn from a wide range of resources and develop the skills which are needed in this digital era.
6. Tourism and Hospitality
Finally comes the tourism and hospitality industry. As Hong Kong is a major tourist destination in Asia, the tourism industry of Hong Kong is a rapidly growing industry. It has been effectively strengthening the economy of Hong Kong. The perfect blend of culture and modernization can be seen in Hong Kong. The skyscrapers of Hong Kong, lively marketplaces and cultural festivals make Hong Kong an ideal tourist destination.
Hong Kong is known for its modern infrastructure globally and has an image of a travel hub. The travel tech industry offers several opportunities to businesses ranging from infrastructure construction to modern vehicle manufacturing. Accommodation in Hong Kong shows the perfect mixture of traditional values and modern facilities. The accommodations and travel tech industry thrive on the personalized experiences in Hong Kong.
Hong Kong has been catering to the evolving needs of travelers post-pandemic. Hong Kong has issued several guidelines for travelers in public places. The awareness of contactless payments, safety measures, and virtual tourism has helped businesses to comply with the needs of travelers post-pandemic. Public areas and accommodations are kept in special care to ensure the safety and health of travelers.
Start Your Thriving Venture with Startupr's Expert Company Formation Services!
Hong Kong is a global business hub that provides all the facilities required to thrive in a business. These thriving industries furnish entrepreneurs with ample opportunities. Some of the top booming sectors in Hong Kong include financial services and fintech, e-commerce and retail, technology and innovation, health and biotech, education and ed-tech and tourism the and hospitality industry. So, if you are an aspiring entrepreneur and want to set up a business in Hong Kong, then these are the industries in which you can invest or set up a business related to one of them. 
Moreover, if you need an expert in company formation, then there could be no one better than Startupr. If you want to start your thriving venture, then use Startupr's expert company formation services and get desired results. Startupr can help you form a company efficiently and cost-effectively. Startupr deals with hectic administrative work so that you can concentrate on growing your business. Startupr's backend software sends you regular reminders of the important filings and uploads important documents to your online account so you don't miss any deadlines.