Rise of Fintech Startups in Hong Kong: Opportunities and Challenges
August 30, 2023
Being a tech hub, Hong Kong has been successful in adopting different technologies, and one among those is Fintech. The term fintech refers to financial technology, which includes all the mobile applications, software and other technologies built to improve the conventional forms of finances and enhance customer experience. Fintech covers different aspects of finances comprising blockchain, cloud computing, deposit, investment management and many more. 
Fintech provides numerous opportunities for entrepreneurs and investors, but it also comes with some challenges too. If you are planning to start a fintech startup in Hong Kong, then you must not leave this article unread. We will be further discussing the opportunities and challenges in detail in this article, so stay with us till the end to get complete information about fintech in Hong Kong.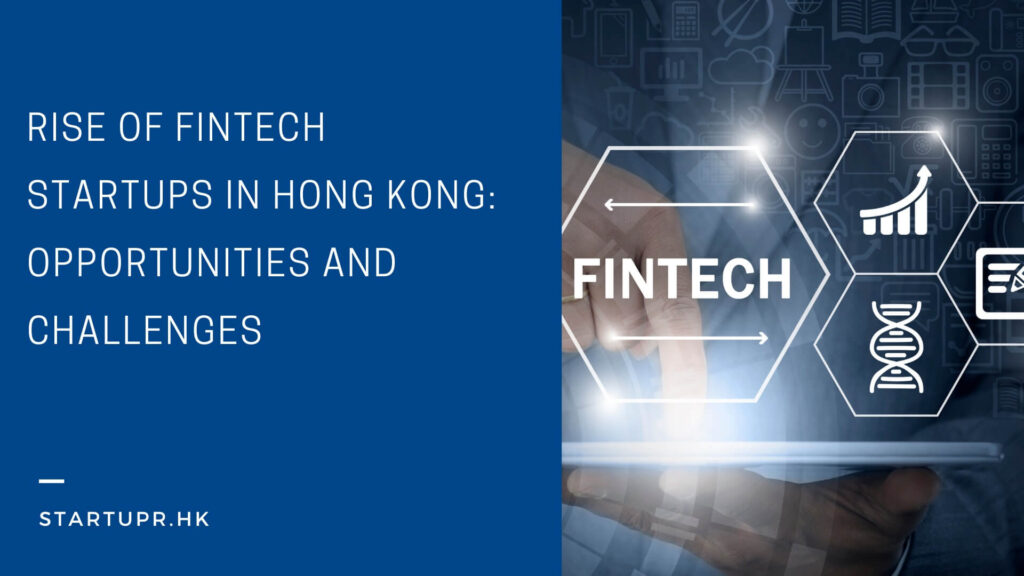 Fintech Landscape in Hong Kong
In the past few years, Hong Kong has emerged as a highly advanced city in terms of financial technology. The rise of fintech in Hong Kong can be understood by looking at the improvements it has made in its financial infrastructure. Fintech is a term made from a combination of two words which are financial and technology. Fintech is currently being used in various industries ranging from payments to blockchain and cloud computing to investment management. Fintech is being widely used for different finance-related works in Hong Kong and all over the world. 
As Hong Kong is a highly advanced city which can adapt to new technologies very smoothly. Moreover, Hong Kong acts as a gateway for international entrepreneurs and investors who are willing to enter the Chinese and Asian markets. This gives a slight advantage to Hong Kong, due to which it attracts international businesses and continues to grow. Due to these reasons, Hong Kong has become a fintech hub in the region. Being a fintech hub benefits Hong Kong in many ways and is important too. As many international entrepreneurs want to establish their startups in Hong Kong, so, Hong Kong being a fintech hub helps them to easily do so because the difficulties of financial management can be easily tackled with the help of financial technologies.
Furthermore, the scope of fintech in Hong Kong is extremely promising. Hong Kong has a vigorous financial infrastructure, and combining it with the tech-savvy population and support from the government makes Hong Kong a fintech hub. The advanced technologies in digital payments and AI-driven finances make Hong Kong a perfect place to invest in fintech startups.
Opportunities for Fintech Startups in Hong Kong
Hong Kong is rising as a fintech hub in the region and might continue growing at a rapid pace. In that case, Hong Kong is providing several opportunities for fintech startups. Some of these opportunities are listed below.
Digital Payments and Mobile Banking Solutions
Hong Kong provides a firm ground to the fintech startups willing to invest in the digital payments and mobile banking solutions industry. As the demand for secure and convenient financial services is increasing day by day, the doors to success are wide open for startups. 
Wealth tech and Robo-Advisory Platforms
The rapidly growing fintech industry of Hong Kong offers multiple opportunities for wealth tech and robo-advisory platforms in Hong Kong. The startups that provide services in wealth management and investment advisory might have a high chance of success. If entrepreneurs wisely use the current situation of fintech in Hong Kong, they can become successful effortlessly.
Insurtech Innovations and Opportunities
The insurtech industry is a rapidly growing industry in Hong Kong and is providing ample opportunities to both local and global entrepreneurs. Several innovations are being made in the insurtech industry, which is making insurance procedures in Hong Kong smooth. Also, the insurtech startups in Hong Kong are capitalizing on blockchain, artificial intelligence and data analytics to make the insurance process smooth and improve the experience of the customers.
Regtech Solutions for Compliance and Risk Management
Regtech startups are effectively changing the regulatory strategies in Hong Kong. Regtech stands for regulatory technology, which includes digital and advanced tools and software which help manage the increasing demand for regulatory compliance commitments. Both big and small companies are investing in regtech to save their time and money. Moreover, regtech is also beneficial in risk management, so the resources which were being used for regulatory compliance can now be used in other areas.
Open Banking and API-Driven Ecosystems
Open banking startups have a vast amount of opportunities in the dynamic API-driven ecosystem of Hong Kong. The growing fintech industry of Hong Kong provides a perfect platform for open banking and an API-driven ecosystem. The coalition between conventional financial institutions and prospering innovative startups furnishes a wholesome landscape for entrepreneurs and investors who are willing to invest in the open banking industry. Moreover, the API-driven ecosystem helps in connecting many microservices, which reduces the hectic work of using multiple software for multiple works.
Government Support and Regulatory Framework
Hong Kong's regulatory framework has always been extremely supportive of fintech startups. Hong Kong is exceptionally good at adapting new technologies, and this has benefited the growth of the fintech industry in Hong Kong. The Fintech Facilitation Office (FFO) was established by Hong Kong Monetary Authority (HKMA) in 2016 to nurture the fintech industry in Hong Kong and publicize Hong Kong as a provincial fintech hub. 
The FFO is working in collaboration with other sections of HKMA to improve the fintech landscape in Hong Kong and provide a better platform for entrepreneurs. The Fintech Association also has a significant role to play in the success of fintech startups in Hong Kong. Besides the Fintech Facilitation Office and Fintech Association, universities in Hong Kong have been incredibly useful in promoting Hong Kong as a Fintech hub. Some universities offer fintech programs that encourage many more people to be a part of the vast fintech industry.
The Hong Kong government has also taken many initiatives to make Hong Kong a fintech hub. The Hong Kong Monetary Authority (HKMA) has brought up many programs for fintech startups, including Virtual Banking Licenses and a Faster Payment System (FPS), which prompts the city to adopt the advanced technologies. The Securities and Futures Commission (SFC) has also introduced a Regulatory Sandbox which facilitates startups to test and perform experiments on their products in controlled circumstances.
Challenges Faced by Fintech Startups
With opportunities, challenges do come, and the same is the case for fintech startups. Fintech startups might face some obstacles while establishing themselves. So, let us discuss these challenges in detail.
1. Regulatory Compliance and Licensing Requirements
Regulatory compliance is the rules, regulations, specifications, laws and guidelines which an organization needs to follow to operate anywhere. Fintech startups also need to adhere to these laws to work smoothly in Hong Kong. Standing as a global financial hub, fintech regulations in Hong Kong are quite strict to guarantee the protection and privacy of customers' data and maintain financial stability. The fintech activities in Hong Kong are monitored by HKMA and SFC. They have issued multiple guidelines for licensing requirements for fintech startups. These guidelines may be different for every fintech startup, depending upon the services they provide. The licenses for fintech startups include digital asset exchange, payment processing, virtual banking and many other licenses.
2. Talent Acquisition and Competition for Skilled Professionals
Fintech startups in Hong Kong face intense competition for talent acquisition. Recruiting talented professionals can be a challenging job for fintech startups due to the rapidly growing fintech market in Hong Kong. Companies are trying to attract skilled professionals by offering them several growth prospects and a productive work environment. Qualified professional may also have to face fierce competition to get hired in a promising fintech startup because, due to the expansion of the fintech industry in Hong Kong, many professionals are trying to enter the fintech industry. So, the competition in the fintech industry is increasing every day.
3. Cybersecurity and Data Privacy Concerns
Another challenge for fintech startups could be cybersecurity and data privacy concerns. With the development of the fintech industry in Hong Kong, the threat of cyber-attacks has risen. The fintech companies hold sensitive financial data of the people, so they could be an easy target for hackers and cybercriminals to extract the personal financial data of people. To protect the data and counter these attacks, the fintech startups must follow all the laws and regulations issued by the primary regulators HKMA and SFC and should impose strong encryptions on the data and conduct regular security checkups.
4. Market Competition from Established Financial Institutions
The next big challenge that might be a concern for fintech startups is the ferocious market competition from established financial institutions. These financial institutions have a well-established customer base and brand value, and entering their domain could be a challenging task for new startups. But with an organized business plan and innovative ideas, the fintech startups can give tough competition to these established financial institutions.
Internationalization and Global Opportunities
Hong Kong acts as a doorway for the international market to enter mainland China and Asia and this immensely benefits Hong Kong in building a strong financial infrastructure. Hong Kong's strategic location provides access to expand the business beyond Hong Kong in a less problematic manner. The connections between Hong Kong and other global regions provide a perfect base for startups to expand their business globally. 
Moreover, the international policies of Hong Kong and the ease of doing business in Hong Kong attract investors from all over the world. The uncomplicated tax laws lure International businesses to start their business in Hong Kong and due to these reasons companies from all over the world are establishing their business in Hong Kong which increases the chances for international partnerships and collaborations for startups. 
Ready to Launch Your Fintech Startup in Hong Kong? Partner with Startupr Today!
With the advancement of the financial environment in Hong Kong, companies are using fintech to protect and better manage their finances. And due to these advancements, Hong Kong has emerged as a fintech hub in the region. The Hong Kong fintech ecosystem is continuously improving its financial infrastructure by adopting financial technologies. This has given a boost to the opening of many fintech startups in Hong Kong. 
Fintech startups have many opportunities in Hong Kong but may face as many challenges too. So, if you want to avoid these challenges up to an extent, then there could be no partner better than Startupr. Startupr can provide the best guidance to launch your fintech startup and grow it in Hong Kong. Startupr can help you in completing all the required procedures and set up a fintech startup in Hong Kong without any difficulties.