Why is Hong Kong an Ideal Location for Starting Your Global Business?
September 27, 2023
If you are an entrepreneur and someone tells you to open your business in Hong Kong, then you must be thinking of why you should choose Hong Kong for your business. But here's the catch, in recent times, Hong Kong has emerged as a global business hub and helped uncountable companies to rise globally.
Hong Kong has several factors that make it an ideal location for starting your global business. So, if you want a detailed explanation of why you should create a business in Hong Kong, this is the best article. All the factors that make Hong Kong a global business hub and could help you grow are mentioned below.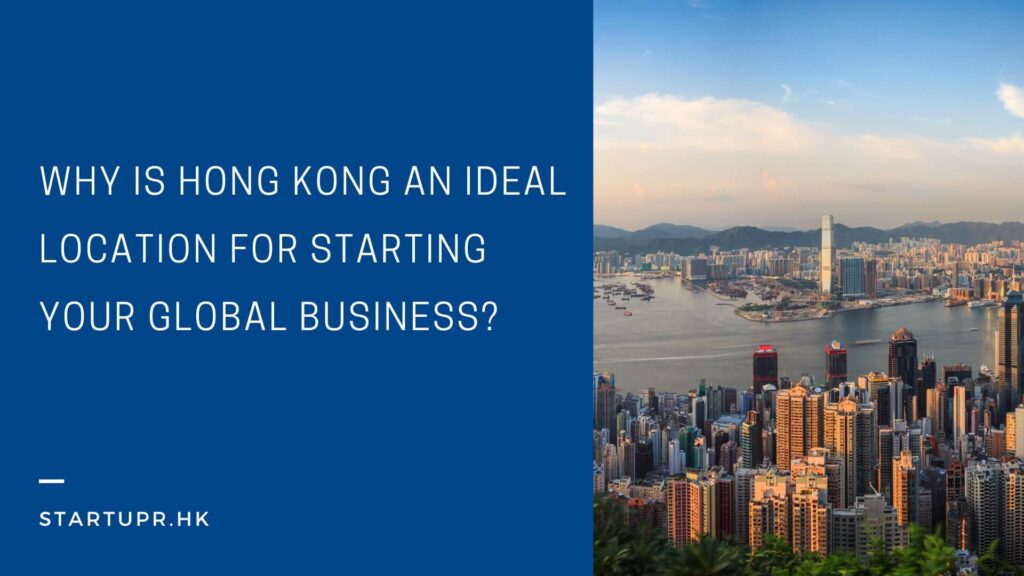 Hong Kong: Global Business Hub 
With regards to ease of doing business, Hong Kong is counted among the top nations in the world. With a robust infrastructure, effective connectivity and a productive workforce, Hong Kong has achieved the status of a global business hub. Hong Kong's strategic location, low taxation, business-friendly environment, initiatives taken by the government and funding resources have helped Hong Kong to earn a reputation as a global business hub.  
Strategic Location and Connectivity
The first factor is Hong Kong's strategic location and connectivity.
Hong Kong's Proximity to Major Asian Markets – Being situated in the heart of Asia's high-growth economies, Hong Kong is the best place to start your business. Hong Kong acts as a gateway to enter the Asian markets and helps to establish your business in the vast Asian market. Hong Kong is the perfect place to start your business if you want to enter into the major economies in Asia. 
World-class Transportation and Logistics Infrastructure – Hong Kong has a world-class transportation and logistics infrastructure with all the major technological advancements in the transportation industry. Hong Kong's transportation system acts as a backbone for the workers and employees that help in making Hong Kong a global business hub. The advanced roads, bridges and other transportation infrastructure give Hong Kong the stature of a world-class city.
Access to a Vast Network of International Trade Routes – The strategic location of Hong Kong provides you with access to a vast network of international trade routes. Free trade agreements with several countries and world-class ports and airports play a significant role in making Hong Kong an excellent choice for starting your global business.
Business-Friendly Environment
The second factor that contributes toward making Hong Kong an ideal place to start your business is the business environment in Hong Kong.
Low and Simple Taxation System – Tax is one of the major facets to consider when choosing a place for your business, but Hong Kong saves you from worrying about it. Hong Kong has one of the lowest taxes in the world and has only three direct taxes, which are salaries tax, property tax and profits tax making Hong Kong's taxation system highly simple and understandable.
Free Trade Policies – Hong Kong has signed free trade agreements with various nations which cut down import and export duties allowing businesses from all over the world to enter Hong Kong without the fear of high import or export charges. These free trade policies attract entrepreneurs and investors from around the globe to invest in the Hong Kong market. 
Transparent and Efficient Legal System – Hong Kong has a transparent and efficient legal system that operates fairly and equally for everyone. This gives a fair chance to every business to grow according to their skills and ideas and provides stability to the market. The legal work in Hong Kong is done in Chinese and English, which makes it comprehensible for international investors too.
International Financial Center
The third factor is that Hong Kong is an international financial center which gives it various advantages.
Access to International Capital and Funding Sources – Being a global financial hub, Hong Kong has access to international capital, which means that it can receive financial assets such as cash, stocks and bonds from across the globe. It also furnishes Hong Kong with multiple funding sources allowing entrepreneurs to focus on starting their businesses and growing effectively without worrying about funds.
Availability of Various Financial Services for Businesses – Hong Kong offers various financial services to businesses that help a business to establish itself in Hong Kong and grow globally. With an advanced banking sector which comprises multiple local and international banks, financial services can be utilized effectively. These financial services include investment services, risk management and wealth management services and insurance services. 
Supportive Government Initiatives
The fourth factor that makes Hong Kong an ideal location for starting a global business is the initiatives taken by the government.
Hong Kong's Commitment to Supporting Startups and Entrepreneurs – The Hong Kong government has shown immense support to startups and entrepreneurs and provided them with the best facilities. The Hong Kong government has launched diverse programs for entrepreneurs to support every kind of business. These programs include mentorship programs, networking events, funding programs and co-working spaces which fulfill all the needs of a business.
Government Funding Programs and Grants for Innovative Ventures – The Hong Kong government offers several government funding programs and grants to support innovative ventures. Technology Startup Support Scheme for Universities (TSSSU) and the Innovations and Technology Fund (ITF) are two funding programs among various other programs that provide financial support to innovative ventures. These programs allow entrepreneurs to work on innovative projects without worrying about funds. 
Incubators and Accelerators Fostering Business Growth – Incubators and accelerators play a crucial role in the growth of a business in Hong Kong. Incubators and accelerators furnish startups with resources, mentorship, co-working spaces, access to professionals and networking opportunities which help entrepreneurs to learn and grow their businesses. Incubators and accelerators are constantly strengthening the startup and business ecosystem of Hong Kong.
World-Class Infrastructure and Talent Pool
World-class infrastructure and talent pool is the fifth and one of the most important factors in choosing Hong Kong as a business location.
Modern Infrastructure and State-Of-The-Art Facilities – Hong Kong provides one of the best cutting-edge infrastructure in the world and state-of-the-art facilities. With skyscrapers standing high in the sky and a well-connected transportation system, Hong Kong has become a top priority for businesses and families. Moreover, the state-of-the-art education and healthcare facilities make Hong Kong a highly attractive place to live.
Highly Skilled and Multilingual Workforce – Hong Kong has a talent pool which is second to none. With highly skilled and educated employees, businesses can thrive without difficulties. The 18-year free education system plays an important role in forging the exceptional skill set and multilingual talent in the employees. With a highly skilled and multilingual workforce, businesses can grow globally without any language barrier.
Ease of Recruiting Both Local and Global Talent – The favorable business conditions and vibrant market allows industries to recruit talent both locally and globally. Legal operations being conducted in English and Chinese attract talent from all around the globe and provide equal chances to both local and international talent. Also, the simple tax regime and high safety standards earn Hong Kong the respect it gets.
Global Reputation and Credibility
The sixth factor that makes Hong Kong an ideal location for starting your global business is its global reputation and credibility.
Hong Kong's Reputation as a Trusted and Stable Business Jurisdiction – Hong Kong has earned the reputation of a trusted and stable business jurisdiction. With the least intervention in business operations from the government, a well-organized financial sector and a transparent legal system allow all businesses to expand fairly. The simple tax laws and robust legal framework support and protect the rights of businesses.
Enhancing Credibility with International Clients and Partners – Hong Kong has signed multiple bilateral and multilateral agreements with global economies and is constantly strengthening its relationships with other countries. The free trade agreements and strong legal framework builds a sense of trust towards Hong Kong by other countries and enhances the credibility with international clients and partners.
Leveraging Hong Kong's Image for Business Expansion – The highly reputed image of Hong Kong might be leveraged by entrepreneurs to expand their businesses beyond Hong Kong. The reputation of Hong Kong also provides entrepreneurs with ample international funding and investment opportunities and helps them to collaborate with global players to expand their business.
Cultural and Social Advantages
Lastly, the cultural and social advantages of Hong Kong play a critical role in making Hong Kong a global financial hub.
Embracing Multiculturalism and Diversity – Hong Kong has been exceptionally good at embracing multiple cultures, which furnishes diversity to Hong Kong. The strategic location at the crossroads of East and West allows people from different cultures to bring uniqueness to the city and be a part of Hong Kong's vibrant culture. This is the reason why Hong Kong is such a diverse city and has emerged as a cultural hub too. 
Business Etiquette and Cultural Considerations for Successful Ventures – Business etiquette and cultural considerations are extremely important for successful ventures in Hong Kong. Some basic business etiquette includes professional dressing, promptitude, networking, business cards and politeness. However, the cultural considerations which must be taken into account are avoiding gifting any sharp objects and clocks, learning Chinese dining customs, avoiding public humiliation and respecting their language.
Quality of Life and Work-Life Balance in Hong Kong – Hong Kong offers a quality of life to its residents and is continuously working on maintaining the work-life balance in Hong Kong. With modern infrastructure and connectivity, Hong Kong also keeps you close to nature, providing a relaxing and soothing environment. Initiatives like flexible work times and family-friendly policies help in maintaining the work-life balance in Hong Kong. Different entertainment and cultural events help residents to enjoy their life and take a break from their fast-paced work life.
Partner with Startupr for Seamless Global Expansion!
Hong Kong has evolved as a global financial hub and has shown the potential to be the best in the world. The strategic location, business-friendly environment, simple tax system, supportive government initiatives, world-class infrastructure, skilled workforce, free trade policies, funding and investment opportunities and global reputation make Hong Kong an ideal place for starting your international business.
If you want to expand your business globally, then there could be no better partner than Startupr. Startupr offers seamless global expansion opportunities. And with the experience and expertise of Startupr, you can set up your business in Hong Kong and expand it all over the world. Startupr offers a variety of facilities which allows you to focus on growing your business. Startupr takes care of the tedious administrative work providing you with essential time to think of innovative ideas to thrive your business.