Tips & Resources to Fund Your Hong Kong Startup
October 17, 2018
Having an excellent idea and great products may seem like the most important things to strive for when setting up a new business in Hong Kong. But as the saying goes, knowledge is power, and obtaining knowledge about the local startup system and gathering useful tools and resources might be the key to develop the optimal strategies to get your startup off the ground.
If you are starting a new business in the competitive business world, there comes a time when you encounter capital problems. So the million-dollar question is, how do you solve these capital problems for your Hong Kong startup funding? With the rise of government initiatives, co-working spaces, accelerator programs and incubators over the last couples of years, it is evident that the startup scene in Hong Kong is booming.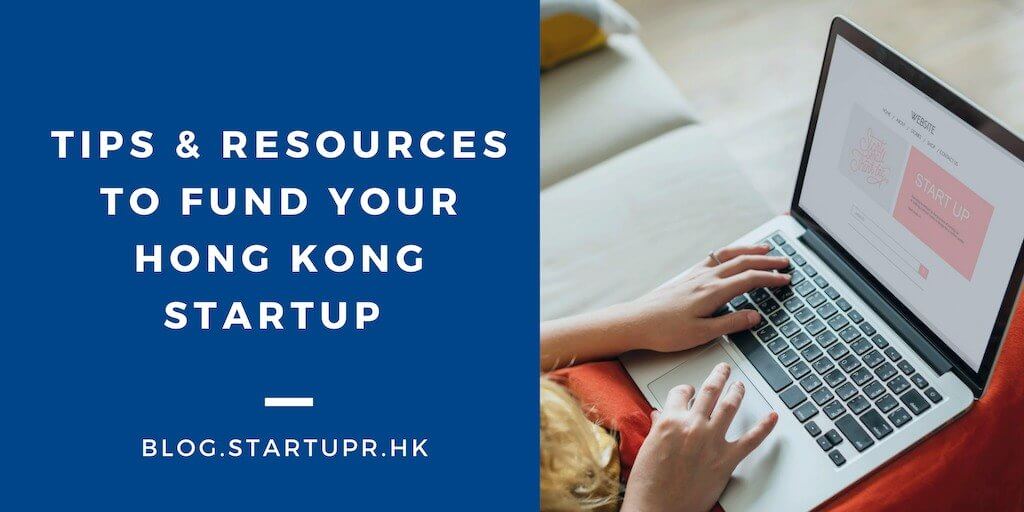 As per recent statistics, the number of startups showed an increment of 24%, a 41% increase in the number of staff working in startups, and a 26% increase in workstations. In fact, Hong Kong has been ranked 5th for the fastest growing startup ecosystem according to the Global Startup Ecosystem Ranking research.
Whether you are thinking to start a new startup in the freest economy of Hong Kong or looking for Hong Kong startup funding, with the great support of the government, and the thriving startup community, you can save a lot of time for your company. Below is the rundown of a few of the resources available in Hong Kong that you should order to grow your business.
1. Government Support
The first and foremost resource for Hong Kong startup funding is the government support, which is committed to strengthening and growing the startup ecosystem. The government of Hong Kong is helping many startups and SMEs in order to realize their vision and take their business to the next level with their support and available resources.
So if you want to develop your business and seek help for fundraising, browse the government websites of Hong Kong and find out more about the different funding schemes available for SMEs. Connect with investors and get advice on everything from set-up to expansion and maintenance. To be precise, you can also take help from InvestHK, which is a government department in Hong Kong, set up for the festival showcases and celebrate Hong Kong's startup ecosystem. This is an excellent opportunity to connect and get startup advice from veteran entrepreneurs.
2. Incubators and Accelerators Programmes
Another way to raise Hong Kong startup funding is by incubator and accelerator programmes. Accelerators are tailored to provide you with the ultimate support on your entrepreneurial path to success and scaling your business, whereas incubators are focused on developing and innovating new ideas and goals for disruption of the existing company.
Being a part of these popular programs in Hong Kong can be your best choice because they will provide you with the mentors and a support network, which is an excellent resource for getting advice on your small business. There is an increasing number of accelerator and incubator programmes in Hong Kong, focusing on different areas. You are one step closer to executing your brilliant idea. Below are some accelerator and incubator programmes for Hong Kong startup funding. Take a look and see which one fits you best.
Smart-Space launched Cyberport community in order to help the technology startups for growing or entering into the gateway of Mainland China and Asian markets. It is running from a state-of-the-art IT platform and an innovative digital community with close to 900 tech companies.
Cyberport is very flexible and has easy-to-access programmes which enable business ventures to rent ready built facilities on terms, from 1 to 12 months, for a fixed price. It is focused on developing the startups and entrepreneurs primarily in Big Data/AI, E-Commerce, FinTech, and loT Wearables to grow Hong Kong into a "Smart City."
Ablaze is an accelerator program which is a newly launched program by Ablaze Idea Lab in partnership with New Media Group and focusing on Hong Kong startup funding. This program is beneficial for those startups who are looking to venture in industries such as restaurants, fashion, beauty, traveling, and parenting, and aims to nurture startups in the online media and consumer marketing segment.
A nest is another accelerator program which is focusing on the lifestyle space such as health technology and invests in startups and runs a global entrepreneurial community called Metta. In fact, this program has built an innovation ecosystem in order to stay connected with the fast-growing markets of Asia, Africa, and the Middle East.
The supercharger is a fintech accelerator based on a unique model of accepting applications from both early-stage startups to established scale-up phase startups. If you are looking to benefit from outstanding mentorships, access to-go market resources, as well as unique technology and expert advice in areas such as joint-venture opportunities, regulatory obligations, and market entry, then joining this program would be the best option.

3. Crowdfunding
As soon as you understand the programmes of incubators and accelerators, the next thing you should know about is the crowdfunding resources for Hong Kong startup funding. Whether you own a small or medium-sized enterprises or it is funded by a large number of people, crowdfunding allows entrepreneurs and business professional to raise capital through contributions from a larger pool and tap into your networks of family, investors, friends, and other interested parties.
If you are looking for ways to test and validate your business idea, get feedback from potential customers, and further refine your business product, it is an excellent opportunity for you. You should know about some crowdfunding platforms in Hong Kong before looking for startup funding.
FringeBacker is a bilingual crowdfunding platform available in Chinese and English, provided with a range of options for online fundraising. It is a platform which focuses on innovative industries, charitable organizations, and creative arts. The platform's most prominent and recent successes include The Hong Kong free press, Hong Kong Martial Arts Living Archive, and fundraising for Jacqueline Lai's equestrian showjumping. If you are looking to have a great community spirit and finding opportunities to collaborate with like-minded professional, then FringeBacker could be the best option for all the entrepreneur and business professionals.
The second platform for crowdfunding is SparkRaise, which empowers individuals everywhere to band together and brings ideas to life. In short, it is an online fundraising platform for socially conscious, where people share creativity, philanthropic interests, and entrepreneurial skills.
The next crowdfunding stage for Hong Kong startup funding is Next Chapter, which is a reward-based platform for female entrepreneurs and women-owned businesses. For the women entrepreneur who is hunting to get funds for their startups and want to stand out of the crowd, this crowdfunding will help them in getting a whole community of supporters and coaching.
Hong Kong Startup Resources and Tips
Click To Tweet
4. Startup Events
Once you understand about all other resources for crowdfunding, which are available for Hong Kong funding startups, the next thing all entrepreneurs and professional business owners should know is startup events. Startup events are an excellent place to meet like-minded people and network with other companies. It is also where you find investors and can talk about business.
In fact, an ample number of events are organized by co-working spaces year-round for Hong Kong startup funding such as big-conference-style events, educational events and much more. A few of the most popular ones include Jump Starter, RISE, Startup Grind, TiE, and Metta.
Conclusion
By now, you have a better idea about all the resources initiated by the Hong Kong community for Hong Kong startup funding. So whether you're looking for support or want to expand your network in the freest economy of Hong Kong, use the resources as mentioned to start connecting with Hong Kong's startup community. If you are still finding problems in order to raise fund for your existing startup, look no further. Hire a professional like Startupr and make your dream company.