Low-cost Company Formation in Hong Kong
May 1, 2019
Thinking about forming a Hong Kong company? Congratulations!
You are on the right track. Being renowned for its powerful combination of various factors such as high-speed communications, free flow of information, strategic location, unrestricted capital flows, and more importantly, the world's most open economy, Hong Kong has become one of the best places to incorporate the business. Due to all these facilities, Hong Kong has become a leading international business and financial center.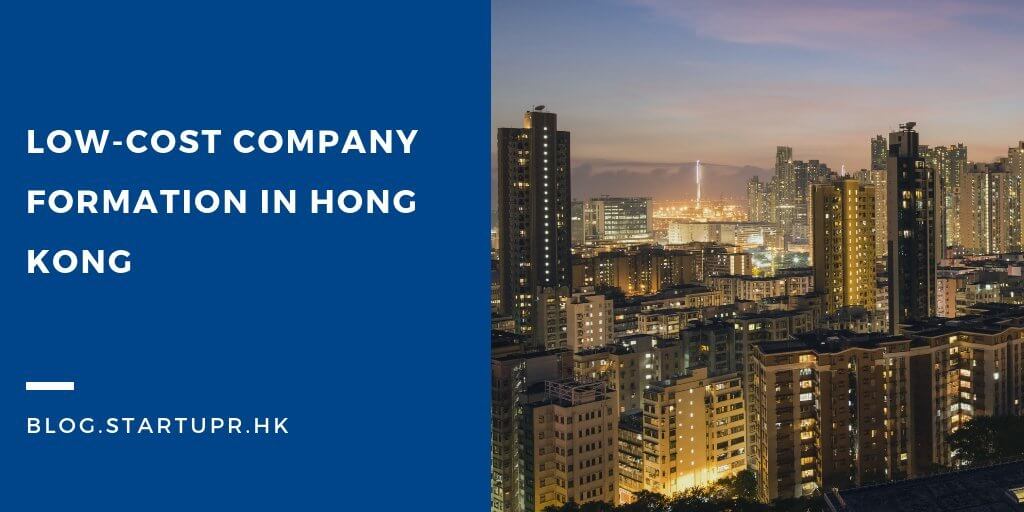 In order to enjoy the maximum benefits of setting up a business in the competition, several entrepreneurs are trying their luck while launching their business in the competitive business world. In fact, several investors are also moving to this place to help you in getting financial support.
Are you ready for company formation in Hong Kong? Great!
Let's dive deep into the article to get more ideas about the formation of the companies.
Why form a Hong Kong company?
As per stated earlier, Hong Kong is one of the best destinations for incorporating the business. Do you want to know about the advantages of forming a company in Hong Kong so that you don't feel astray?

Well, there are a plethora of reasons and advantages for forming the business in the freest economy. One is the gateway for entering into the business world of Mainland China. If you are looking to or already own a company in China, then besides being a prestigious business address, Hong Kong has a variety of benefits to offer!

Curious to know about the reasons? The following are some vital answers to that question-

Political environment and economy that is trustworthy.
The business-friendly tax system and a world-class infrastructure with a productive legal system.
The process of incorporating a business in Hong Kong is easy and inexpensive.
You don't have to secure a physical address for your business. A holding address is adequate.
Hong Kong follows territorial source principle of taxation, in which profits made outside of Hong Kong are tax-free. Business people are only liable to pay around 17% when revenue is earned inside Hong Kong.
In Hong Kong, the English language is more prevalent in Hong Kong, and the legal system is separate from that of Mainland China.
Hong Kong is also known as the perfect gateway to begin your business in China for Western countries.
A foreigner is permitted to own 100% of a Hong Kong company, and they can be the sole director and shareholder in a Hong Kong company. There are no requirements to be a resident or a specific nationality.
Hong Kong has held the record for 17 years in a row as the world's freest economy.
Hong Kong is also known for stability and worldwide recognition.
Ranking ahead of the USA, Germany, Japan, and the UK, Hong Kong holds the distinction of being one of the least corrupt nations in the world.
Companies in Hong Kong are permitted to open multi-currency bank accounts.
Hong Kong is viewed as a global leader in banking and business.
How HK Government Support to SME?
Being known for its political and economic stability for the business owners, Hong Kong offers ample resources for HK startups in order to help them in coping with the competitive business market.


Resources Available for HK Startups

Let's have a look at a few of the resources available in Hong Kong so that you should plan to grow your business in the race.

Government Support for New Startups
The government support system of Hong Kong for new startups is what sets apart this place from other destinations in the world. When you start operating your company operations, you don't have to think about the interference of the government. The reason behind it is – the territory follows the most 'laissez-faire economy' in the world.

Well, the laissez-faire is a kind of economic system in which the transactions between the private parties are not liable for the interference caused by the government such as subsidies, regulations, tariffs, and privileges. More importantly, the disclosure requirements and government controls on the organizations are minimal, except for public limited companies.

If you are thinking about opening a private company, then there are chances that you need to have minimum capitalization requirements.
On the other hand, when you incorporate your company in Hong Kong as a wholly-owned subsidiary, then you are also not required to file for financial statements.

Besides, if you are hunting for the fundraising of your company, then you can also browse the government websites of Hong Kong and easily figure out an ample number of different funding schemes available for SMEs.

Angels and Venture Capitalists
As a matter of fact, access to funding is one of the most important factors for the success of a venture. And if you are wondering, 'how will you manage all your finances?' Then angel investors and venture capitalists can provide you with a wealth of collaboration, investment and mentorship opportunities. All you have to do is pitch your business idea.

Ready for the challenge? Below shared are some of the programmes offered by venture capitalists that you need to know-

#1 The British Chamber's Business Angel Programme

This is the first and most important programme offered by angel investors. This programme involves bringing together both investors and entrepreneurs in order to create new partnerships. If you are looking for funding to expand, then their website will provide you the opportunity to present their business plan to investors.

#2 Venture Investors Alliance of Hong Kong

The next programme is known by venture investors alliance in Hong Kong which involves a group of active venture and angel investors. These people are dedicated enough to have innovative businesses, nurturing the growth of technology-based and promoting the entrepreneurial ecosystem for the long-term interest of Hong Kong.

Another resource for your Hong Kong startup funding is crowdfunding platforms. These platforms will help in allowing the business professionals and entrepreneurs to raise capital through contributions from a larger pool and tap into your networks of investors, friends, family, and other interested parties, irrespective of your business size.

Here are some crowdfunding platforms that you need to know for company formation in Hong Kong.

#1 SparkRaise
SparkRaise is a crowdfunding program which empowers individuals from different places to band together in order to get more proficient ideas. To be more precise, it is an online fundraising platform for sharing creativity, philanthropic interests, and entrepreneurial skills. So, if you are a socially conscious person, this platform should be on your radar.

#2 Next Chapter
The next crowdfunding stage for Hong Kong startup funding is the Next Chapter, which is a reward-based platform for female entrepreneurs and women-owned businesses. So, if you are women and willing to form a Hong Kong company, then this programme has perfect options for you.
To know more you can also check our article on Hong Kong Startup resources.
Low government fees to Incorporate your Business
By now that you have a better idea about the reasons behind forming a Hong Kong company, and what are the resources available for new startups in Hong Kong. The next thing that you need to know is about the registration and incorporating your business in Hong Kong.

As a matter of fact, in order to operate the business legally, every business owner requires to incorporate and register the business. And we all know that there is a business registration fee that everyone has to pay.


What are the implementation Details of the Waiver of Business Registration Fees?

Well, keep on reading, we have also incorporated the information about the waiver of business registration fees so that you will not lack behind in any aspect of your business.

With the regards of local companies registered under the business registration regime ("One-stop Registration"), and the one-stop company incorporation, the fees payable under section 5A(1)(a) of the Business Registration Ordinance (Cap. 310) will be reduced by a sum of $2,000. This will apply only when the related incorporation submissions are made within the period from 1 April 2019 to 31 March 2020 ("Waiver Period").
For other reasons, the fees payable for branch registration certificates and business registration certificates with commencement date falling within the Waiver Period will be reduced by a sum of $73 and $2,000 respectively.
More importantly, in the case of insolvency funds, businesses are still in need of paying the levy for the Protection of Wages.
For more information about the business registration fee & levy table for details of the total amount payable in respect of a certificate, browse here.
How can Startupr Help You?
By now that you have understood about the benefits and resources of forming a Hong Kong company, we firmly believe that now you must be ready to embark into the competition. Great!

However, for incorporating and registering your business entity in Hong Kong, you need to hire professionals.

And Startupr is one-stop-service, that will not only help you in setting up your business in Hong Kong. In fact, Startupr has received the TCSP license number "TC003638" from The Hong Kong Special Administrative Region Companies Registry. We are aware of all the rules and regulations of the Hong Kong government, so you don't have to worry about that.

Hire us now; we will We make all the paperwork easy and let you focus on running your business!