Hong Kong Company Formation & Open a Bank Account
August 26, 2020
Interested in an attractive business regime and low-taxation system for your global operations? While starting a new business can be difficult, finding the right place to open a company will provide you the extra boost to become a success. The city of Hong Kong is positioned as one of the top global cities to set up a business. Getting a business started in the city is relatively easy, secure, and the overall business environment and low incorporation costs encourages businesses to thrive.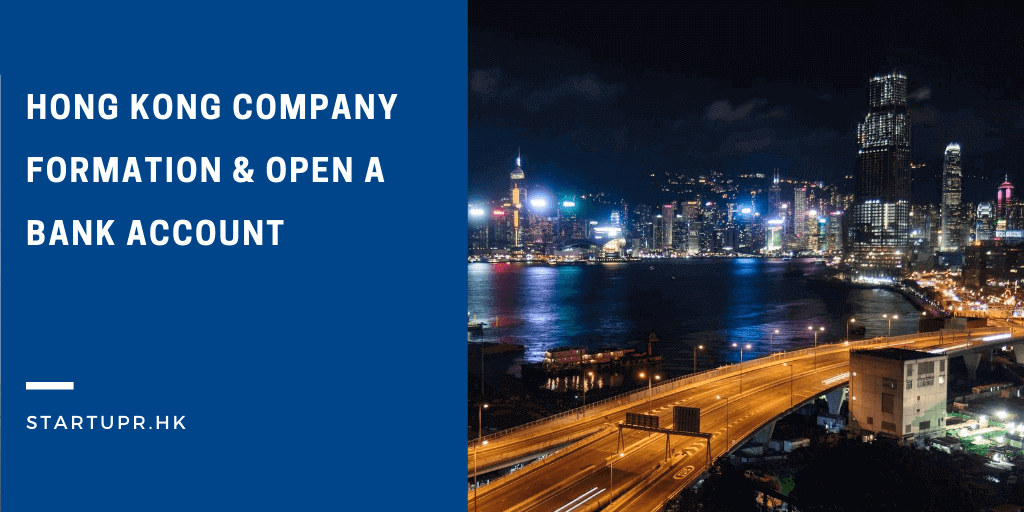 If you want to open a business in a robust and sound financial center in the world, Hong Kong is a good option to incorporate a new company and open a bank account as a foreigner. This article will clarify the Hong Kong company formation process and how to open a bank account in Hong Kong.
Hong Kong Company Formation
Hong Kong is a dynamic place to set up a business and start a new life. The city combines a simple tax-regime system with free-market principles. There are no regulations on inbound or outbound investments, and no nationality restrictions on company ownership.
Why start a company in Hong Kong?
Hong Kong scores high on factors that matter to business owners, such as strategic location in the heart of Asia, ease of doing business, attractive low-taxation regime, and productive workforce to contribute to its success. In fact, it is one of the best places for investors and business owners from all over the globe.
Here are the major benefits of forming a Hong Kong company that demonstrates why it remains an invaluable and important jurisdiction among businesses:
Strategic Location
Hong Kong is strategically located in the heart of Asia, thus giving the business accessibility to different trading opportunities, particularly in Mainland China. This is one of the most compelling reasons for business owners to choose Hong Kong as their company location compared with other places in the world.
Ease of Company Formation
Another compelling reason to start a business in Hong Kong is the ease of forming up a company. In around 3 to 5 days, a company can be set up in Hong Kong as the registration and incorporation processes are pretty simple and straightforward.
Attractive Tax Regime
Business-friendly policies and a low-taxation regime are the primary concerns for businesses. These factors contribute to the success of the business in a given jurisdiction. Fortunately, Hong Kong follows a business-friendly tax regime and legal infrastructure to help business ventures thrive in the market.
Hong Kong follows a territorial tax regime where the profit earned only within the territory will be taxed (at 16.5%/8.25% corporate tax); the foreign income generated by companies will not be subject to taxes. There is no withholding tax on dividends or interest, nor any sales tax, capital gains tax, and inheritance tax. This is why Hong Kong is referred to as an attractive tax regime.
Productive Workforce
Hong Kong has a well-educated, trained, and highly-skilled workforce adaptable with strong ethics. The workforce of Hong Kong is primarily a local talent pool of experienced and highly-graded professionals and entrepreneurs who are well-versed with the growing business culture.
The legal systems and the business-friendly tax approach have been attracting millions to do business in Hong Kong.
Types of companies in Hong Kong
If you have made your mind to form a business in Hong Kong, the first thing you need to decide is the type of business entity you want to set up. The business structure will help you deal with tax regulations and business policies.
The business structure should match the requirements and objectives of the company. That's why all business ventures should select the right company structure. Below are some common business structures in Hong Kong are:
Limited Liability Company: A limited liability company is one of the most popular business structures out of all the business entities in Hong Kong. This business structure offers a shield to business owners' personal assets from the business's risks and liabilities. These companies are considered as a separate legal entity from business owners.
Sole Proprietorship: Being a small scale and low-risk business in Hong Kong, a sole proprietorship is easy to set up. However, this type of business structure is not recommended for entrepreneurs because it isn't considered a separate legal entity, and thus doesn't offer the protection of the founder's personal assets from the business's risks and liabilities.
Partnership: The next type of business structure is a partnership. This type of business structure permits two or more people to share the ownership of a single HK limited company. It also allows them to share business responsibilities and also increase the ability to raise funds to expand the business. However, the partners are individually and jointly liable for the other partner's actions and debt.
Foreign Company Office:  A foreign company that wants to expand its business wings in Hong Kong can register a representative office, a subsidiary, or a branch office.
Steps to Form a Hong Kong Company
Once you decide the type of business structure that you want to set up in Hong Kong, you need to pay attention to various aspects that will contribute significantly to the company's growth.
Though the formation of a Hong Kong company is more favorable than any other major city around the globe, some steps need to be followed to easily establish a company in Hong Kong. Ready to set up your brand in the Hong Kong startup market? Here are the steps to build a new company in Hong Kong.
Choose a business type and name of the company
The very first step that will need to be done is selecting the name of your company. The company name can be in Chinese, English, or both. The selected name of your company should be unique, and should not be in use by another existing company. If you find any difficulty while researching a unique company name, you can check on the Startupr website to see whether the name is available to start a company in Hong Kong.
Once you have decided on the name of your company, the next step that you need to do is determine the type of business structure you want to establish. As stated above, the company's structure will affect everything from taxation to business policies.
Register your HK company
Once you have decided on your company name and structure, the next step is to register it with the government. Registration of a company will bring numerous benefits, protect it from risks and liabilities, and secure your rights against third parties.
In order to register a company in Hong Kong, you would need to have a local Hong Kong address as the registered address of your company. However note that a PO box address can't be used as the registered address, so you need to have a physical address in order to register in Hong Kong.
Open a bank account
Another vital step that should be done to form a company in Hong Kong is to open a business bank account. It provides a professional and reliable image of your brand, which will further help you develop a positive picture in your customers' eyes. As soon as the company is registered with the HK government, businesses are advised to open a corporate bank account to fund their venture.
The process for opening a corporate bank account is relatively straightforward. In order to initiate the process, you need to gather all the required documents to proceed with the application. Here are some of the documents that you should have to open a corporate bank account in Hong Kong.
Company's incorporation documents. 
A true certified copy of the company's Business Registration Certificate.
Detailed business supporting documents such as audited financial statements, business plans, contracts/agreements, and invoices.
All necessary documents specified in the bank's application form, including certification by either a certified public accountant, banker, lawyer or notary public.
Open a Bank Account for Hong Kong Company
As stated above, it is important to open a corporate bank account in order to start the business operations in Hong Kong. It boosts credibility and also improves the image of the brand among customers. The process for opening a bank account is quite straightforward, but you need to prepare all the documents as per the bank's requirements.
Hong Kong Banking
Hong Kong is one of the world's leading banking sectors and ranked 3rd in the Global Financial Center Index 2019. It has more than 71 international banks, and a Forex exchange volume of US $274.6 billion per day. So, starting a new business in Hong Kong is an excellent idea to have access to numerous international banks and be in the center of a global financial hub.
But before you look to open a bank account, you have to ensure that the process is properly followed. In order to ensure that all the needs are met for your business, it is important to select the bank that matches your business requirements.
Alternatives to Hong Kong Banks
With the internet and digitization exposure, many companies have moved away from the traditional ways of operating a business to online banking facilities. This has led to an increase in the demand for international banking accounts and virtual banking in Hong Kong.
Virtual banks
Virtual banking in Hong Kong offers a new type of self-service banking in mobile applications and direct "at the window" service. This type of banking acts as a bridge to communicate as a customer directly with the banks through video, audio, and chat channels.
The primary purpose of virtual banking in Hong Kong is to deliver retail banking services through various forms of electronic channels instead of physical branches.
International bank account or offshore bank account (online opening)
International bank accounts offer numerous benefits and advantages for foreigners who can't travel to Hong Kong. A foreign or offshore bank account is one opened in a different jurisdiction from where the company is incorporated. Since the outbreak of COVID-19 has restricted travel, international bank accounts or offshore bank accounts have become an excellent option for foreigners who want to open a bank account in Hong Kong without being physically present.
An offshore bank account permits business owners to operate through multiple currencies without high fees. This also allows business owners to obtain credit and debit cards linked to various currencies, and enjoy special investment opportunities and discounted international payments. With the help of online banking, you can have constant, round-the-clock access to your finances from anywhere in the world.

If you wish to open an offshore bank account but travel to Hong Kong is restricted due to the COVID-19 crisis, CIM Banque will be your best fit for your business requirements. CIM Banque permits customers to open a corporate bank account online without coming in-person.
Corporates will only need to complete their application form online and submit the scanned or pdf version of the signed documents. The bank officer will schedule a video call to gather more information about the business after checking the complete compliance requirements. CIM Banque client support is quickly available through live chat, phone call-back, or email.
Requirements for opening a bank account in Hong Kong
If you wish to open a corporate bank account at HSBC, ICBC, Bank of China, Citibank, or any other HK bank, you need to satisfy at least one of the below-mentioned requirements:
The company needs to have a physically registered address in Hong Kong. If it is on a lease, then it is crucial to submit the office rental agreement in Hong Kong's company name.
The business operations must be involved in a business-related to China or Asia
The company director must have an HK ID card or an HK work visa
If in case your business has met none of those mentioned above criteria, you can still try to open an HK bank account. Here, you would need a strong rationale. Startupr can help arrange an appointment for you with Hong Kong banks such as Hang Seng, OCBC, Wing Heng, or Standard Chartered.
Always remember that Hong Kong's banks due diligence processes are a bit difficult because of strict requirements. Despite all the hurdles, Startupr can assist you in opening a bank account in Hong Kong. (As the banks hold the right to decide whether they want to open a specific company account or not, Startupr itself is neither responsible nor liable for any bank's decision)
KYC, while opening a bank account for Hong Kong Company – What documents do I need?
To open a bank account in Hong Kong, you do require KYC personal certificates. These documents include the certified passport copies of all the shareholders who own 10% or above shares in the company, all the directors, and beneficial owners. Directors require to share bank references as well.
How long does it take to open a bank account for a Hong Kong Company?
In order to open a bank account in Hong Kong, business owners would need to be physically present in Hong Kong for the meeting along with the beneficial owners, shareholders, and directors. It takes about 7-20 working days to have the appointment confirmed with the banks in order to open a bank account in Hong Kong. However, due to the travel restrictions from COVID-19, some Hong Kong banks have moved their bank application online.
If you still want to open a bank account, but are unable to visit in HK, contact us at Startupr for more information on how to open a bank account.
How can Startupr help you?
This article is all about the benefits of a Hong Kong company formation, the types of business structure business owners can choose from and the importance of opening a bank account. There are many options available to open a bank account from international business accounts, virtual banking services to traditional type businesses.
If you are planning to set up a business in Hong Kong or open a bank account, Startupr can help you! We have incorporated thousands of companies over the years with high customer satisfaction. We will be happy to assist you with banking solutions for your company.