Should I hire an accountant for my Hong Kong small business?
June 3, 2020
Confused about when to hire an accountant for your small business in Hong Kong? Going through loads of paperwork just to get your company accounts up to date? To run a business successfully, it is important to handle and organize all the company paperwork. This is why accounting services in Hong Kong are quite essential for every business owner.
Every incorporated company in Hong Kong needs to comply with the requirements of the Hong Kong Financial Reporting Systems (HKFRS) to prepare financial statements to record their transactions. This is important not only for keeping updated records, but also for filing taxes to the Inland Revenue Department (IRD).
This service will help to record and interpret your financial data to make better business decisions when it comes to your company's funds, and ultimately for filing taxes for your Hong Kong company.
Read on to get an overview of the essential accounting services in Hong Kong for your business.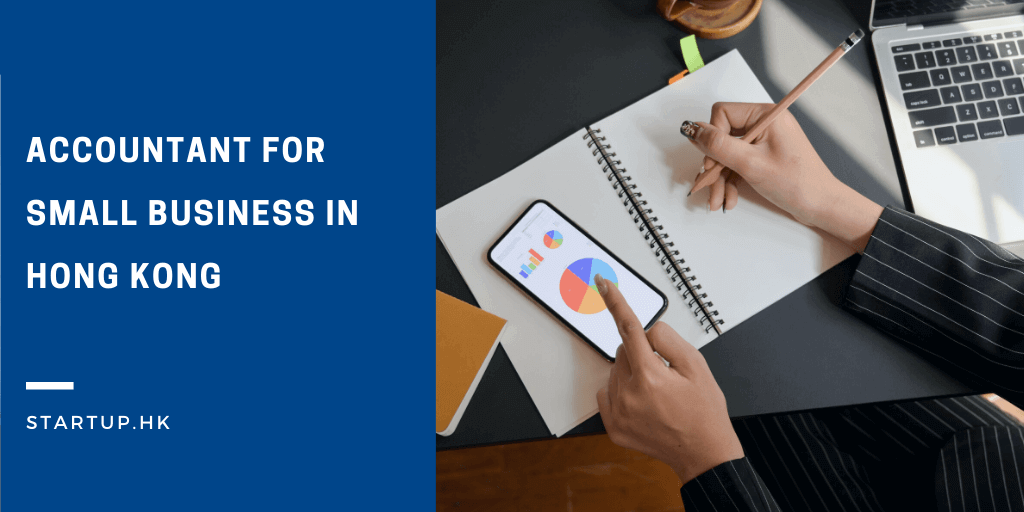 Does my Hong Kong small business need an accountant?
When growing your business and filing taxes, you will hear small business owners talking about the need for an accountant. To prepare the financial sheets and reports, it becomes important for business owners to hire accounting services, and seek the professional expertise of the small business accountants who are not only trained in recording transactions in accordance with Hong Kong accounting standards, but also in analyzing financial data and filing taxes to the IRD.
Possible challenges in running a small business
While operating a company, business owners will find many good reasons for hiring a small business accountant in Hong Kong. From preparing the business plan, arranging financial reports, meeting all the compliance issues, to filing the tax, an accountant can make life easier for you at each step.
For instance, let's suppose you want to pay taxes for the operating activities of your Hong Kong company. How much time will you take to prepare all the financial sheets and recording all the paper documents? Plus there is always the risk of errors, especially if you're multitasking like most business owners. However, when you hire an accountant, you can save a lot of your time. The accountant will take care of all the time-consuming tasks like taxes, and you'll have extra time to focus on your business and have the peace of mind that an expert is taking care of the details.
Why should you hire an accountant for your Hong Kong small business?
Managing the accounts of the company involves a lot of responsibility. Once your company starts growing, you'll find there are several important times during the life of a typical small business when you might want to hire an accountant.
Here are some reasons to hire an accountant for your Hong Kong small business:
Preparing a business plan
While writing the business plan, if you take the help of the accountants, there are more chances that you will end up getting good ideas for operating your business entity. An accountant can help use accounting software to add financial projections and other reports to it. In this way, you can easily develop a business plan that is more professional, realistic and more likely to succeed.
At the early stage of the business, hiring a professional small business accountant will mean to get the benefit of their financial knowledge and advice right from the start. By doing so, you can save a lot of money and time in comparison with hiring one later.
While choosing the company legal structure
In Hong Kong, there are different types of company structures that you can choose as per your business objectives and needs: Limited Liability Company, Sole Proprietorship, Partnership, and Foreign Company Office.
You have to consider each type carefully before deciding which one best suits you, however a limited liability company is the most common company structure. This type of company offers protection of personal assets from business risks and liabilities. In fact, it is also considered as a separate legal entity. When you hire an accountant at the type of selecting the legal business structure, they can help you choose the one that best suits you.
Company financial data management
Every incorporated company in Hong Kong is required to follow all the requirements to keep their books up to date and in order. So, a hired accountant would help ensure that your financial data are properly stored, updated, and managed. This information needs to be compliant accurately with the IRD's requirements.
If anything goes wrong, or you forget to manage the financial data of your company, you may face future penalties for late filing of your taxes. But if you hire an account for your business entity, they will make sure that the proper procedures are in place. Moreover, the accounting software system being used is modern, secure, and backed up regularly.
Financial analysis and reports
When you prepare the financial statements of your business, it becomes even more difficult to analyze it properly and eventually file taxes. That's why, it is said that when it comes to making the decisions about the future of your business, your accountant may sometimes be your best resource. You will also require their help to manage your payrolls and measure the financial charts so you can see how the ratio changes over time.
And if your accountant is using cloud-based accounting software, they will be able to share the business accounts with you easily and in real time. In short, this will help you monitor the pulse of your business and keep track of important things like cashflow.
To keep in regulatory compliances
In Hong Kong, every incorporated company needs to comply with the requirements of the IRD. When you hire an accountant to provide accounting services for your company, they will do their best to make your business accounts in order. A professional accountant can handle these headaches and ensure that your income and expense reporting follows applicable government's rules.
DIY Accounting: Things you need to know about managing your own accounts
For some startups and small business owners, they choose to manage their own business accounts. This may be suitable for a company with small accounts or simple and straightforward transactions during the year. Keep in mind though that when your company starts to grow, you may find it difficult to manage all the accounts records in one place, and can consider at that time to hire an accountant.
If you have got a small business going and thinking about handling the business accounts by yourself, here is some important information that you should be aware of. Managing the business transaction is not a straightforward task, you have to gather all the essential information so that you can stay updated, and avoid all the legal system issues.
Knowledge on tax compliances for Hong Kong businesses
The corporate and the personal tax rates of Hong Kong are considered the lowest in the world. The profits tax rate in Hong Kong is 8.25% charged on the first $2 million of profits and 16.5% on any profits above that amount. In fact, the salaries tax is just charged at a standard rate of just 15%.
Hong Kong follows a territorial taxation system. This means that only profits gained in the city of Hong Kong would be subject to taxes here. Therefore, it's important that the business owners understand what type of transactions are taxable in Hong Kong, and how to claim for offshore tax exemption for their profits earned outside the city.
In order to operate the business successfully, Hong Kong companies need to file the Profits Tax return every year. It should be filed within the first 18 months of the incorporation of the company. The business owners are also required to submit the audited report of the company generated by a Hong Kong CPA.

Establish a proper bookkeeping system
For every incorporated business entity in Hong Kong, it is essential to establish a proper bookkeeping system. Bookkeeping is the recording of all the business transactions from clearing the bills, collection of all the receivable accounts, to all the sales, purchases, and much more.
Whether you are operating a small or a big business, every company should have a bookkeeper. But if you want to do bookkeeping and accounting yourself, you need to make sure that you are using an updated bookkeeping system for your company.
Categorize your expenses
If you want to keep your company organized by yourself, categorizing expenses would be your best choice. In fact, you can do it for budgeting purposes and totaling the expenses in order to write it off at tax time.
Popular category for distributing your expenses include:
General business expenses
Advertising Expenses
Payroll
Employee Benefits
Meals & Entertainment Expenses
Office Expenses, and its Supplies
Professional Services
Rent, Utilities & Phone
Travel Expenses
Expert in accounting and payroll software
In order to manage the accounting part of your business, the business owners need to gain diverse knowledge in payroll and accounting software. Payroll is the process by which you pay your employees. Make sure that you have a reliable payroll process. As per the size of your business entity, payroll could be your most considerable regular expense.
But if you offer your employees a proper payroll system, then there are higher chances that they will remain motivated. If you do not pay consistently and accurately, employees will look for work elsewhere. Getting a payroll system in place at the outset can save you years of grief.
Since payroll is a time-consuming process, many business owners look for the best and updated software systems that handle the tax deductions, as well as transfer the net amount to the employees' bank accounts automatically. The tasks of the payroll and accounting vary from the size of the company.
5 Factors to consider when hiring the right accountant for your small business in Hong Kong
For managing the company books, it is always advisable to hire an accountant for your small business. But here are some factors that you need to consider carefully for hiring the right and high-skilled accountant for your small business in Hong Kong.
As the appointed person is going to have access to all of your company's financial analysis, you need to do the hiring process very carefully and tread slowly. After all, you want to have someone capable, trustworthy, and high-skilled for your books. Here's a checklist on how to find a small business accountant that's right for you:
1. Knowledgeable in Hong Kong Taxes
The first and foremost factor that you need to look for is the understanding of Hong Kong taxes. Does the accountant have diverse knowledge about the taxation rules in Hong Kong? Even though the jurisdiction of Hong Kong has made the process of submitting the business tax returns straightforward, it is essential to be well-versed with the rules that govern when and how much a company should be taxed.
With the implementation of the vast number of tax incentives in recent years, having local support is necessary to ensure tax benefits are maximized. There is a bonus point of doing business in Hong Kong that you will not have to pay the taxes for VAT, dividends, estate, capital gains, and withholding. That's why Hong Kong has emerged as one of the preferred locations for most global entrepreneurs.
2. Experienced in handling accounts
Accounting is a lot more than just recording the journal entries, and preparing the ledger by just adding and subtracting the numbers. There are a lot of concepts ruling the accounting part of the business. And sometimes, startup entrepreneurs aren't even aware of all the elements included.
So accountants who are well-experienced in handling all the books of accounts would be your best choice. You don't want to go with an accountant who just does your checkbook management. The professional accountant will also help to find areas for financial improvement you never knew existed.
3. Excellent customer service and responsible for your questions
The next factor that you need to make sure of is that your accountant has excellent customer service and answers all your questions confidently and accurately. They should answer your questions on time, and not wait days to answer an email or call. The professional accountant is responsible for interpreting and communicating all the complicated accounting concepts effectively to individuals who don't understand the financial language.
They need to have a picture of the business accounts to decide for the business. If you appoint an accountant who can interact easily and deliver all the ideas clearly to you, they will definitely become a major asset for your business.
4. Good knowledge in the latest accounting software
It would be beneficial for your business if the hired accountants have the most diverse background possible, and one that perfectly aligns with your business idea. It will be even better if they work with the latest accounting software to prepare the financial statements of the business entity.
In this way, your business can save a lot of money in the long-term run and also stay abreast of your industry. At Startupr, we utilize the top software platforms and know-how to integrate these with your IT and current business practices for the most seamless accounting available. Some of the top programs and platforms we use include:
5. Trustworthy
As the accountant's work is very confidential and company-specific, business owners are required to appoint an accountant who is trustworthy for the organization. They will handle every financial detail of your business, and maintain the confidential wall at all times when required.
Being trustworthy, punctual, and determined towards preparing correct financial statements will build long term and healthy relationships with your accountants. Make this habit of thinking about the consequences of your actions each time you have to make a big decision.
Choose Startupr as your small business accountant in Hong Kong
By now, you may have a better idea about the reasons for hiring an accountant for your small business in Hong Kong. According to the regulations of the HKFRS, every Hong Kong company is required to maintain updated company books and should be timely in their tax filing.
For a multitasker business owner, preparing all the financial accounts becomes quite a difficult task. But when you hire Startupr for our accounting services for your company, we will do our best to make your business accounts in order. Startupr has years of experience in providing accounting services to thousands of our clients.
Startupr will also help generate and manage the financial statements and reports of your business. In fact, we will also help you with:
Professionally presented reports that stakeholders will have confidence in
Professionally controlled figures that are in the correct order
Recommendations based on information related to actual performance
Accurate financial reports of your business at predefined time intervals
Support to your external accountants for their performance enhancement
For more information about our accounting services in Hong Kong, feel free to contact Startupr today!