Why Do SMEs Need Accounting Firms in Hong Kong?
June 28, 2023
The Hong Kong Companies Law stipulates that all organizations subject to its jurisdiction must keep accurate books and records of their financial transactions at all times. Also, each year they must meet every annual audit standard mandated by law. Using the services of a respectable accounting firm in Hong Kong is something that any company in the city is required to do as a prerequisite. It helps you stay out of trouble with the law and in accordance with all applicable regulations.
Financial reporting of small and medium-sized enterprises (SMEs) in Hong Kong adheres to a framework developed by the International Accounting Standards Board (IFRS). The Hong Kong Financial Reporting Standards (HKFRS) are the local accounting standards that lay out the rules for how transactions and events should be recorded, valued, reported, and disclosed in financial statements used for development purposes. This article will guide you on how accounting firms work and the reasons SMEs need accounting firms in Hong Kong.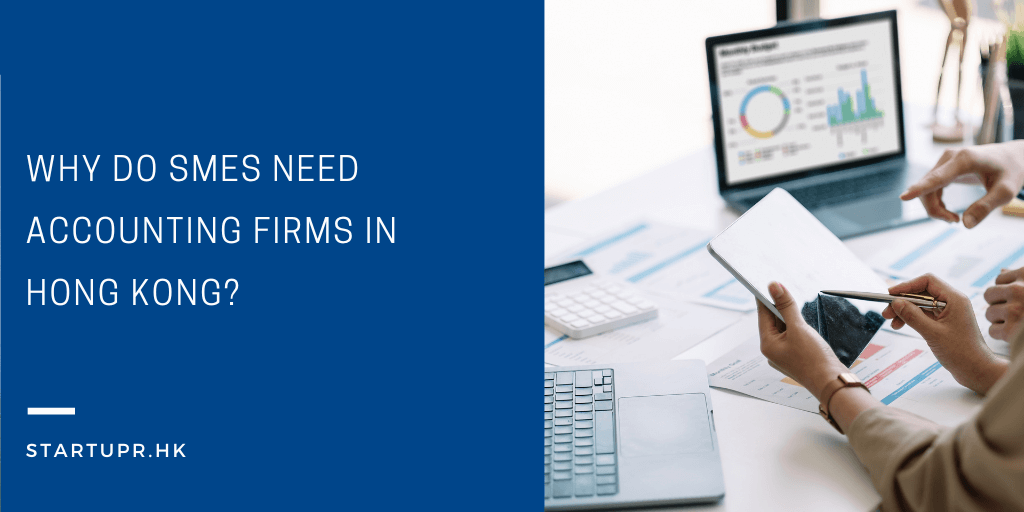 SMEs and Accounting Firms in Hong Kong
SMEs may find it advantageous to manage accounting chores themselves early on. But as a firm expands, these activities will definitely become more difficult and time intensive. When this occurs, company owners are typically reluctant to hire an accounting firm since their previous arrangements were satisfactory. This may cause several accuracy errors in their accounting procedures. Read on to understand why accounting firms for SMEs in Hong Kong are crucial.
What is an Accounting Firm?
Accounting companies play a crucial role in the success of businesses because of the numerous services they provide. It is due in large part to their assistance that SMEs and corporations are able to maintain financial order and comply with tax regulations. The size of an accounting company will often determine its organizational structure. An individual may operate an accounting company from their home. In other cases, firms make use of the labor of thousands of individuals in a variety of places all over the nation or the globe. 
Not all accounting companies are the same or even provide the same services. As the owner of a company, it is your responsibility to find and select the most qualified accounting firm available that can cater to the requirements of your company.
Types of Accounting Firms in Hong Kong
You may think accounting firms deal with the maintenance of the financial statements of a partner company. But the accounting firms are beyond just accounts and statements. These firms can perform audits, and tax filing and some can even help you outsource your accounting activities. The types vary depending on the exclusive or combined services these firms offer to their clients. Here are a few types of accounting firms in Hong Kong.
Full-Service Accounting Firms
Although there are individual firms catering to the specific needs of the customers, most SMEs prefer getting all their tasks done from a single source. Full-service accounting businesses provide their clientele with a comprehensive range of services, including bookkeeping, tax preparation, and advice services, amongst others. These businesses are often much bigger, employing hundreds or even thousands of staff who may all have different areas of expertise in order to deliver the full range of services demanded by their customers.
Audit Firms
For those looking for even more specialized services, there is also the option of hiring an audit company. They exclusively undertake audits of people, small enterprises, entities within the government, and other sorts of organizations. An audit verifies the validity of financial accounts and determines whether or not a corporation is successful.
In order to prevent any potential conflicts of interest, it is best to have an independent company conduct the audit. Audits are obligatory if the SMEs in Hong Kong are required to interact with shareholders, banks, or other financial institutions. 
Tax Firms
Taxes are the only area of expertise for tax businesses. For both companies and individuals, they provide expert tax advice and assistance with all aspects of tax planning, preparation, and settlement. Yet, not all accounting companies provide services for each and every taxation procedure. Others go even further, focusing only on the taxation of real estate or preparing taxes for high-income clients.
Bookkeeping Firms
Some SMEs in Hong Kong may not be able to accommodate a full-service firm. They approach Bookkeeping firms to deal with their businesses as they lack the resources to engage a bigger accounting service or the time to handle their own accounts. These firms specialize in bookkeeping and offer only the specified service.
Outsourced Accounting Firms
Outsourced accounting companies supply organizations with a comprehensive accounting department for far less than the expense of a full internal workforce. There are no restrictions on what kind of services an outsourced accounting firm can offer its clients. Some may provide all the services that a full-service company does, while others may offer just exclusive services to their clients.
CPA Firms
It's possible you have come across an accounting firm in Hong Kong that proudly proclaims itself a CPA firm, but you are not quite sure what that implies. At the very least, a CPA firm will employ at least one CPA, but usually, there will be more.
The requirements to become a CPA are rather demanding. They are required to have completed extra certified training for 150 hours in addition to holding a professional accounting, finance, or business degree.  They are also required to pass the Uniform Certified Public Accountant Examination and have at least two years of experience working in public accounting.
Services Accounting Firms Provide
If you own a business in Hong Kong, you will most likely need assistance with your accounting and finances. But understanding what your business specifically requires can be challenging, given that there are numerous services you can avail of from an accounting firm. So here are a few services that the accounting firms for SMEs in Hong Kong offer for your reference.
Bookkeeping
The Hong Kong Financial Reporting Standards, HKFRS, are the rules that SMEs in Hong Kong must follow while preparing their annual financial statements. It is essential for the development of a company to have accurate books of account. Bookkeeping is the process of keeping track of and balancing all the exchanges that happen in a business. 
One of the steps in the process is figuring out whose account a transaction impacts. This is necessary since a firm often has more than one account. Bookkeeping is a task that is performed by many accountants, however, this does not mean that every bookkeeper is also a professional.
Tax Planning and Filing
You can find no better experts to assist you with your Hong Kong Corporate Tax return than those working in the city's renowned accounting firms. All Hong Kong-based businesses are obligated by law to report their finances to the Inland Revenue Department. By offering tax planning services, accounting firms in Hong Kong aid businesses in minimizing their tax liabilities. 
Most of the time, the deadlines for giving the audited accounts depend on when the tax return is due and when the financial year ends. All taxable gains accrued over the course of a year must be reported and paid completely. Gains from the preceding year may result in a provisional tax being levied in certain situations.
Payroll
Processing payroll is a massive undertaking that involves a considerable amount of cash transfer, so doing it effectively is crucial. They must also ensure the distribution of funds to workers on schedule, through their chosen mode of payment.
Business Development and Valuation
Financial institutions often request valuation estimates or audits from their accountants. In any case, whether from a bank or an individual investor, a company seeking financing has to provide a valid and professional valuation of the deal. Accounting firms determine a company's worth by analyzing its profit and loss statements, annual sales, and historical growth trends, and then presenting those numbers to investors and prospective purchasers. In order to get financing, it is necessary to have these numbers analyzed by an accounting company.
Advisory Services
Advisory services from an accounting firm include close collaboration between the two parties for the benefit of the company. These companies go above and beyond traditional accounting services like bookkeeping and tax preparation by using business intelligence tools and their own expertise to help their clients succeed. Working together as a group on a bigger project is another aspect of advisory that guarantees the task will be accomplished on the expected date and according to standards.
Outsourced CFO
The term "outsourced CFO" refers to a service that certain accounting firms provide. Outsourced Chief Financial Officer (CFO) services are an extension of conventional advisory services. Companies that are too small to justify the expense of hiring a full-time officer might benefit from the services offered by an outsourced CFO. They may work on a contract basis or be hired for a specific task.
Reasons SMEs Need Accounting Firms in Hong Kong
It is inevitable that as your company expands, you will have to devote more time and energy to administrative tasks. Getting an accountant for your SME now might prove to be a wise move. Taking this action may end up saving you a ton of money and time, so it is in fact a wise expenditure. Here, we will discuss five benefits that a company may get from working with an accounting firm.
Save Time
SMEs in Hong Kong are frequently so busy juggling a wide variety of responsibilities that they neglect the accounting side of their operations. It is time-consuming to investigate and analyze every aspect of a company's finances. In the absence of accounting skills, examining financial information is more time-consuming and prone to inaccuracy. Using an accounting firm to assist will ensure that all aspects of your company's finances are thoroughly reviewed.
Affordable
Imagine having an in-house team to take care of all your accounting needs. You may either overload them with tasks apart from their core responsibilities or need to train a fresh batch of staff to meet the company and legal standards. On the other hand, when you outsource your accounting and bookkeeping tasks to an expert provider, you can have all your tasks done and even more within your budget. The training and infrastructural finances will be handled by the service provider.
Expert Advisory
You may want to consult with an accountant before deciding on a legal business structure, given the wide variety of options available, such as limited corporations, limited liability partnerships, sole traders, and proprietorships. Some causes of noncompliance include improper tax return filing, failure to account for all deadlines or a misunderstanding of local requirements. Accounting firms in Hong Kong with specialized services will have deep expertise to provide legally compliant service to their customers.
Improve Cash Flow Method
To help their customers better manage their cash flow, accounting firms may use and recommend a variety of tools and strategies. SMEs may handle their cash flow by planning ahead for expected changes. This allows them to optimize payment terms with suppliers and debt collection from customers.
Seamless Audit Coordination
Under Hong Kong's Companies Ordinance, SMEs must submit yearly audits or face legal consequences. If you need assistance putting together your financial statements, an accounting company may provide that. The accounting firm will be the focal point for any inquiries from auditors, reducing stress for company owners. To ensure better compliance in the case of an audit and to facilitate a smooth audit review, it is recommended to hire an accounting firm to manage and create your financial statements.
Get Professional Accounting and Bookkeeping Services With Startupr!
SMEs in Hong Kong must maintain accurate financial records and comply with the Inland Revenue Department regulations. You may be fined for mismanaging your company's financial data. With an accounting company, you may delegate this task and be certain that protocols will be observed.
At Startupr, our accounting and bookkeeping services will assist you in managing and tracking all your transactions on a single platform. Also, using the records, we provide accurate evaluations and business insights to increase your company's value in the market. Our exclusive SME package includes prompt bill settlement tracking and monthly Accounts Receivable and Accounts Payable ageing reports. Have queries? Connect with us on a call.