7 + 1 Things Investors Doing Business in Indonesia Want to Know
January 2, 2019
Indonesia has become an attractive destination for foreign investors with its current political and economic stability, as well as the plethora of investments possibilities.
Foreign investors and entrepreneurs with a sharp eye are constantly spotting the gaps in the Indonesian markets and grabbing the lucrative opportunities.
The elementary question, however, remains unanswered. How to jumpstart the venture and ensure entrepreneurial success in Indonesia?
There is no one-size-fits-all answer, but we will walk you through the details that you need to take into account while starting a business in Indonesia.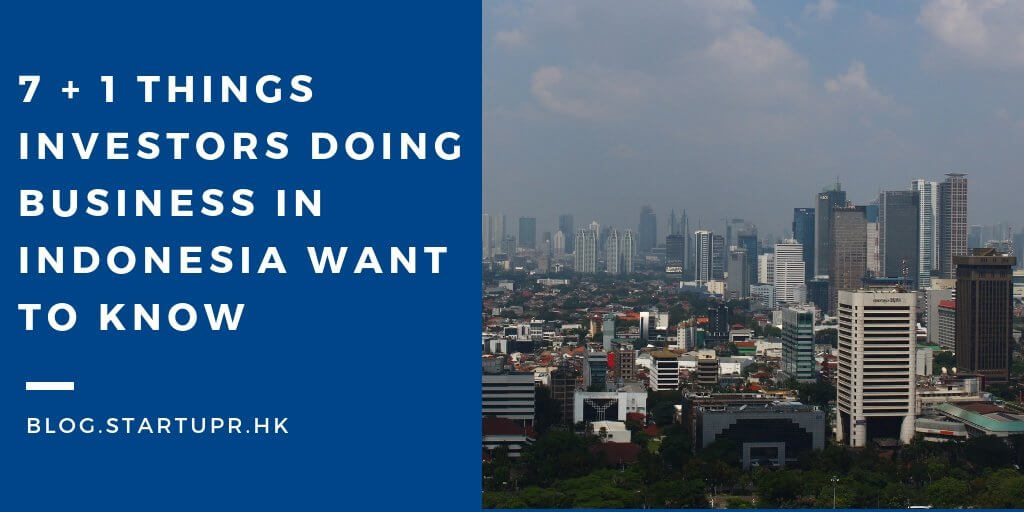 1. Type of Your Business Entity Is Not in Your Hands
According to the Negative Investment List (NIL), the foreign ownership of a company can range from 0% to 100% — which means that companies in some sectors can be fully-owned, partially-owned, or even entirely closed for foreigners in Indonesia.
If the sector you are venturing into is forbidden for foreign ownership, you need to find a local partner to sign a nominee agreement with.
2. Strict Restrictions
Most foreign investors opt to register their companies as foreign limited liabilities or PT PMA, so they could avoid restrictions on a number of foreign employees and a nominee agreement.
However, a foreign-owned company is a subject to stricter requirements, higher paid-up capital, and more demanding establishment process than a local company or a representative office.
In any case, professional assistance during the incorporation process will be crucial as it is nearly impossible to keep pace with persistently updated regulations in Indonesia.
Business Entities in Indonesia in a Nutshell
Local Nominee/Local-Owned Company (PT)
In case foreign ownership is prohibited for a specific sector under the Negative Investment List, a local-owned company is usually the entity foreigners will go for.
Even though a local nominee is a company owned entirely by Indonesian nationals, foreign investors are still able to manage and control the entity thanks to a nominee agreement.
Noticeably, the best way how to avoid fraudulent behaviour of local gangs and prevent forfeiting your ownership is to look for a reliable business agency to help you coordinate your business establishment.
Representative Office (KPPA)
A representative office stands for a legal entity that was incorporated for investors to gain a formal presence in Indonesia. Its activities are limited to marketing, promotion, or conducting market research in the country.
A KPPA is not allowed to conduct commercial and business activities that generate income. The validity of a KPPA is generally short-term and can be extended in accordance with the Indonesian law.
Foreign-Owned Company (PT PMA)
A foreign-owned company, or a foreign limited liability company, allows foreigners to invest directly in Indonesia. A PT PMA can be partially or solely owned by foreigners ranging from 1% to 100% of shares.
Furthermore, there is relatively more legal paperwork to go through as compared to an establishment of a local nominee or KPPA.
7 + 1 Things Investors Doing Business in Indonesia Want to Know
Click To Tweet
3. Educate Your Professionals
A lack of a high-quality workforce remains one of the key challenges when setting up a business in Indonesia. The human resources are lagging even though the country is the 4th most populated country in the world with a population of 260 million.
Although half of the population is in their productive age, not everybody has the adequate skills to contribute to the workforce.
This is mostly because many regions in Indonesia, especially in areas outside Java Island, are struggling to develop quality education, training, and appropriate incentive structures.
Besides, recruiting foreign talents is sometimes hampered by the high costs and complexity of acquiring work permits.
4. Targeting an Indonesian Market
Indonesia is considered to have the most fragmented markets in the world due to its archipelagic nature—it is the biggest archipelago nation in the world.
With its substantially distinct languages, races, customs, religions, and values, foreign investors should never assume Indonesia is a single market entity.
The demands and needs of the diverse markets in Indonesia are required to be addresses respectively and exclusively.
5. Bureaucracy Complication and Uncertain Regulations
The bureaucracy and uncertain regulations during the process of company registration in Indonesia are known to investors worldwide.
Foreigners, who just set foot in this new environment, do not feel defeated. The challenge has been addressed these years.
As of 2018, the ease-of-doing-business index of Indonesia has climbed to the 72nd place with a whopping jump of 19 places and the recent implementation of Online Single Submission (OSS) System is supposed to cut the bureaucracy even more.
Still, there is room for Indonesia to improve and meet its target for economic growth and to provide a convenient business environment for foreign investors.

6. Uneven Infrastructures and Facilities
Many cities in Indonesia have shown booming development with the inflow of foreign investments. However, it is the development in Java Island that still leads the economic growth in Indonesia.
The Java Island includes 6 provinces, they are Banten, the Capital City of Jakarta, West Java, East Java, Central Java, and the Special Region of Yogyakarta.
Although some large cities on other islands (such as Sumatra and Batam) show great progress with foreign investments and positive outlook, most infrastructures and facilities are highly concentrated in the 6 mentioned provinces.
All in all, in order to be a successful entrepreneur, market research on infrastructure and facilities will determinate the proper location of your business set up.
7. Natural Resource and Raw Material Abundance
Indonesia is a rich archipelago with an abundance of diverse natural resources and raw materials.
If the business you are running requires specific natural resources and raw materials, you must know how to obtain them easily and in a cost-effective way.
The transportation costs of these resources and materials might get expensive considering Indonesia has thousands of islands that spread across the Indian and Pacific Ocean.
As mentioned previously, the location of your business depends on several factors as concentration of talents, natural resources and facilities.
Indonesia is a huge but diverse market with unbelievable business opportunities. To address them correctly, assistance of a professional agency is necessary. Contact us and we will make your market entry in Indonesia smooth and legitimate.