Starting a business in Asia? Why is incorporating in Hong Kong a viable option?
April 13, 2020
Many factors contribute to the starting of a successful business. And in order to start your business, you have to get all the things well in place, including the location of your company. In order to be a successful startup, the company founder must choose a business environment for the company to thrive.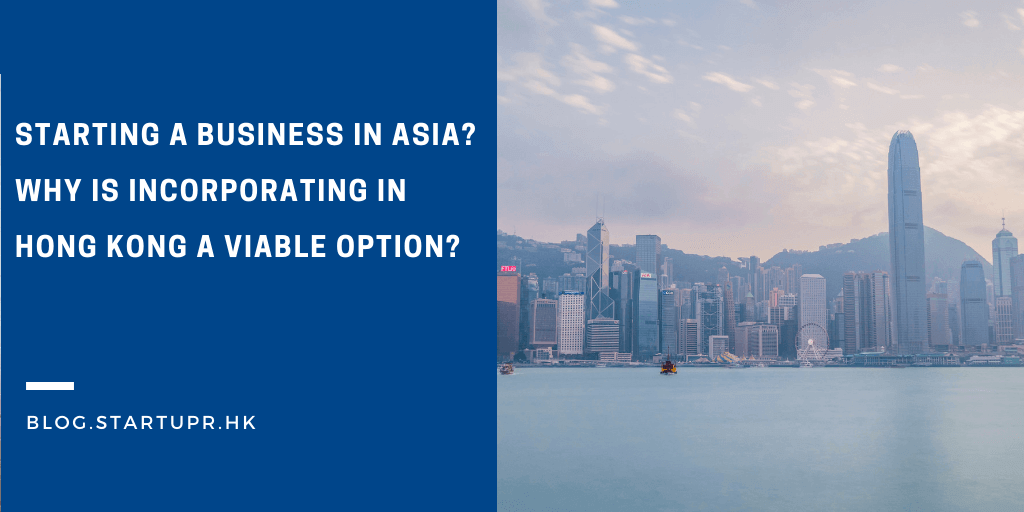 Asia is at the forefront of change and the ability to work with growing companies in diverse cultures. The continent is booming with tech startups experiencing rapid growth. It is also home to many powerful markets, namely China, one of the world's biggest economic powerhouses.
Hong Kong, located right on the doorstep of China, is an environment with access to this growing Asian economy while being able to access a business environment with financial freedom and low tax jurisdiction. If you are interested in starting a business in Hong Kong, some of the major benefits are world-class infrastructure, tax system, global financial center, and many more. If you want to know more about why to incorporate in Hong Kong, keep on reading.
Why Hong Kong Preferred Place to Many Entrepreneurs?
Located in the heart of Asia, Hong Kong is renowned for being a unique global business city. It is the most preferred city for many business people for starting a business. If you plan to incorporate in Hong Kong, know that it comes with endless benefits. Some of them are free-flow of information and goods, unrestricted capital flows, low tax system, and last but not least, business infrastructure, which makes Hong Kong a leading international market and financial center for many entrepreneurs.
There is something about Hong Kong that attracts people. The economic development has also drawn international standards and ensures enterprises to run their business efficiently. Below are some of the advanced business infrastructure features which make Hong Kong one of the best places for operating a company all over the globe.
World-class telecommunications and connectivity.
World-leading air cargo system.
Seamless transportation networks.
Economical and convenient local and regional transport.
Another important factor to starting a business in Hong Kong is the business-friendly tax system. There is no tax on capital gains, offshore income, or inheritance. The Hong Kong tax system is clearly in favor of business, with income tax capped at 15 percent, and corporation tax a mere 16.5 percent (8.25 percent for profit under HKD 2 million)
Ease of doing business – Hong Kong Rank's 3rd Globally
In a recent annual World bank's ranking, Hong Kong ranks 3rd globally on the ease of doing business, covering 190 different economies. In this yearly report by the World Bank, New Zealand again hit the first place, followed by Singapore, Denmark and South Korea made up the top five.
Hong Kong ranked first in dealing with construction permits, second in paying taxes, third in getting electricity, and fifth in starting a business. All this giving the city an overall score of 85.3 points out of 100. The report also looks at the regulatory environment affecting firms, including starting a business, trading across borders, and taxes.
For the past decade, Hong Kong has maintained its top rankings. It is easy to start a business in Hong Kong. A Hong Kong government spokesman also said that the government will continue to work closely with the business sector and stakeholders to reform the existing regulatory regimes—all towards the improvement of the business environment in Hong Kong.
How easy is it to incorporate a company in Hong Kong?
Global leaders in banking and business — Hong Kong being the record holder for the last two decades, its continuous growth and improvement has attracted many entrepreneurs in various industries. It is very easy to incorporate a company in Hong Kong. All you need to do is follow certain steps correctly. To start a business in Hong Kong, you have to follow specific steps which are:
Choose company type and name
A company name is often your first impression with customers. A company name will appear in the index of the company names kept by the Registrar of Companies. It must be unique and right for the kind of business. Before you choose the company name, a business must also decide the type of company they are going to incorporate in Hong Kong. Amongst many kinds of business entities in Hong Kong, the most common are limited companies, partnerships, and sole proprietorships. Choose the type of company that best suits your company's purposes:
Limited Liability Company: This kind of company is the most common and protected amongst all the types of business structures available in Hong Kong. It is easy to start a limited liability company as it can be easily incorporated. There are a number of benefits that come with a limited liability company, which includes several tax benefits, easier transfer of ownership, and many more. It also gives you a positive image as compared to other business types.
Sole Proprietorship: As the name suggests, a sole proprietor is a person who is the exclusive owner of a business. It is a small scale and a low-risk business that is easy to set up. Even though sole proprietorship is the simplest and the most accessible form of business, it is usually deemed as the riskiest business as there is no security for the owner's personal assets.
Partnership: This kind of business structure permits two or more people to share the ownership of a single Hong Kong limited company. It is a small scale and low-risk ownership. Since the company is co-owned, the partners are individually and jointly liable for the deeds of the other partners.
Foreign Company Office: There are three available structures for a foreign company office in Hong Kong namely, representative office, branch office, and subsidiary company for those foreign companies that want to create a presence in Hong Kong. The structure of the business would be based on the goals and plans of the foreign business. A lot of large companies opt for opening a branch in Hong Kong while the small and midsize companies opt for a subsidiary or a representative office.
Fill out the order form on Back Office
The next step is to fill out the forms to have the incorporation processes begun. Here is what you would have to follow (if you are using our services on Startupr):
You can fill the company name check available on our website, which will help you know if the planned name is free to use or not.
Next you can simply utilize the BackOffice system that we have to complete your order online.
When your application reaches us, Startupr's exclusive Backoffice also ensures that your form is correct before submission.
Our team at Startupr will communicate with you about any due diligence and follow up for the company directors and shareholders.
Once your application is completed and checked, you are then requested to process the payment.
After this, the incorporation will be started.
Receive Incorporation Documents from Startupr
The next step after you are done with filling the form is receiving the incorporation documents from the Startupr:
Your application is submitted by Startupr through our Backoffice that has a portal to the Companies Registry (CR).
The Hong Kong government office starts the process shortly thereafter (mainly As Startupr has a direct portal with them.)
After this, you will be notified through email about the incorporation of your company.
Startupr then sends the documents to you after the incorporation of your company. And with this, your company is incorporated successfully in Hong Kong.
Register for a bank account
Opening a business account can be one of the most important things if you are planning to start a business in Hong Kong. Having a different bank account allows you to keep your business depositing and spending separate from your personal banking. It helps in having clean and accurate bookkeeping.
The process of opening a bank account in Hong Kong includes the following steps:
The first thing to do after you incorporate in Hong Kong is to research about the banks and choose the bank that meets your needs.
Next, collect all the necessary documents to submit to the bank.
Ensure all the requirements have been fulfilled so that the bank appointment can be arranged.
Meet the bank in person and submit the documents and application to the bank.
Once the bank has approved the application, the business bank account is opened and you may use the online banking freely and easily.

Obtain licenses and permits
Another critical aspect of starting a business in Hong Kong is to obtain a business license and permits. One of the reasons why it is important to have a business license is to ensure the smooth operation of the company, for those that require a specific license. There are different licenses required for different kinds of businesses.
To find more specific information about the type of certificates and permits your business requires – visit the official website. Visit the website of the Trade and Industry Department for information on other licenses, permits, certificates, and approvals relevant to import and export operations and business operations in Hong Kong.
How does Startupr help you?
Now that you know all the vital information about starting a business in Asia and why you should incorporate it in Hong Kong, you are all set to start your business. And if you have any kind of trouble launching your dream project, we recommend contacting a professional like Startupr.
Startupr has years of experience in setting up businesses in Hong Kong. Our separate online Back Office system helps you keep track of your company's details and required annual filings, all in one place. With our Backoffice system, you can easily enjoy round-the-clock access and fast company services through Startupr and the HK government Companies Registry (CR) office. This enables you to customize the services directly for us to submit the company filings efficiently. To know more, contact us today!