Role of Company Secretary in Hong Kong Business
April 24, 2019
Are you thinking about putting your feet into the competitive business world of Hong Kong? Great! Then you must be aware of the advantages offered by Hong Kong to the business owners while setting up their venture in the race.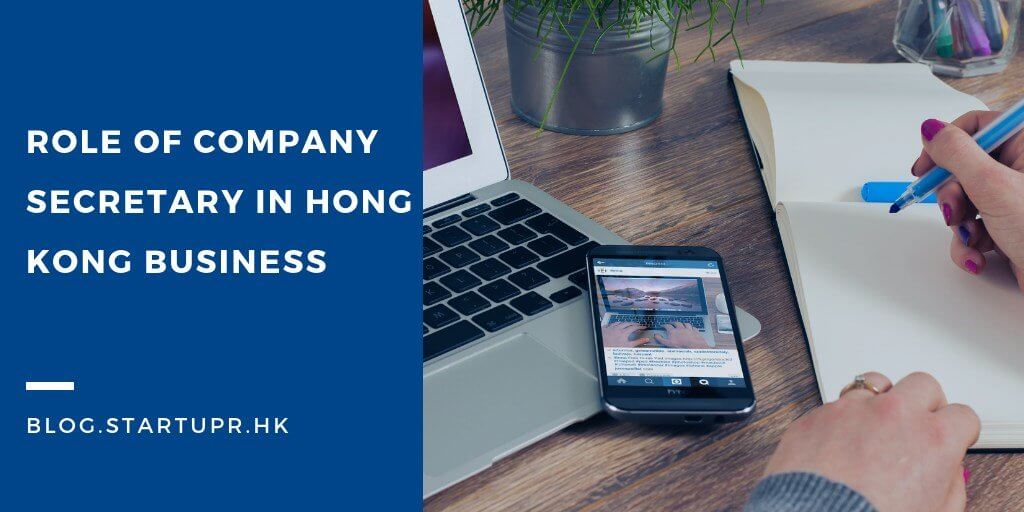 Being known for its trade policies, low tax regime, free business environment, the free market, and close proximity to the China market, Hong Kong is alluring all the entrepreneurs and investors to try their luck.

Are you considering it too? If so, then you must be aware of the fact that you need to hire company secretary services for registering and incorporating your business in Hong Kong. Thinking about starting a business is the first step, you need to choose the name of your company, type of business entity, arrange your finances, and then, more importantly, register the company with the Hong Kong Government. And here you need to have a company secretary for managing your business.

Wondering, 'why we are saying to hire company secretary for your business?' No worries! We have incorporated all the important information about the role of company secretary services in Hong Kong.

Let's delve deep into the article-
How important is a Company Secretary in Hong Kong?
Before giving you the details of the role of company secretary in Hong Kong, we would like to provide you with basic information about their services. More importantly, 'why you need them for your business?'

Well, there are many reasons behind this- the first being, under the Companies Ordinance, it's a requirement set by the law. So, every company should have appointed a company secretary.

The secretary, if a body corporate, must have its registered office or a place of business in Hong Kong; or if an individual must ordinarily reside in Hong Kong. The sole director of a private company cannot be the company secretary.

As a matter of fact, every business owner needs to wear several hats at the same time so that he can stay updated in cut-throat competition. And sometimes the situation becomes awful, and here comes the importance of hiring the professional company secretary.

A company secretary is responsible for preparing agendas, maintaining the statutory book, including the registering of directors, and shareholders. More importantly, taking minutes of board meetings, and annual general meetings; alternation of directors or company secretaries; transfer of share; and liaising with lawyers and auditors.

Do you know that every company needs to have named representative on legal documents? So,'who can play better to help your business in good standing in the race?' Well, the answer you know already, 'Company Secretary'.

They will not only help you in representing your business but also ensure that the company and its directors operate within the law. Moreover, they are also responsible for maintaining the company records, such as lists of shareholders, and directors, annual accounts.

It is, therefore. important for the business people to appoint a company secretary, who must be well knowledge and experience so that you can comply with all the tasks mentioned above.
What is the Role of a Company Secretary?
Understood the importance of appointing a company secretary for your Hong Kong business? Great!

Now, it's the right time to get to know about the role and duties of a company secretary.

The first and foremost thing that we want to notify you that the Company Ordinance does not prescribe the specific duties and roles of a company secretary. In fact, it will usually be governed by the secretary's contract of employment.

However, in Hong Kong, corporate secretarial companies are often appointed as company secretaries of private companies. Here are some role of the company secretary in Hong Kong that you should know-
Running the agenda for, and taking minutes of, board meetings and members' meetings and
Filing documents with Companies Registry, as required by statute
The maintenance of the company's records and registers, both statutory and non-statutory.
The main link between a company and a registry office.
Responsible for company deregistration when the company wants to cease operations.
Implements the board's resolutions arrived at during meetings.
Prepares, records, stores, and reproduces all statutory documents.
Applies for the company's business registration certificate
Advice the company on any issue on legislation, bankruptcy, and liquidation if the need arises.
Prepares and submits any legal requirement asked by any Hong Kong administration arm of government.
How can Startupr help you?
As per stated earlier, for all the legal documents of Hong Kong, the company secretary is the central representative. The secretary will ensure that all the operations of your business are doing within the law.


Are you thinking about company secretary now? Good! So, 'which company secretary would you choose?' Well, we firmly believe that Startupr should be your first preference. Wondering, 'why?'

Well, there are a plethora of reasons for this-

The first one we provide a full range of specialized corporate secretarial service to our clients. Secondly, we always focus to reduce as much as uncertainties which might be troubling you while setting up the business. Moreover, we also answer doubts of every client while encountering with the related laws of Hong Kong.

As you know that under the Companies Ordinance (Cap. 622) , trust and company service providers ("TCSPs") in Hong Kong are required to be licensed under the Anti-Money Laundering and Counter-Terrorist Financing Ordinance in order to enhance the transparency of beneficial ownership.

And we are pleased to announce that we have received the TCSP license number "TC003638" from The Hong Kong Special Administrative Region Companies Registry.

After that, we aid them to evaluate the company strategy of their business in regards to the statutory requirements of the jurisdiction.

What's more, we also provide information on the most up-to-date relevant corporate laws and regulations and analyzing the impacts faced by the company.

Do you want to more about our services?

Then our Unique Same Day system is what allures many customers towards us. This system allows us to check all the information as you enter it in the form. After getting all your details, our system then conveys your data automatically to the Companies Registry forms, and after that, we directly to the appropriate government portal.

Furthermore, our rates are really genuine because our system is merely the most efficient, and the communication with our international clients is clear, straightforward, and reliable. If you want to know more about us, then visit our company secretary page.

Startupr will be pleased to serve as your most trusted and reliable company secretary with many years of experience of the field of company formation and secretary services in Hong Kong. Contact us!