Entering Chinese Market: Why Go Through Hong Kong?
December 5, 2018
Being one of the world's largest trading economies and a dynamic city with strong growth prospects, Hong Kong is a key gateway to mainland China. Entrepreneurs from around the world have experienced numerous opportunities while doing business in Hong Kong. Hong Kong shares a common culture with mainland China. So, there is no better base to connect with Mainland China's high-growth markets than entering into Hong Kong.
From its geographically and culturally rich location at China's southern tip, from its wealth of transport connections, invaluable economic advantages, robust economic relationship with mainland China, makes Hong Kong one of the most important international business cities.
More importantly, Hong Kong ranks high in the world's leading surveys on economic freedom and business opportunities for a higher ease of doing business. So, if you want to enter into the Chinese market for setting up a new business or you are willing to expand your existing business globally, then entering into the economy of Hong Kong should be on your radar.
Here are some reasons why you should go through Hong Kong for entering The Chinese market: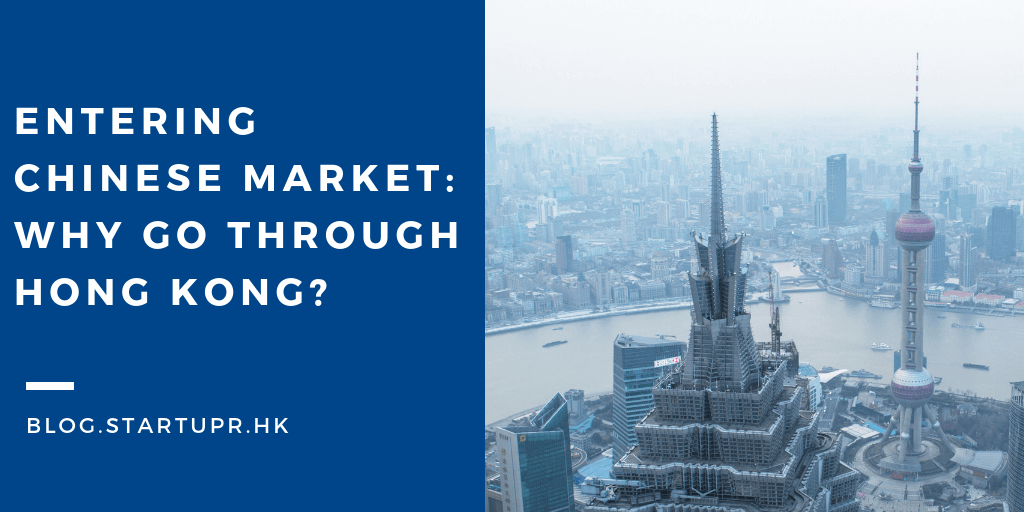 Sophisticated And Simple Business
The first and foremost reason for entering the Chinese market is that Hong Kong is known to be a Special Administrative Region of the People's Republic of China, with a high degree of autonomy in all matters except defense and foreign affairs. Hong Kong is also cited for its zero export tariffs, strict intellectual property legislation, and free flow of information.

More importantly, the network of bicultural business professionals, and most corruption-free economies also play an important role for many business owners. This is key for having unparalleled access to the enormous market of Mainland China. Hong Kong is not only the perfect base for business owners and investors to access the Chinese market, its East meets West business culture also provides an ideal platform for Chinese enterprises to expand into the international community.
Visa-Free Support
Having the world's fifth-busiest international passenger airport, and operating more than 85 airlines internationally, Hong Kong is a global business hub. According to the Economist Intelligence Unit, Hong Kong is also one of the most e-ready economies in the world. Hong Kong's visa system also invites foreign investors in the city to visit The Guangdong province, which is known to be China's largest provincial economy.
Being the most significant single investor in the Chinese mainland and close to 45 percent of outside investment in China's main cities, including Shanghai, Guangzhou, and Beijing, Hong Kong is the perfect place for several investors.


For more information about visa policy, you can visit the gov website for more info.
To be more precise, visitors in a group of 2 to 40 people can stay and travel for a maximum of 144 hours via entry ports in Shenzhen, Zhuhai, Guangzhou, Dongguan, Foshan, Jiangmen, Zhongshan, Zhaoqing, Shantou, and Huizhou on an entry permit or visitor visa.
As per the statistics of MICE events held each year, Hong Kong's convenient visa policies also attract over 1.7 million Mainland Chinese. There are various schemes and policies for the employment of Mainland talents, and foreign professionals for those who are wishing to enter for investment and opening a new company.
Unlimited Market Potential
As a Special Administrative Region of China, Hong Kong enjoys a highly active and cooperative business relationship with its leading conduit for foreign investment and Mainland China. More importantly, Hong Kong is cited as its primary offshore capital-raising center and its second-largest trading partner after the US.
Factors such as expertise among China's middle class and rising demand for technology serve to strengthen Hong Kong's position as the perfect place for generating, showcasing, information-sharing and networking opportunities within Mainland China.
Entering Chinese Market: Why Go Through Hong Kong?
Click To Tweet
Business Support & Assistance
Another reason for embarking into the Chinese market through Hong Kong is because of the various programmes and schemes established by the Hong Kong government and the private sector in order to help your company in improving every aspect of your business.
The public and private programmes of design support, government funding schemes, business development support, seed capital providers, market access, promotion platforms, co-work spaces, and incubation programmes play a vital role in making Hong Kong a global launch pad for all startups.
Besides this, Hong Kong also offers a robust IP protection regime in order to protect professional services in franchising, licensing, as well as in IP registration. Hong Kong Trade Development Council is also helping international companies for doing business in the Mainland and Asia to find new markets.
Close and Connected
Being perfectly situated on the southeast coast of Mainland China, and residing on the mouth of the Pearl River Delta, Hong Kong is the perfect base for entrepreneurs for entering the Chinese market. A five to eight hour flight will connect you to the most prominent markets in the Asia-Pacific region.
Visitors can also travel to and from Hong Kong to Shanghai, Beijing, and other major Chinese cities within a single day. In fact, The Hong Kong International airport is often ranked as the 'Best Airport in the World' and consistently receives awards and accolades.

Hong Kong is also a focal point of all maritime activities in southern China and one of the major ports in the world in terms of cargo handled, with numerous shipping companies using its facilities. The "Guangzhou–Shenzhen–Hong Kong" High-Speed Rail also speeds up the commute to and from some of Mainland China's most prominent consumer cities.
Conclusion
Being one of the freest economies in the world, and the most important international banking and a financial hub, Hong Kong is China's global financial center. The facilities available in Hong Kong are ideal for anyone looking to start their business overseas, especially in the Chinese market. In fact, over 8,200 overseas and Mainland companies have offices in Hong Kong, of which about half are regional headquarters and offices.
Are you ready to expand your business globally? If so, then hire a professional like Startupr and set up your dream company in Hong Kong and stay connected with Mainland China. Startupr always strives to set ourselves apart from others by providing excellent service to our customers, and help them start and grow their businesses.