8 Top Ways to Find an Investor for Your Startup
May 29, 2019
Are you ready with your excellent plan to embark into the competitive marketplace? Do you have all the variable products and services to back up your plan? But do you have any backup to scale your business?

Since several entrepreneurs enter the market intending to generate more revenue and sales, but what's the use of having a brilliant idea when you don't have any access to put it on the ground. Yes! That's the real main question that makes worries several business owners. Funding, right! Without much funding assistance, you can't build your startup.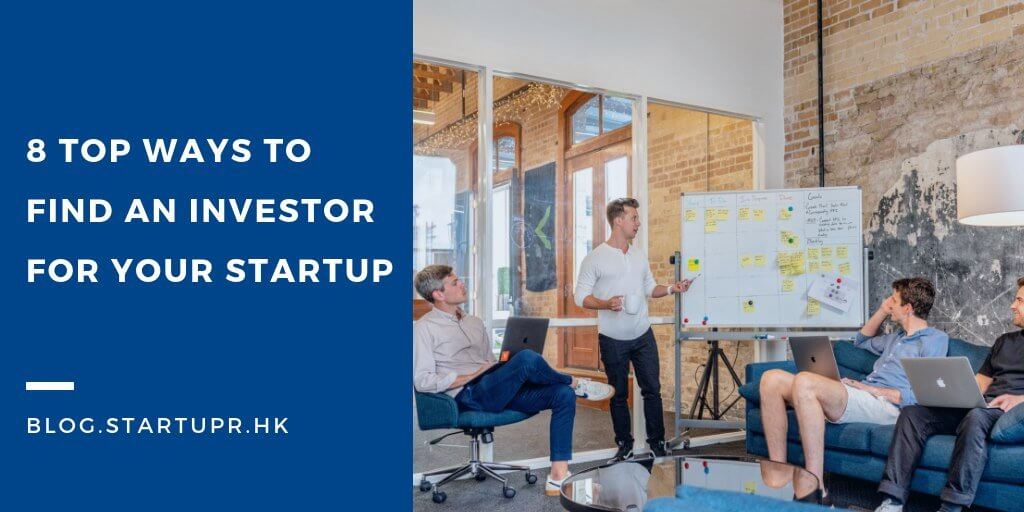 The key to success doesn't solely base on innovative products and services. Startups do require to get paired with the right and perfect strategic investors who can provide the capital to drive their idea into reality and more importantly, into the commercial success.

Even though this is a scary step to implement for your business, being prepared for yourself is always the best route. As an elderly saying goes- 'prevention is better than cure.' Therefore, always look for the best startup investors. In fact, a recent survey conducted on various startups by TechInvest reveals that many young-entrepreneur have changed their path for doing their sourcing of capital.

By doing all the thorough research work, they realized that 'strategic' capital is far outweighing than 'idle' capital. What's more, they also advocate that getting the right access to the capital is a quite cumbersome task. Eventually, this task is increasing the curiosity of the business owners to partner with the right advisory groups to identify these investors.

Importance of Finding The Right Investor

As we all know that investment choices can either break all the barriers on your way to fulfill your plans or destroy your dreams and turn them into worst nightmares. In fact, you should look for the below-mentioned qualities in your potential investor–

An investor should understand the founder's mindset and problems.
An investor should have a history of funding in similar vertical as yours.
An investor should be interested in your business model.
An investor should have enough capital to contribute to your startup's needs.
An investor should be trustworthy enough and hold a strong reputation with the investor network.
An investor should have a history of funding in similar vertical as yours.
Do you want a more transparent picture of the importance of finding the right investor?

Let's take a scenario to get a better understanding of the importance of finding an investor for your startup.

Suppose you built up a successful business which relies on good revenue and a little startup help from the angel investors. Indeed, by that point, you and your angel investor must have a pretty good agreement and work well together.

But here is the trick, you want to set your standards high and wishing to gain more sales. So, think, what will you do in that situation? Of course, here, you need to do thorough research work about good and reputed investors who can provide you with the right capital for your startup.

Moreover, if you happen to know any of the founders of the companies that have taken funding, then before seeking any investors, you should speak to them at least one time. In this way, you can find out a way and understand what it's like working with the investor.

What are the Top 8 ways to Find an Investor For your Startup?

Now that you must get a profound idea about the importance of having the right investor on your desk. So, are you feeling like, you need some ways to do research work? Or perhaps, how can you do that to get better results?

We know, in the flow-flow of the article, we have mentioned about the research work. But the real question is that, 'how are you going to that?' To be more precise, how can entrepreneurs ensure they are picking the right investors for their startup?

No worries! Here are some ways for finding an investor for your startup-

#1 Way- Compile all the Research Work in a List

The first and foremost way will automatically give you an idea about why should you do proper research work and how can you use it for your startup. Undoubtedly, you will do your 100% work to look after every startup by investigating each and everything about them. But what will do with them?

After doing proper analysis, you will need to compile a list of investors and then figure out whose visions and plans are aligning with your business goals. Therefore, tap into the investors in your networks, reach out to them in a low-stakes environment, lay out your ideas, ask for feedback, and always incorporate their advice into your next pitch.

#2 Way- Be Market Ready

Before looking for the right investor for your startup, you should establish your startup in some way in the market. You could have a huge social media presence, name recognition; your prototype should be working and showing signs of traction.

Why are we focusing on this way? The answer is quite simple because if you don't have any market for your product, then do you really think, investors will get back to you for funding your startup. Obviously, Big No!

Henceforth, just skim and scan your business model and associated numbers through a calculator. And also be sure with the fact that your business model can inevitably defend your needs and more importantly, the requirements of investors, asked for it. The more risk factor a potential investor in your business model and goals, then the less they'll want to invest in it.

#3 Way- Your City's Entrepreneurial Community

Another way that will help you in seeking the right investors for your business is the city's entrepreneurial community. And as we all know that being the freest economy of the world and business hub for several multinational companies, Hong Kong is the best choice for setting up a business.

When you are ready to take your project from the scratch of the paper, the next step is to get involved with the other founders around you. Participate as much as you can in regional tech and startup groups on Facebook and LinkedIn, meet as many people as you can, and attend events that will help to organize a committee for your startup.

As we all know that to err is human, so rather than making mistaking while operating, ask some advice for them. When you connect with the members of your community as a human first, then you can build stronger relationships and work together to help each others' companies cross the finish line.

#4 Way- Gather Information from your Mentors

When you meet people while attending entrepreneurial community and other events, there are maximum chances that some people will become your mentors. In this stage, mentors will play a significant role. While doing the business, you will eventually discover that they will help you in broadly understanding the business, and also offer you the guidance to help you navigate the industry.


#5 Way- Create an AngelList Profile

Yes, build a unique and fascinating Angellist profile so that you can learn about the investors and let them know about you by visiting your site. In order to make your profile strong, you need to add specifications of your company, services, products, and team member. By making your profile this way, you are developing a curiosity to the people who are interested in your space to find you.

As soon as you are done with the addition of all the important information, you need to share your profile with your professional acquaintances, and friends. Well, you can also request references from your mentors. When people follow your business profile, it will show up to others they know (and hopefully pique their interest).
#6 Way- Publish Press Releases

If business owners execute press release in a correct manner, then it a great way to lure more investors towards their business. On the other hand, if it is done incorrectly, then it can destroy your dream business and put your all hopes down. Before releasing any press release for your company, once go through with all the new business news websites, online PR agencies, and famous business blogs so that you can take some ideas to write about your startup.

For instance- you can write a story about your startup, how have you reached here, and from where you got an idea to become an entrepreneur. These kinds of engaging stories help your business to knot a tie with your customers. What's more, sometimes, they might give you a call or most of the times, your PR publicity becomes easier for you to convince them.

#7 Way- Crowdfunding

And another platform that can help you in making contacts with esteem investors and successful entrepreneurs are crowdfunding. These platforms are seriously ideal for those companies or people who are extraordinarily good at social media and customer outreach and looking for the best guidance.

Through this, you can maximize the number of potential views by investors in one go. Even if you are looking for the best ways to test the validity of your business idea, refine your business product, and get feedback from potential customers, then it is an excellent opportunity for you.

#8 Way- Incubators & Accelerators

And last but not least, the way which can help you in getting contacts with reputed investors is incubators and accelerators. As a matter of fact, for some people, startup acts like their baby, and for your baby, you want the best and best things so that it can grow and flourish at a faster pace.

So, here working with an accelerator or incubator gives you a whole host of investor resources to watch that business grow up and succeed. So, try these resources also while launching your business in Hong Kong. Cyberport Smart Space, Ablaze, Nest, and SuperCharger are some accelerator and incubator programs for Hong Kong startup funding. Therefore, as per your needs and business requirements, you can choose any resource in Hong Kong.

Final Thoughts!

By now that we firmly believe that you should have a better idea about finding an investor for a startup, and more importantly, about the importance of the right capital for your business. Therefore, just make your mind in order to make your dream become true by launching a startup in the business hub of the world- Hong Kong.

But one thing that here we want to notify that it's a business model, you need to act strong. There are some chances that when you will not be flooded with the investment offers or you are even flat-out rejected – several times. Still, don't be discouraged. Just try, try again, till you find the right investor for your business.

Once you get a perfect investor who aligns with your business needs, then you can operate your business very smoothly. And if you stop yourself now then you may never find your perfect match.

However, if you are still finding problems in order to raise fund for your existing startup or looking for more funds for your new startup, look no further. Hire a professional like Startupr and make your dream company.

Contact us now! Let us help you to make your dream come true!