10 Smart Bookkeeping Tips for Hong Kong Businesses
November 28, 2018
You have set up your company in Hong Kong and are all ready to begin the operations. But do you know how to find high quality bookkeeping services in Hong Kong for your business correctly? Accountancy and bookkeeping play an essential role in business planning, management, and for filing tax with the department of Hong Kong.
Regardless of whether your company has been running for several years or you are just setting up, you may need someone to assist you with the bookkeeping of your business. To help in keeping everything organized, complying with all the financial reporting requirements, maintaining records of the money coming in and out of the company, you are required to follow modern accounting standards and manage your business performance efficiently.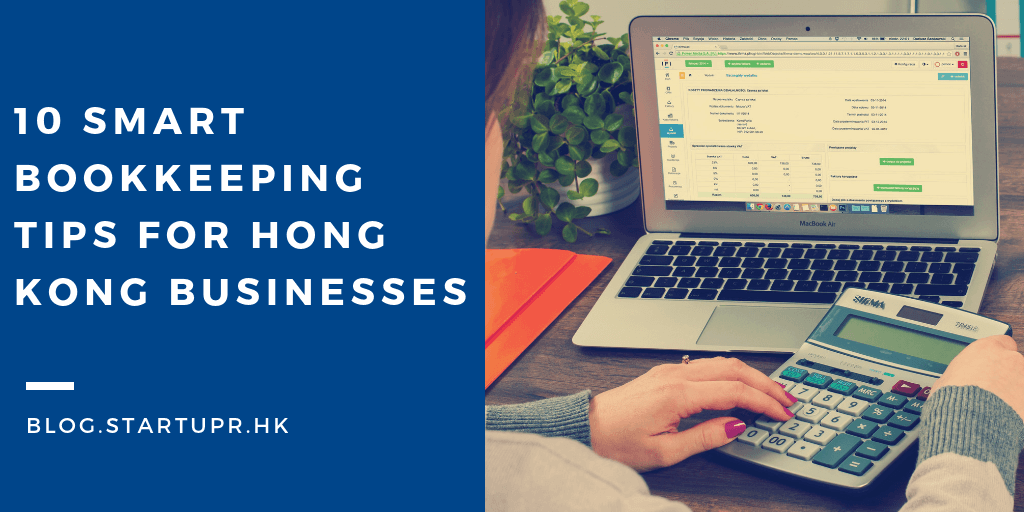 What is Bookkeeping Services?
Before understanding the importance of different bookkeeping services in Hong Kong, and smart bookkeeping tips for your business, you need to understand the concept of bookkeeping. Bookkeeping is recording and organizing all the financial transactions in a business entity. A bookkeeper must set up financial statements so that an accountant can efficiently perform legal and tax management promptly.
The records of the company are usually done day-to-day, but you can also complete it at the end of the month after all the documents and transactions are gathered. The transactions usually include expenses, sales receipts, bank statements, payments by a person or corporation, and others business transactions.
So, if you own a business entity in Hong Kong, then it is always advisable to maintain all the financial records properly. Exploring various bookkeeping services in Hong Kong will make sure that all the financial transaction records of your company is up-to-date, complete, and correct without any regulation problems.
Why are Bookkeeping Services in Hong Kong important?
Know that it is important to maintain adequate records of your business entity, as these are required by the Hong Kong Inland Revenue Department, or IRD. The records need to be retained for at least seven years from the date of transactions. So, in case you are not able to maintain all the company records, then you and your company may be liable and subject to a penalty of up to HKD $100,00, in some cases.
Along with this, there are many other reasons why sourcing good bookkeeping services in Hong Kong are essential to keep your business off the ground. Here are a few of them-
Updated and appropriate records would help you in filing an accurate profits tax returns.
Accurate records enable you to be in better control of your company.
The cost of compliance becomes less for you.
You would be able to portray a much more professional image that makes it easier for you to deal with other investors.
Losses and theft in your company might be detected easily.
The costs of an audit for you are reduced if all of the necessary documents are readily available, as you would not need to pay more for extra time spent by a Hong Kong professional accountant.
Tips For Bookkeeping Services in Hong Kong
As stated earlier, bookkeeping is essential to the success of your small business entity. Whether you love it or hate it, you need to maintain it in order to record all the financial records and management of your business entity. Here are ten bookkeeping tips for small businesses that will help your company in the competitive business world.
#1 Tip- Maintaining a line between the Business and Personal Finances
The first and foremost smart bookkeeping tip for your Hong Kong business is that you need to maintain a line between your personal and business finances. Mixing your income and personal expenses is one of the most common mistakes done by entrepreneurs in bookkeeping. This is one that will cause enormous headaches for your business in the future.
As soon as you decide to set up a startup company, open a business bank account and get a separate business credit card. In fact, getting a business credit card will not only help you in managing your business and personal finances, but it will also assist you in building good credit score for your business entity.
#2 Tip- Track Your Business Invoices
Being the owner of a company, you are required to understand that unpaid or late invoices of your business will automatically affect your cash flow. Consequently, it may interfere with the running of your business in every sector and put your business entity in trouble. So, don't allow your clients to hold your money for a long period of time. And if you want to manage all these situations, it is better to remember that unless you have paid for your previous order, you are not taking up the new order from the client.
#3 Tip- Automate whatever you can
Bookkeeping software is now simplifying the tedious process of entering data into spreadsheets and reconciling figures manually. Instead of using old-school methods for entering data and records of the financial management of your business, use cloud-based bookkeeping software.
By using this software, you can complete your business banking online. You can also sync your business bank account with your bookkeeping software in order to have up-to-the-minute records of your business. Moreover, with this bookkeeping software, your critical financial data is backed up safely off-site.
#4 Tip- Monitor and Record Employees' Hours
The next tip for smart bookkeeping tip for your Hong Kong business is that you should monitor and record the hours of your employees. There are several cloud-based time software in the market to track the products and services that would make it so easy for your employees to clock in and out on their computers, tablets or smartphones.
Moreover, the time tracking software will also help you in simplifying the headaches of managing employees' vacation time, overtime, sick time, and much more. Discover the best software that integrates with your bookkeeping software to make it easier for you in processing the payroll.
10 Smart Bookkeeping Tips for Hong Kong Businesses
Click To Tweet
#5 Tip- Keep track on your Business Expenses
One of the essential characteristics of bookkeeping services in Hong Kong is to keep the track records on your business expenses. You should look for accountants to examine what kinds of expenses you will be able to deduct next year.
If you are planning to claim deductions on your tax returns, you need to make sure that you are keeping detailed records, including all the receipts. There are several smartphone apps in the market for scanning and digitizing your receipts. Avoid having drawers stuffed full of receipts and using cash for business expenses. Instead, use your business credit card for business purchases and simplify your expense tracking because most business credit cards sort your expenses by categories.
#6 Tip- Seek Professional Guidance
Depending on the size and nature of your industry, you may be able to use off-the-shelf accounting software or customize your software for your particular situation. In order to select the perfect bookkeeping software for recording all the financial statements, it is always advised to take help from the professionals on what kind of software you need, set it up for you, and then show you how to use it.
#7 Tip- Review Your Records on a Weekly Basis
Reviewing the records and books on a weekly basis will not only help you in keeping updated about the state of your business, but it will also help you in managing your weekly expenses. Further, you will keep informed about the current invoices of your business entity.
#8 Tip- Stay on Top of your Business's Accounts Receivable
As a matter of fact, late-paying customers can quickly affect the cash flow of your business entity. Pay attention to when your receivables are due. Directly reach out to the late-paying customers right away to discuss the status of your payment and when you can expect to receive the money.
#9 Tip- Stay Updated of your tax obligations, and its deadlines
If you don't want to get caught by the IRD and want to run a successful business in Hong Kong, then it is better to set aside the funds to cover your anticipated bills and plan ahead about filing for taxes.
#10 Tip- Do a Quarterly Review
And last but not least, a smart tip for bookkeeping for your Hong Kong business is that you should take an in-depth look at the accounting and bookkeeping records of your business entity at the end of each quarter. You should also look for trends such as declining or growing sales, increase in late-paying customers or year-over-year revenues.
How can Startupr help Businesses in their Financial Recording and Accounting Services?
In most cases, it is a Hong Kong professional accountant and bookkeeper who usually advise on the structure of your business, from the duties of providing the most effective tax plans. Along with this, they also advise you for the procedures of accounting and controlling all the financial statements that are out of the scope for simple accounting software.
In that case, hiring a professional like Startupr for bookkeeping services in Hong Kong for your business entity with a keen eye on details would be your best choice.
Whether you are an established small or medium-sized enterprise, startup, or a multinational group, bookkeeping services in Hong Kong is needed in every industry. The main reason is that you would need those records for the filing of annual returns, reducing the effective global tax rate, compliance responsibilities and reducing errors in your accounts. If you want more information about our bookkeeping services, contact Startupr today!