Why Your Hong Kong Business Should Move to Digital Accounting?
May 19, 2022
The way we bank is evolving in an increasingly digital environment. You may have heard about digital banks while considering establishing a business in Hong Kong, but are unsure how they may help you manage your company more efficiently. Read on to see how these inventive new platforms, as opposed to a traditional business bank, can help your company's finances.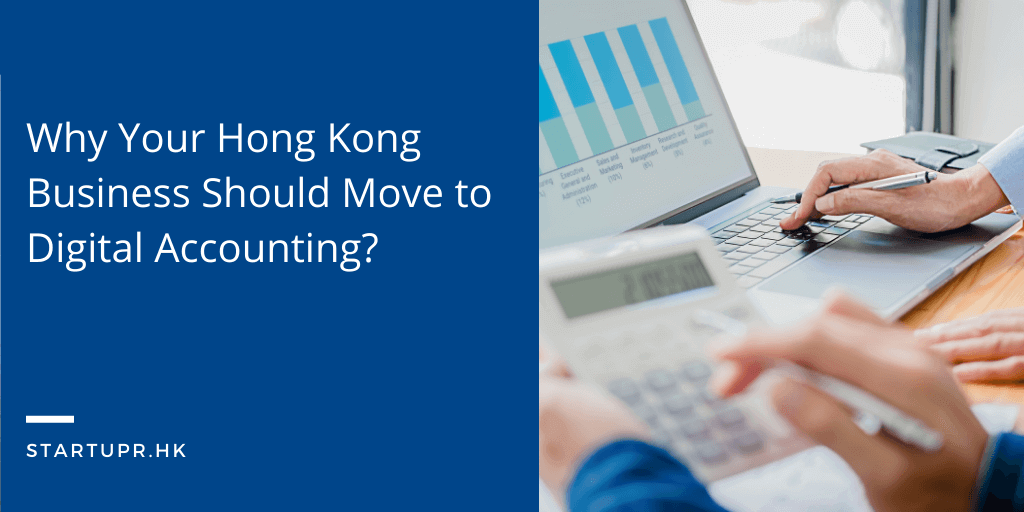 Digital Accounting for Hong Kong Businesses
Many internationally known financial organizations are headquartered in Hong Kong, which has implemented suitable restrictions in accordance with international norms. Hong Kong has made significant efforts in recent years to attract FinTech start-ups in order to boost the city's financial innovation. The HKMA has decided that all Hong Kong banks should embrace fintech and digitalize their operations from front to back end. Meanwhile, a growing number of non-traditional tech start-ups are emerging as "challenger banks" offering apps, software, and other technologies to improve mobile and online banking. These systems offer a far more effective approach to handling your financial flows than arranging bank appointments.
What is digital accounting?
It refers to the electronic creation, representation, and transfer of financial information. All accounting transactions are completed in an electronic environment rather than on paper. Electronic invoices can also assist MSMEs to arrange their accounting books, saving time and effort when it comes to keeping track of their financial records. MSMEs may save client information, invoice templates, and product information all in one place with e-invoicing and accounting software.
How does traditional accounting differ from digital accounting?
The pace of operations is the most obvious distinction between traditional and computerized accounting. Data is entered once and saved in an accounting program. The application generates reports for management at a rate never imagined or conceivable in the past. No more waiting days or weeks to find out if your company is profitable. Information can be obtained in a matter of minutes using computerized accounting. Data can be used in reports, queries, and analytics once it is in the system. 
As opposed to the traditional, manual system, where columns had to be added up, data shifted from one sheet to the next, and trial balance and financial statements had to be manually created, computerized systems have dramatically improved computation accuracy. Many hours had to be spent trying to detect and repair problems if they occurred. This issue is solved with accounting software. Simple formulas may still be required in accounting spreadsheets, but it is a faster and more precise procedure. When a computerized system is implemented, efficiency skyrockets.
The classic paper and pencil accounting system is less expensive than the automated form, which requires a computer, software, printer, and other system-related expenses. Although the manual approach may work for small enterprises up to a point, with the low cost of computers and software, many companies are choosing the automated system. They are simple to operate, and obtaining qualified personnel to administer the system is not difficult.
The Top Benefits of Digital Accounting
Digital accounting is quickly becoming the industry standard. With the introduction of modern accounting software, an increasing number of firms are requesting it. Here are the benefits of digital accounting :
More Accurate
Because organizations rely on data to make key choices, accuracy is critical. Consider the consequences of making a poor business decision based on erroneous accounting data. Digital accounting software can help you avoid this. Automated software and services are far more dependable than traditional accounting techniques in terms of providing accurate results and avoiding errors.
Easy to access
This component originates from the previous one, which states that when data is freely available, an individual has access to it. One of the main goals of technological advancement is to make things easier to use. Accounting software solutions are simple to use in comparison to manual methods, providing users with convenience and comfort. It keeps a monthly or yearly record of all transactions and analyzes the data and numbers accumulated to make business decisions. Creating a cash flow and gathering information could take an individual more than an hour. For a business, the associated costs could take a long time. You may do all kinds of financial tests on the go with a digital format.
Increase productivity.
A company can also benefit from greater efficiency and productivity with digital accounting. A corporation that uses digital accounting will have more employees available to focus on other important elements of the organization. In much less time, a financial manager or their assistant may now generate the same reports and deliver the same data. Because digital accounting allows the accounting department to produce reports and compile facts and figures in minutes, it saves time when processing online transactions. In addition to increasing efficiency and production, technology could also save business costs because previously manual operations are now totally automated.
Improves security.
Even if you have a file system in place in the store, it is likely that it will fail due to a little mishap or someone stealing the documents and stealing all of the vital data. Imagine years of hard work and accounting data vanishing in an instant; this alone should be enough to convince you to switch to a paperless recording system. You may now backup your data and store it safely on a server with digital accounting. Getting the data on a cloud system allows you to recover data even if something goes wrong.
Automation of tasks
The use of software to fulfil work duties is referred to as task automation. Task automation increases workflow accuracy and consistency while also enabling more efficient procedures. Most importantly, task automation automates manual operations and reduces the amount of time it takes to complete a task.
Streamline the accounting process.
A digital accounting system not only makes things easier for the owners but also maintains information in a specific location, providing them with real-time access to important details and information. Critical financial data, from cash flow to balance sheets, will be accessible via a digital accounting system with a few clicks.
Cost-effective
When the most advantage is obtained for a relatively cheap price, a transaction is cost-effective. The notion is widely used while deciding amongst a number of investment options in order to create the highest possible return for the amount invested. The term "cost-effective" refers to something that provides good value, with benefits and usage that are worth at least as much as the price spent. Using VOIP to talk on the phone over a long distance is an example of a cost-effective solution.
Top Accounting Software for Hong Kong Business
These are the top three software packages that is used in Hong Kong for business, and they are explained below:
Quickbooks can assist you to centralise all of your financial dealings. You can keep track of spending, customise invoices, keep track of reports, and a lot more! The categories make it simple to locate the records you need. Every expense is saved in its cloud accounting platform, making it simple to claim any entitlement. If you own a small business or wish to expand it, the accounting software Quickbooks has a specific business plan for you— another reason why it's regarded as the best accounting software in Hong Kong. Pricing ranges from HKD 60 to HKD 240 per month.
Xero: – All major business processes will be automated using Xero's well-designed and highly functional online cloud accounting software, offering you perfect accuracy and security. This includes invoicing management, where you can convert quotes to invoices with a few taps on your phone. Xero's team of specialists also provides you with 24/7 customer service help. A basic account costs $10 for the first three months and $20 after that, and allows you to send 20 invoices and quotes, enter five bills, reconcile bank transactions, and collect bills and receipts. A normal $30/month account allows you to perform all of this for an infinite number of transactions; a premium $40/month account adds the ability to handle different currencies to the mix.
Sage is an award-winning business solution that provides efficient accounting operations management, Sage has been acknowledged by many well-known entrepreneurs. They have primarily built a platform to improve the growth of small businesses and streamline the accounting workload so that you may focus on enhancing brand development. They are among the finest accounting programs in Hong Kong. Sage Business Cloud Accounting and Sage 50 Accounting Peachtree are two accounting software programs aimed at small and medium businesses in Hong Kong.
Get Your HK Business Accounting & Bookkeeping Managed by Experts.
Our accounting and bookkeeping services in Hong Kong allow our team of qualified specialists to keep track of all the data in your accounts. Our staff is trained in a variety of accounting applications. Our team of qualified specialists can keep track of all the data in your accounts with our accounting and bookkeeping services in Hong Kong. We will keep track of and evaluate your business's financial activities, as well as provide you with an overall picture of the firm in order to raise its worth and analyze the financial statements.