Tools to Check Your Company Registration in Hong Kong
November 7, 2022
While you work towards opening your dream business, it is important that you get all the requirements right and complete the process properly. To help make sure you have everything in order, there are company registration, and name checking tools in Hong Kong that can help you out. You can also obtain information on any company that has already been registered in Hong Kong. This article explains more about company registration in Hong Kong and the tools you can use to make the process simpler.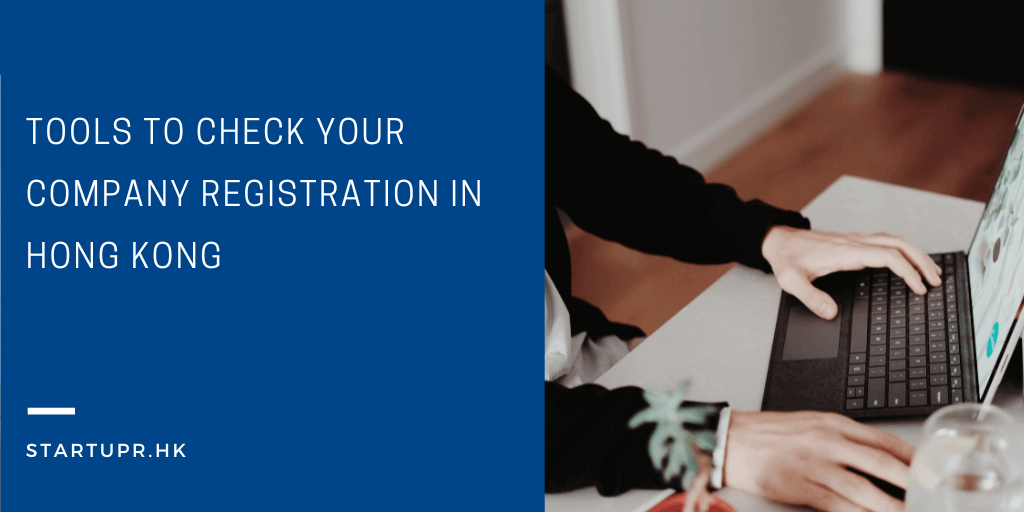 Company registration in Hong Kong 
Before we can talk about the various available company registration checking tools in Hong Kong, let us understand why company registration is important in Hong Kong. To begin with, if you do not register your business, it can be considered intangible. It is quite tough to raise capital, grow, open bank accounts, become credible, and gain trust from customers in such cases. On the other hand, if you register the company, it will have a distinct legal personality and offer all these things.
Process of company registration in Hong Kong
Regardless of the kind of business structure you choose, the process to register a company is the same for all entity types. Here are the steps to take in registering your company in Hong Kong.
Choose the type of business structure you want for your company – There are a lot of options to choose from but the most popular business entity types in Hong Kong include sole proprietorship, partnership, LLC, and foreign company offices. Each has its own benefits and disadvantages. Choose accordingly after understanding them in-depth. 
Select a business name –  Ensure that you follow all the rules set by the government when choosing the name. Some of the rules include that the name cannot be the same as any other business name in Hong Kong. In addition to this, no vulgar words or legal words can be used, and if the company is an LLC, the abbreviation LLC has to be used with the name. Use a company name check tool, which is one of the company registration checking tools in Hong Kong, to see if the name is available or not.
Retrieve the right registration form – Each business entity type has a different form. It is always better to take help from a professional like Startupr for this. In fact, you cannot register your business without a professional since you will need a company secretary. A company secretary lives in Hong Kong and is in charge of making sure that the company is operated by following the laws of Hong Kong. 
Fill out the form with all the information needed – Make sure the form has all the required information and everything is accurate. Any information that is lacking can result in delays or denial of your company registration.
Receive business registration certificate – If everything in your application goes smoothly, you will get your business registration certificate within one day to a week or more. Having a business registration certificate means you have successfully registered your company in Hong Kong.
Best tools to check company registration in Hong Kong
As mentioned earlier, many tools are available to find any company information in Hong Kong. Most of these tools are available on the Companies Registry website, while the rest can be found on other reputed and registered websites.  Here are some of the best tools to use for company registration in Hong Kong:
Startupr – Hong Kong company name availability search tool 
When opening a new business in Hong Kong, it is important to ensure that your business name is not the same or similar to any other business name. If you select a name that has already been used, your registration process will not go through until you choose a correct and unique name. 
This will increase the time period under which your company can begin its processes, which is not something you might be looking for. To help you select a business name that has not been used already, Startupr has an extensive company name check tool, which is one of the most important companies registration checking tools in Hong Kong. 
How to use it?  
Visit the website and go to the tool, or directly visit the Startupr Company Name Check tool. You are asked to add the following things in three fields to check if the name is available or not:
Your email address
Desired company name
Business entity type
Once you enter the following details, click on Check Name. A result will show up below, letting you know if the name is available or not. It is not available, you will have to try again with a different company name. If it is available, a green signal will be given to you along with a button to move ahead and register your business using this name through the same platform.
Startupr – online HK company registration tool
Startupr is one of the most reputed and reliable companies that offers company registration services along with all the additional services you need to run your company. This includes mail forwarding, virtual business address, company secretarial services, bookkeeping, accounting, legal filings like annual reporting, business tax reporting, and so on. 
Startupr has a vast tool where you can choose the services you want other than the business registration service and keep track of everything from the portal. In fact, you can contact the team initially for a consultation regarding your business plans so that you make the right choices before you move ahead. 
How to use it? 
Visit the website and click on "Register Company Now". This will take you to the backoffice tool where you can then start the process of registering your new Hong Kong company online. The very first thing you will have to do is check if your business name is available. So, ensure that you have a list of potential business names ready before you get on this tool. Once your list is ready, enter the name you want to use in the field provided and check its availability. 
If the name is available, the tool will give you a green signal, and a button to start your new company will appear below it. Click on it to move ahead with the process. There are about 7 steps that you will have to complete to register your company in Hong Kong within 1 to 3 days using this tool. The steps include:
Check your company's name availability.
Select a pricing plan and the additional services you want to avail of.
Enter the share capital details of your new company. You can create multiple share classes as you want, depending on the type of company you can open.
Enter all the director details, along with their ownership details in the company. You can add as many members/shareholders as you want, depending entirely on the type of company you are opening. 
Enter your business details, including the nature of your business, the countries you want to do business with, your products and services, and where you will be running your business from.
Complete the KYC process, to ensure that the company is registered as soon as possible. 
Review all the details and complete the payment before the request is sent to the team. 
Once you have made the payment and shared all the details, the process will begin, and within 1 to 3 days, you will have your company's business registration certificate and other basic documents ready. The documents you get will depend on the services you select.
Business licence information tool
To run a company smoothly, you will need all the needed business licences and permits that allow you to perform certain activities that need permission from the government. To help you determine which licences and permits you might need, a tool is available online from Hong Kong's Support and Consultation Centre for SMEs (SUCCESS).
How to use it?
The process of using this tool is quite simple. Just follow the steps below, and you will be able to find your company information in Hong Kong:
Visit the SUCCESS website.
From here, go to the Business Licence Information Service tab.
Enter the kind of business activity that you want to carry out in the search field. Or, you can simply select the services or products your business will offer, from the shared list. For instance, let us say that you are opening a clothing store. When you enter clothing in the search field, you will be directed to a list of business types that come under this category. 
Select the business type that is the most relevant to your company. 
Then, select the most related business activities that your business will indulge in. 
Cyber search centre (CSC)
The Cyber Search Centre is another one of the free company registration checking tools in Hong Kong that you can benefit from. This tool helps you find out everything you need, to verify your company's information, so that you are going on the right track. In short, you can use this to get every detail of all the companies registered in Hong Kong and compare details. You can get all the updated data and document image records as well. Basically, every information of every registered company is stored in the Registrar and can be retrieved accordingly. 
How to use it?
The process of using this tool is quite simple.
Log in to the Cyber Search Centre website. You can log in as a registered online user if you have the login IDs, or simply log in as an unregistered user.
There are four free-of-charge tools that you can use once you log in to the platform. These are:

Charges Index Search: Use this tool to get the registered charges of a company. It will share the basic information of the charge, including a description, the date of creation, and the date of registration. The results obtained can be viewed for free. It also comes with image records. But to view the image records, you will have to pay a tiny fee. 
Disqualification Orders Index Search: This tool will list all the corporate bodies and individuals who are disqualified by the court from acting as a director or any other specific role in a company. You can only get the name of the people/company or search if they are disqualified or not. You will have to pay a fee to find out the reason for the disqualification. 
Document Index Search: Use this tool to obtain information on the file size, filing date, processing status, and description of documents kept by the Companies Registry. It will display the results of both the pending and registered documents. You can also see all the documents filed by a specific company. Or, you can check the details of a specific document type of a company in the last year, the last three years, or all the past years. In short, you can check the history of that document of the company accordingly. 
Company Name Search: This is one of the main company registration checking tools in Hong Kong. It helps you get information on the names of both dissolved and existing companies that have been registered with the Companies Registry. It will provide information like the company status, company name history, dates of registration/incorporation, place of information (if it is a non-Hong Kong company), charges indicator, and winding-up mode (if the company has been dissolved). Use the company's full or partial name to get the same search results. 
Company search mobile service (CSMS)
The CSMS is the same tool as the CSC. The only difference is that this tool can be used on a mobile phone to get a company's information instantly instead of using a system and working out the process. Use this tool to obtain information about any company at any time. For instance, if you are undergoing a deal with another company, you can take out your phone and use this tool to get the company's details right there and then, and by using your mobile phone. It has proved to be the most convenient way to get all you need about a business and has helped many deals go through faster. 
Get help in forming and registering your company in Hong Kong today!
The first step begins by creating your business proposal and selecting a list of company names that you would love to use. It is always better to be prepared. Once you have everything ready and your documents in place, use Startupr's backoffice tool to register your business. If you want to be consulted before you begin, contact us and book an appointment today! Our team will be more than happy to assist you with the same.