Starting a Tech Company in Hong Kong-Guide
June 10, 2022
If you believe that startups just refer to new technological firms, you should read this article. Contrary to popular belief, a startup is a young firm started by one or more entrepreneurs with the purpose of developing new products or services for the market. These tiny businesses are then taken under the wing of a larger organization that acts as a mentor and "coach" to help them grow into the next great thing.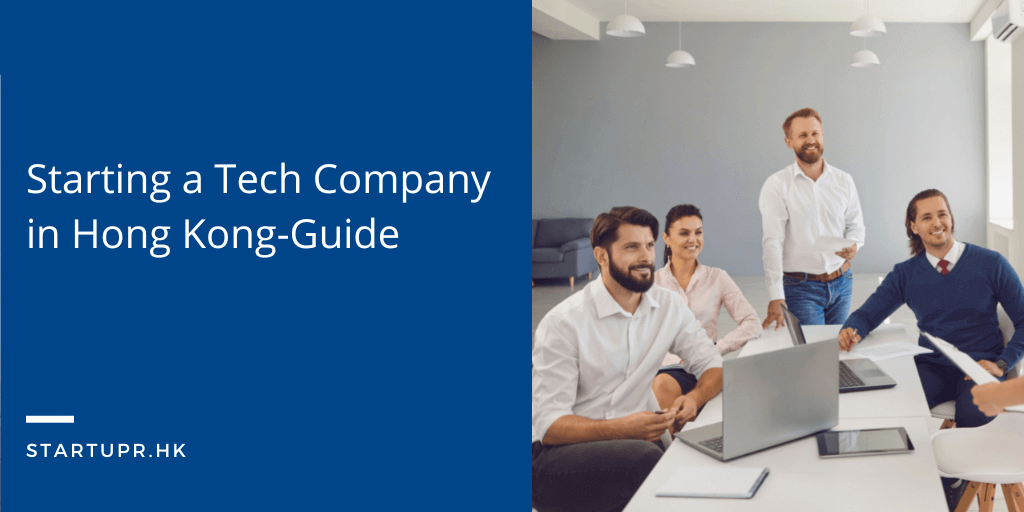 The Hong Kong Tech Scene
With strong research and development capabilities, great infrastructural support for industry players, and strong intellectual property protection, Hong Kong is becoming a centre for technology enterprises. The Hong Kong government's actions have aided in the creation of a favorable environment for technology companies and the expansion of their inventive capabilities. The number of start-ups in Hong Kong increased by 51% from 2017 to 2020, according to InvestHK's start-up study. In comparison to other industries, data, fintech, e-commerce/supply chain management/logistics technology, information, computers, and technologies had the most start-ups.
The Benefits of Starting a Tech Company in Hong Kong
Almost all open-minded countries make it easier for foreigners to start businesses and invest. One of Hong Kong's advantages is that foreign entrepreneurs are allowed to own 100% of their businesses registered in the territory. 
They have the right to own their corporations in their entirety or in part because there is no limit on holding percentage. In the structure of a private limited company, people can easily incorporate up to 50 people.
 At least one individual must be both a director and a shareholder in order to form a corporation in Hong Kong. 
It is not necessary for the directors to live in the area. Significantly, Hong Kong allows for a small amount of share capital, with a minimum of 1 HKD. The method for forming a company is simpler and quicker.
The process of forming a company is much faster and easier than you might assume.
In most cases, a company can be formed remotely through a Hong Kong-based professional service provider. An E-registration with the Hong Kong Companies Registry (CR) for a company structure with individuals can be completed in as little as one day, or even an hour. Within a week, hard copies of the incorporation documents are delivered.
Furthermore, parent firms may own shares in subsidiaries. This process takes a little longer, about 7 working days because CR requires a physical form of NNC1 signed by shareholders.
Setting up a tech company in Hong Kong
Hong Kong is one of the best places in the world to start a business. Starting a business is reasonably simple and quick, setup fees are inexpensive, and the whole atmosphere promotes growth. Any organization or individual (not necessarily a Hong Kong resident) can form a limited company or buy a shell company in Hong Kong under Hong Kong legislation. The company can start doing business in Hong Kong after completing the business registration process.
Choose a company name and type it
The first and most important step in forming a new company in Hong Kong is to choose a name. You must be cautious when choosing a name for your business entity because it cannot be a name that is currently in use or has been used in the past. You can use our name check availability tool. This will assist you to find the right name for your Hong Kong company. 
Before registering your business, you must first determine the legal form of your firm. Determine the structure for your startup based on the demands and requirements of your business. Everything from how you do business to how you file taxes for your business organization is influenced by the company structure. If you're seeking for the ideal business structure for your firm, look into the following options:
Limited company
Branch office
Sole proprietorships
Partnerships
A Guaranteed Limited Liability Company
Limited-by-shares corporation
Register your company
In order to start a new business in Hong Kong, you must first register with the Companies Registry. Because of the numerous benefits, most entrepreneurs opt to establish a company and incorporate their businesses as limited companies in Hong Kong. Limited liability corporations (LLCs) are separate legal entities that safeguard personal assets from business dangers. 
Startupr can help you with registering your business and getting the documentation and incorporation process. You can save a lot of time by availing our services. You can also use our business address and mail forwarding services if you require it, saving money by not having to set up an office.
Open a business bank account
The most important thing you can do is acquire access to banking services so that you can begin funding your business ventures. The procedure for obtaining a personal bank account is simple. As a business owner, though, you will need to compile more documentation and records to present to the bank. You'll need the following documents before going to a typical bank:
Documents pertaining to the company, such as the Certificate of Incorporation, NNC1 Incorporation form, Articles of Association, and the most recent BRC. If the firm has been registered for more than one year, it will also need to file an Annual Return and a Company Particulars Report.
Director Experience Resume (CV – Curriculum Vitae) directors' proof—appropriate experience (i.e. former employment contracts).
Directors' identity documents (passport or HKID) and proof of address (utility bill, bank account, or credit card statement issued within the last three months) in English or Chinese. All directors, significant controllers, bank account signatories, and shareholders owning 10% or more of the company are subject to this requirement.
If you already have a bank account, you will receive a bank reference letter with the firm details provided by the bank.
Supporting documents for your business include a brief summary of the company, a business description; business activities, sources of wealth or funds; names of your business's suppliers and customers; expected turnover and number of transactions, and so forth.
Business Proof: Documents such as business licenses, supplier invoices, sales contracts, and office lease agreements that demonstrate the company's involvement.
Furthermore, if you have previously controlled or owned another firm in a relevant industry, you may also submit the business documents from that company as evidence.
Obtain the necessary licenses and permits
The next stage in starting a business in Hong Kong is to get the necessary licenses and permits for your specific business entity. There are a variety of permits and licenses that may be required for your company. Look into government websites and online licensing applications. These will assist you in determining which permits and licenses are appropriate for your business. 
Know about the taxation
Governments in practically every country throughout the world levy forced charges on individuals or companies, which is known as taxation. Taxation is usually used to collect income for government expenses, but it can also be used for other purposes.
Businesses and people in Hong Kong benefit from one of the world's most tax-friendly systems. They are only responsible for three direct taxes, which are subject to a number of generous allowances and deductions that might lower your taxable income. The following are the taxes that must be paid in Hong Kong:
Profits tax: a corporation's first HK $2 million in profits is taxed at 8.25 percent. On top of that, the corporation will be taxed at a rate of 16.5 percent. The two-tiered tax rates for unincorporated enterprises, such as sole proprietorships and partnerships, will be 7.5 percent and 15 percent, respectively.
Property tax is charged at a standard rate of 15%.
Salaries tax – There are three tiers of taxation, ranging from 2% to 17%, with a standard rate of 15%.
Hire the right talents
When it comes to hiring top talent, the goal is to hire the greatest person possible. While it's fine to rely on your instincts when making a hiring decision, doing so fully and completely isn't always the best strategy. Establish defined KPIs from the outset. In today's fast-paced, high-demanding business world, most companies can't afford to make mistakes that jeopardize their competence and reputation.
Plan your finances and secure funding
Many business concepts are never funded, and this is not due to a lack of effort. Lenders and investors will not grant cash if a business plan appears to be excessively hazardous or if the loan application has bad credit. People without personal savings who want to start a business are unable to do it without funding. Salaries, bills, and insurance, to name a few must all be paid. A business' first few years create modest revenue, necessitating capital. As a company grows, it may require additional sites, products, or market research. These actions add to the costs already incurred and necessitate further support.
Tap into the right networks
You have more leverage with investors if you have a strong network. If you can secure investors early on in the life of your firm, you'll have a better chance of making it successful. A higher level of brand recognition means more potential customers and market validation for your company. By networking, you can gain access to opportunities that you would not be able to find on your own. Your network has the potential to supply you with insight into many disciplines, as well as information on what potential employers look for and professional guidance.
Need any assistance in forming your tech company in Hong Kong?
To recap, Hong Kong has established itself as one of the world's most powerful international financial centers. The city is known for its easy incorporation, low taxes, open and accessible marketplaces, and a developed living environment. Last but not least, Hong Kong's reputable standing has been bolstered by the productivity of its labor and its superb business infrastructure.
Our professionals can assist you in registering your technology company in Hong Kong, as well as providing accounting, taxation, and other company secretary services.