Understanding Stakeholders in your Hong Kong Business
March 30, 2023
Hong Kong is listed among those regions that provide many opportunities and some major tax benefits to people in business. If you are also interested in setting up your dream business in Hong Kong, then we are here to help in every possible way. For all beginners who still need to learn about the necessities for a business in Hong Kong, it is advised that they should start from the basics. 
If you think you need to be made aware of anything related to your business, then feel free to ask questions and search for your answers. In this article, we will discuss what stakeholders in business do in detail.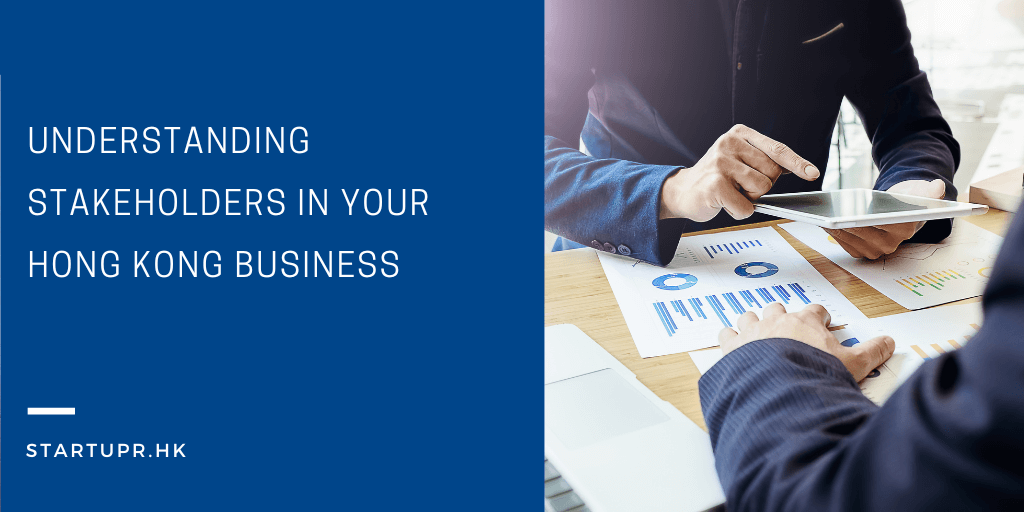 Stakeholders in HK company 
As a new business owner in Hong Kong, you must be wondering what the meaning of the term stakeholders is. Well, to explain this in simple words, we can say that stakeholders are those who are interested in working on the growth and success of a business. Stakeholders provide a different perspective and bring innovative ideas to the decision-making process. Once you have planned your business setup in Hong Kong, it is time to learn how stakeholders will help you grow your business. 
Let us now move to a detailed explanation of stakeholders.
Who are the stakeholders in your HK business? 
All working individuals, as well as all the groups or parties who are currently associated with your company and working for its growth, are referred to as stakeholders in the business. Some examples of stakeholders are employees, shareholders, suppliers, customers, the government, and the communities in which the businesses are located. Every stakeholder is said to have different interests, and in order to please their companies can frequently make trade-offs. 
You need to understand that these stakeholders are one of the most crucial parts of your business. Stakeholders are important because your company's capacity and other requirements depend on them. With the help of these stakeholders, you will be able to achieve the goals and statuses set by you for your business. On a large scale, these stakeholders are important for impacting your business.
Stakeholders in Hong Kong companies hold a strong position and should not be taken for granted. Here are three categories under which you can better understand stakeholders' work. 
Internal and external stakeholders – Internal stakeholders have a direct impact on the related company and its operations. They are known as investors. Stakeholders who are external to the business do not have any direct relationship with it, but they are usually affected by its operations. 
Primary and secondary stakeholders – Primary stakeholders are those who have the highest share of interest in the results of the business project. Secondary stakeholders also work on such projects but on a low level and generally help in administrative procedures. 
Direct and indirect stakeholders – Direct stakeholders perform tasks on a daily basis. They are mostly workers and can be seen working daily on any business project. Indirect stakeholders are those who concentrate on the final products, not on the process of finalizing the product. The best example of an indirect stakeholder is the consumer or customer. 
Benefits of stakeholders 
These are some of the specific benefits of stakeholders you should know!
Communication
Communication is the key, and it can definitely help you establish a relationship with every stakeholder. It can provide benefits like different types of perspectives and new insights and helps you resolve many internal issues.
Decision making
Once you know about so many effective ideas and perspectives, it is time to use them to make decisions. You will have the correct information as well as new ideas that might help you a lot in understanding a lot of things. If any problems arise, you can use plan B and explore other solutions.
Trust building
If you will connect with all your stakeholders and establish trust with them, it will bring a positive atmosphere to your company. Stakeholders will feel you always value their perspective and will eventually be your goodwill. Even if you face loss or any crisis, your stakeholders will stand up to your side.
Cost saving
Working with stakeholders can help you save a lot of time and money. According to data, companies who are working along with stakeholders tend to show improved results while working on any project. They provide a budget-friendly and time-saving outlook for any project of the company.
Risk management
In a team or with stakeholders, they can also help you deal with risks and even inform you in advance about upcoming risks. If you have a proper team who can manage the risk at a very initial stage, then this will also save you money and time.
Types of stakeholders in Hong Kong 
Once we have gotten to know the three categories into which the stakeholders are divided, it is time to understand it in a broader way. Here are the types of stakeholders who belong to the three categories mentioned above. 
Suppliers (external, secondary, and indirect)
Suppliers are those organizations or individuals who are typically involved in the process of selling products and services to the company. Their revenue depends on the company's sales. The main concern of these stakeholders is their safety and their own revenue.
Customers (external, primary, and direct)
The customers are the consumers who purchase the goods and services produced by the company. Their expectation from the company is to receive high-quality products.
Owners (internal stakeholders, primary, and direct)
The owners of the company are commonly known as owner stakeholders. Their main objective is to provide funds and equity to the company.
Employees (internal stakeholders, primary, and direct)
Employees have a direct connection with the company. They deal with the customers and inform them about the product. They generate their salaries and even help in sustaining business operations.
Investors (external, primary, and direct)
Investors are those who provide financial support for the business. However, their work is not just providing financial support but also providing ideas, advice, and motivation.
Creditors (external, secondary, and indirect)
Creditors are those stakeholders who provide loans to the business and might choose to have an interest in the value of the company or not. They usually receive their reimbursement from the sales of goods and services of the company.
Media (external, secondary, and indirect)
Everybody needs media coverage to bring their business into the public eye and promote them. These media stakeholders are helpful in promoting the business.
Trade unions (external stakeholders, secondary, and indirect)
Workers who belong to a trade union are able to bargain for proper wages and other essential facilities. In so many cases, companies have a good bonds with such trade unions.
Government agencies (external stakeholders, secondary, and indirect)
Government agencies work as substantial stakeholders, and they collect taxes from the company, employees, and all the listed expenditures by the company.
Difference between stakeholders and shareholders 
To clarify the difference between them, here is a stakeholders vs. shareholders explanation. Stakeholders are designated to a firm, and they are also interested in the company. They are for a longer period of time and have practical reasons for it. Whereas shareholders only have a financial relationship with the company, it is normal for a shorter period. Shareholders can easily exit whenever they feel so, but stakeholders are for a purpose, and they cannot leave the company until and unless it is mandatory. If the company faces any financial loss, shareholders can sell their stock percentage and reduce the loss burden. 
How to manage your stakeholders in Hong Kong?
Now, you must be thinking about how you can manage your company's stakeholders. It is very important to understand the needs of stakeholders. Once you get to know about their needs you can help them by guiding them with proper training. Here are some of the tips you must use for managing your stakeholders!
Identify stakeholders
The first step is to identify the stakeholders and map them. You can create a list of all internal as well as external stakeholders. Once you have the name of the stakeholders, you can arrange them according to the field of work you need to work on. 
Determine their interest
It is important to learn about their interests. You can organize stakeholders according to their interests and needs. You can also learn about their goals and expectations.
Manage conflict of interest
Once you have successfully identified and determined the interest of the stakeholders, there may be chances that any type of interest conflict may arise. It is not a situation to panic about; rather, it is time to manage them appropriately. Try to establish a connection with them so that you will be able to resolve the matter and gain the trust of your stakeholders.
Prioritize outcome
Your priority and goal should be the final outcome or product. You cannot be very casual about it. It is required that you must talk to your stakeholders about what the goals of your company are, what process is required to achieve the goal, budget planning, risk management, and so on. Once you have planned everything, it is time to work on the direction of your business goal. Always prioritize the outcome so that the whole process behind it will automatically work effectively. 
Communicate effectively
Try to create a communication medium so you can always have a direct connection with your stakeholders. You can use any social media app for the same reason. Decide a proper time when all your stakeholders can comfortably communicate with each other. Try to choose a proper medium of communication where all your stakeholders can share all types of ideas in any form so that you would be able to understand them. 
Establish a reporting method
Running a company with multiple stakeholders is chaotic work in itself. You need to check up on them on a regular basis. You can try the reporting method, where you will get all the updates, documents, timelines, progress, etc. This will also help in maintaining discipline among the stakeholders, and they will be more concentrated on their roles. 
Be adaptable
When you are working with multiple stakeholders, you may feel that some unexpected issues have arisen. You need to be adaptive so that you will always find ways to tackle the issues. This will contribute to the smooth management of your company.
Use software 
You can even use software or an AI tool that will help reduce time and money by effectively arranging many tasks.
Incorporate your company in Hong Kong today!
Planning to have a company in Hong Kong? Do it now! If you have any type of query regarding company tax and accounting or need assistance, reach out to us! We are here to support you with business registration, mail forwarding, accounting, and bookkeeping services. Remember, we're just a call away! So, what are you waiting for? Get your company registered in Hong Kong with professional assistance now! Contact Stratupr!