Recommendation after setting up a Hong Kong company
October 2, 2019
After deciding to incorporate a Hong Kong business, have you planned out the important company details like a bank account opening, the company papers, etc.?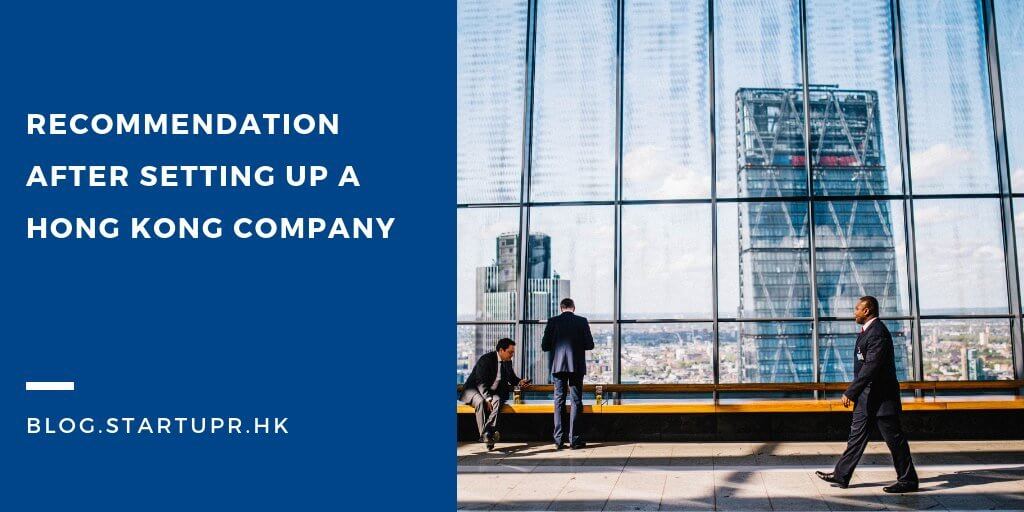 After registered the company in Hong Kong, you probably need to apply for a bank account. Every business demands a bank account to do transactions and preparing financial statements, saving all the revenues and profits. It is a must to understand this process should not be overlooked while operating a business. 
Based on your business requirements and patterns, you may select business bank account in Hong Kong. It is pertinent to select the bank that suits the requirements of the business to avoid any hassle in the future. 
Setting up a bank account in traditional banks
Nowadays one of the most popular questions after a company's registration is "How to open a bank account in Hong Kong?" Some may find it challenging to fulfill the bank's detailed and exact requirements, and other accounts may get rejected at the beginning.
For opening a bank account in Hong Kong, all business owners are required to follow the specific requirements of the Hong Kong Bank Ordinances and Know Your Customer (KYC) responsibilities. Beneficial owners, directors, and shareholders with 10% or more shares of the company would have to be physically available in the bank for the meeting to open a bank account in Hong Kong.
Banks consider the company business nature, directors & shareholders background, their experience in the business, business supporting documents (such as agreements, contracts, invoices, etc.), the reason of having the bank account etc., which all business owners have to prepare in details.
After setting up a bank account, you may enjoy various benefits-
A relaxed and comfortable RMB trade settlement
Apply for a PayPal account or similar payment gateways
Lower cost / fee when make transactions to local banks
Online Payment Platform Account  in Hong Kong
Business owners can also opt for payment solution platform for their organizations. Since old-word bank accounts usually work in one country, And when you try to use it across borders, it gets expensive. So, if you are running a business which requires across borders transactions, then below shares platforms can help you. 

Review for Payoneer 
Every business owner wants to operate their business without any limitations and legal regulations. To pave a perfect path for the owners, this platform has come up with a plethora of benefits. it's about transferring money from one country to another or within the nations' boundaries. 
The first and foremost payment solution platform provider that you need to know is Payoneer. It will help you to send and receive payment to and from the business and even marketplace in various countries around the world. If you want to use this platform for business receipts, conversions of the currency, and also business receipts, then Payoneer would meet your demands. 
The services of Payoneer platform is slightly different to a standard currency exchange provider in various terms of how their currency exchange service functions, depending on the status of your and the beneficiary's Payoneer accounts. 
Payoneer focuses on the professionals, freelancers, business owners, and the products or services of the marketplace. It offers direct payment solutions, integrations, currency conversions. 
Moreover, it also focuses on various ways for marketplaces and businesses to pay contractors. Always remember that this service is not intended for personal use. It is solely based on business transactions and currency exchange service functions.
We all know how the world is shirking around us and why it is important to become resourcefulness, talented, and hardworking. In order to meet all the heights of expectations, entrepreneurs are connecting to the rest of the world. And Payoneer ensures nothing will ever stand in the way of their hard-earned success.
Review for Transferwise
Another payment solution platform provider that could bring ample benefits to the operations of the business is Transferwise. This innovative international money transfer provider is also entitled the "Robin Hood" of the money transfer industry. It is licensed in Hong Kong as a Money Service Operator by the Customs and Excise Department, licence number: 15-01-01584.
It centers on making money transfers more affordable and comfortable than any traditional banks. The reason behind is its low and transparent transfer fees and the process of converting money at the true mid-market exchange rate. 
There are no markups on the exchange rate; in short, you can consider it as zero. Since we all know that banks usually charge customers an above-market rate, the margin is part of their fees, and in general, they are not transparent about this. 
TransferWise currently supports sending money to 71 countries and sending money from 43 countries. It is also one of the few companies offering the true mid-market rate. It's bank-level security, minus the banks. Their tagline- 'Bye bye bank fees, hello world'- also reflect how helpful they are for the business owners to transfer funds!
How may Startupr help you?
You must be well-versed with the traditional as well as virtual corporate bank accounts, and how important is to open a bank account in the freest economy of the world- Hong Kong. However, in order to open a bank account, all the entrepreneurs are required to prepare a lot of documents. So, here Startupr can help you!
We are dedicated and experienced in assisting on bank account application  for our clients. We have clients from all over the world from industries of different sizes and backgrounds: including the IT sector, services industry, consulting services and many others. We aim to help the businesses strive to complete each engagement efficiently and effectively. 
Whether you are seeking help for opening a bank account or any other factor of the business, Startupr is one-stop-shop for you. We are highly grateful to our new clients and appreciate the loyalty of our existing clients.