5 Productivity Hacks for Hong Kong Entrepreneurs
July 27, 2022
Whether you are a start-up entrepreneur or are already running your Hong Kong business, you aim to thrive in your field. They say hard work and dedication is the key to success. But the truth is having an easy, productive day can lead to wonders for a business. This article will teach us about productivity and how it can lead you to a happy life and successful business.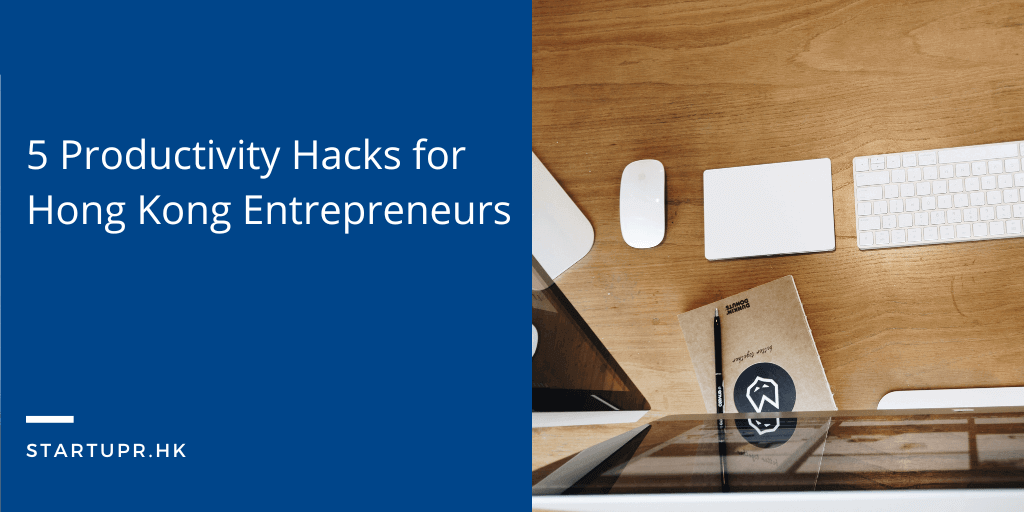 What is productivity in entrepreneurship?
Productivity is an estimation of financial or business execution that shows how effectively individuals, organizations, ventures, and entire economies convert inputs, like work and capital, into outputs like labor and products. It is important that an entrepreneur is productive in order to run a business in Hong Kong successfully. One  can calculate productivity at any of these five levels:
Individual productivity – The expression "individual productivity" is frequently used to portray how much people can constantly achieve in their own lives and not in the working environment.
Workforce productivity – Workforce efficiency, the focal point of this article, is the total productivity of all people in an organization's workforce.
Sector productivity – The total efficiency of all organizations in an industry or sector is a declaration of sector efficiency. For e.g., the productivity of the IT sector or Finance sector. 
Group or department productivity – The aggregate result of at least one person joined under a shared objective.
National or worldwide productivity – The total efficiency of all ventures in an economy is a statement of the economy's efficiency.
The job of an entrepreneur is not easy, that is why a number of entrepreneurs learn various productivity tips that keeps them motivated. Productivity for an entrepreneur is the potential outcome of the efforts that he has put into something. In the next section, let us understand the importance of productivity for entrepreneurs, especially those doing business in Hong Kong. 
Why is productivity important for entrepreneurs in Hong Kong?
By now, you may have a fair idea of what productivity means for entrepreneurs. Now when we talk about the importance of productivity for Hong Kong entrepreneurs, the reason is simple – Success! Yes, productivity is key to the success of any business in Hong Kong or any other part of the world. Productivity not only helps in the company's success but also makes you happier as a person and entrepreneur. 
Productivity is directly related to personal and professional achievements. Therefore, any time you achieve something running your Hong Kong business, it will automatically make you happy. Often entrepreneurs are seen as busy and not so happy. They are always in a hurry to complete one task or the other, leading unhappy lives and unsuccessful businesses. With the proper productivity hacks, one can be successful in both their personal and professional life. 
Five productivity hacks for HK entrepreneurs 
Hong Kong entrepreneurs need to accomplish it all in order to excel. It is favorable if one opts for various productivity hacks that have worked previously. Given below is a list of 5 such hacks that can help you double the productivity in your business journey. Use them and thank us later. 
Wake up early and start your day with a plan
Most entrepreneurs are night owls, but it is advised that you start your day early and utilize the morning. Early mornings offer the peace that you can't get at any time of the day. Usually, mornings are best for tasks that require focus and in-depth analysis. Hong Kong entrepreneurs must start their day early as much as possible, and possibly on a good note. Another benefit of waking up early is you get a lot of time to yourself. You can get ready for work early, reach work early, and plan accordingly. This gives you time to think and focus on the things that are to be done ASAP. With no or fewer people in the office, your thoughts will flow and you will be more strategic and productive.
Take regular breaks to stay energized and focused
A business person's life can be stressful, and with no breaks or rest, they become prey to isolation, depression, and other emotional well-being issues. Also, fruitful business visionaries know this. For that reason, it's in every case best to cut out a tad of opportunity in your day for rest and enjoy some time off, particularly if the day isn't going as well as you naturally suspected it would.
These short breaks will permit you to invest calm energy in yourself. It will assist with quieting you down on a rushed, occupied, and troublesome day. This likewise allows you an opportunity to consider the master plan and shift your concentration back to the objectives you have for your organization. It is important to disconnect and take even longer breaks. It can be as simple as a weekend getaway but this needs to be done in order to be more productive. 
Set goals and deadlines for yourself
The benefit of deadlines is that they can prompt individuals to take action on time, reducing the likelihood of procrastination. They can do this through various mechanisms, including making goals and tasks feel more definite as to accomplish deadlines, you must have a routine.
A routine creates consistency in a busy day for an entrepreneur. There is no way of telling whether the day will go smooth or chaotic. Nevertheless, having a routine helps you remain grounded as it permits you to engage in things you like doing. Sticking to a routine and looking forward to it at the end of the day allows you to stay sane no matter how your day goes.
Use technology to your advantage
Many factors affect productivity, which includes your attitude, sleeping hours, health habits, stress, time, and task management. Luckily, you can benefit from technology. Many apps increase productivity and efficiency for your business and teams. Running your Hong Kong business in Hong Kong can be stressful. Here are just a few examples of the tools that can ease your work:
Slack – A software that enhances communication between your teams. Miscommunication indicates inefficiency.
Sendtask – Sendtask is a task management and team collaboration software. This tool will assist you in organizing, planning, and managing your workload effectively.
Google Drive – An "all in one place" tool. You can improve your organization, communication, and team productivity with Google Drive.
Time Doctor – It is a time tracking or management software which helps you to accomplish more in less time.
Delegate tasks whenever possible
As a manager, delegating preferred jobs to carefully chosen people is good for employees' morale and professional development. Above all, it is excellent for your efficiency. One can begin with tasks that are not mission-critical, which makes it more comfortable to ratchet back responsibility in case somebody doesn't deliver. If you don't delegate, you will never know what your employees can do.
Get the help you need to make your Hong Kong business a success 
Whether you are just getting started or you're looking to take your business to the next level, Startupr can help you make your Hong Kong business successful. We can help you right from registering your Hong Kong business and maintaining it in good standing. We also provide bookkeeping and accounting services to keep your business running smoothly. Plus, we have a team of experienced business consultants who can provide advice and support when you need it most.