Notary Public and CPA Certified Documents in Hong Kong – Everything you need to know
February 25, 2020
Do you want to obtain legalized documents for your company in Hong Kong? Whenever we engage in any business activity (such as business bank accounts opening) it is important to have legalized documents, which are always required by a receiving party.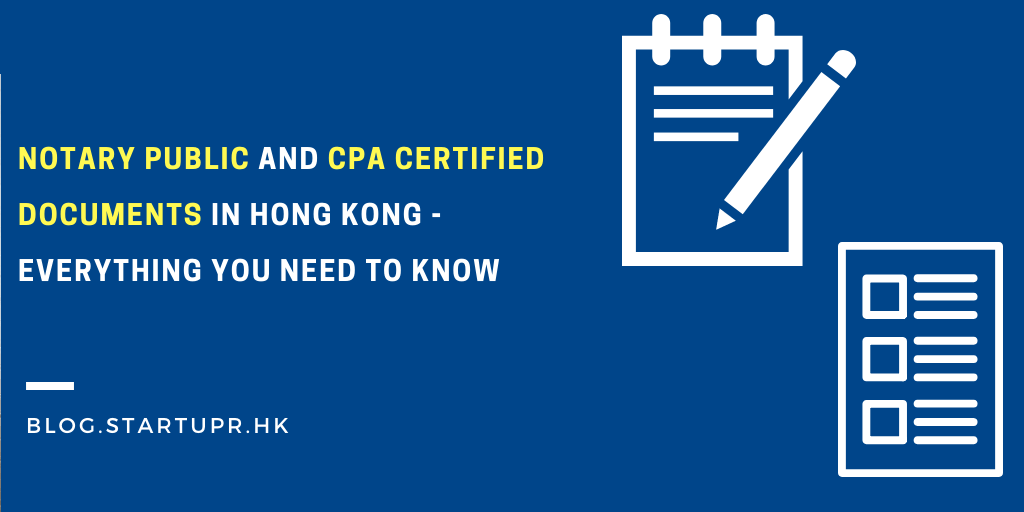 We at Startupr, can help your Hong Kong company to obtain documents in Hong Kong which includes "Certified True Copies" "Apostille by the High Court" and other types of certification or legalization services. This article is your quick guide to understand how Notarized documents and CPA certified documents work if you are seeking help for them in Hong Kong.
Notarization
In Hong Kong, notarized documents are issued or signed by a notary public who is an experienced solicitor and registered in the Register of Notaries Public kept by the High Court of Hong Kong. The qualified professionals of notary public can certify a legal document as genuine or an original, authenticating a signature or certifying or witnessing a person's identity – we usually call this as "notarized document".
The needs of notarization in Hong Kong are as follows:
Issue a notarial certificate;
Make a certified copy of an original document
Witness the signing of a document.
There are some exceptions when a Hong Kong Notary Public may not be sufficient. For example, when setting up a WOFE in China, a specific Chinese Notary is required instead of a typical notary public.
CPA Certified Document
Certified Copies are copies of a document certified by a qualified party – Certified Public Accountant (CPA) for official use. A certified true copy of company documents may be required for different business purposes,such as government proceedings or bank account openings. CPA certified document is used by a third party to verify the copies of an official document and to confirm there were no amendments or alterations of the document.
Notarization by Hong Kong Notary Public
What is a Notary Public in Hong Kong?
A Notary public is a legal profession – usually, an experienced solicitor appointed and registered at the Hong Kong High Court. Notaries Public help to deal with legal documents; they offer legal services regarding the preparation, execution, verification, and saving of clients' documents for their use abroad. Notaries public are widely recognized internationally.
There is also a Hong Kong Society of Notaries, which is a professional association for notaries public in Hong Kong. The main objects of the Society are to ensure high standards of work and honorable practice, to represent the views of members, and to provide services to members.
Why do you need Notarized Documents? – Notarization
Usually, the public needs notarial services because they have documents that are required by the recipient body, who possibly are banks, private organizations, or government authorities. Authentication of documents is an essential aspect for many reasons. It is used for any sale or purchase of land overseas, immigration, marriage, adoption, trade and doing business. Notary public helps in the authentication of documents.
A Notary Public can provide more services related to authentication. some of the common cases are:
Verifying the copy of a document is the Certified True Copy.
Preparing and witnessing Powers of Attorney for client's use overseas.
Witnessing the signature of the person signing in front of a Notary Public.
Observing the Declaration as Commissioner for Oaths.
Verifying the identity of the person appearing in front of a Notary Public.
Authentication of documents, as mentioned above.
Common use
The most common use of Hong Kong Notarized documents is when you apply for opening a corporate account in any bank outside Hong Kong. All copies of documents must be certified and witnessed by a qualified professional. Besides bank account applications, many business owners may need notarized documents applying for licenses or registering companies in other jurisdictions.
Usually, the banks or authorities require documents, and their notarized copies such as Certificate of Incorporation, Business Registration Certificate (BRC), director & member's identity documents – i.e. passport, ID card, residential address proof, or Power Of Attorney. It is possible to notarize the proof of business documents like sales contracts, bank statements if required.
CPA Certified Document
What is a CPA?
CPA stands for a Certified Public Accountant. In Hong Kong, the Hong Kong Institute of Certified Public Accountants (HKICPA) is the professional accounting body. Its primary duties are to register accountants, issue practicing certificates and regulate the professional conduct and standards of members.
Its primary responsibilities are:
Registering accountants and issuing practicing certificates.
Regulating the professional conduct and standards of members.
Regulating the quality of entry to the profession through its qualification program and related courses.
Setting codes of ethics and standards of accounting and auditing.
Providing continuing education and other services to members.
Why do you need CPA Certified Documents in Hong Kong?
A certified true copy of company documents is required for different business purposes, generally is accepted by individual institutions such as banks and government bodies. These documents usually include Certificate of Incorporation, Business Registration Certificate (BRC), Articles of Association, etc., other personal documents may also need to be certified to fulfill various business purposes.
Common use
CPA certified documents are commonly used when you want to open a corporate bank account in any Hong Kong banks or apply for different licenses with the Government. These are accepted in Hong Kong for official use.
CPA Certified documents in Hong Kong are valid from 3 to 6 months after the specified date of certification. It is advisable to use these certified documents within this period, but not after the expiry date of certified documents.
We at Startupr, can help you in issuing Certified True Copies of your company documents by a Hong Kong Certified Public Accountant (HKCPA) for the bank account opening or any other business needs.

How does Startupr help you?
Startupr online documentation ordering service
Startupr Hong Kong has a dedicated documentation ordering platform that will allow you to order, prepare, and receive relevant documents. All this will help you with your smooth and hassle-free company incorporation. Startupr provides online documentation services for:
Notarized Documents
Certified CPA Documents
Apostille of Documents
Certificate of Good Standing or Certificate of Continuing Registration
Certificate of Incumbency or Company Particular Report
Power of Attorney
We can help you with all the above services and much more. Startupr always gives the best support for our clients at comparable prices. With this, you can save time and money. You must provide every detail accurately, as every document will be prepared based on the information you give through each order form.
Why use Startupr service?
Startupr is your one-stop service provider for company formation and company services in Hong Kong. We have incorporated thousands of companies, and have experience in supporting ventures with the best solutions in today's world.
Our technology platform is 100% secured and we always try to deliver these documents accurately to you. Our dedicated online documentation ordering platform helps business owners simplify this complicated documentation process.
We at Startupr, help a company prepare documents for Hong Kong Notarized, Certified true copies and any other legal documentation.