Managing Your Hong Kong Startup Remotely: Best Practices and Challenges
October 31, 2023
Hong Kong has always been a top priority for setting up a startup which makes Hong Kong a global business hub. And if you want to start your startup in Hong Kong, then there might be no need for you to be in Hong Kong to begin your startup. With the thriving remote work culture, you can manage your Hong Kong startup remotely. 
There may however be some challenges with remote team management, and we are going to discuss them in detail in this article. We will also analyze the best practices to manage remote teams in Hong Kong successfully. Thus, if you want detailed information about how to work your Hong Kong startup remotely, then there is no better article you will find than this one.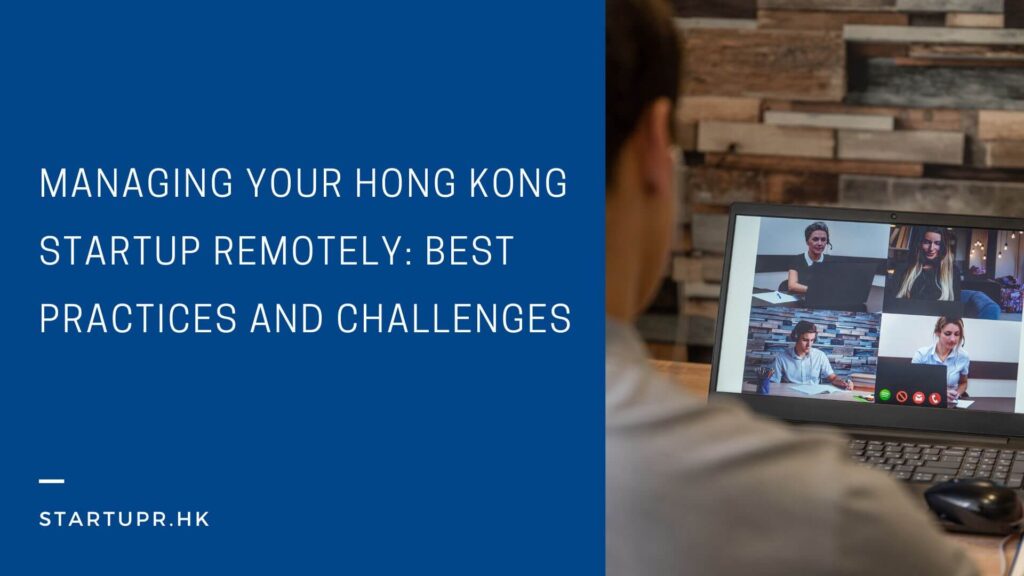 Best Practices for Managing Startups Remotely 
Below are given the best practices to manage your Hong Kong startup remotely.
Manage Remote Teams in Hong Kong Startups
Managing remote teams in a startup in Hong Kong is highly significant and can benefit your startup in many ways. 
Rise of Remote Work and its Relevance for Hong Kong Startups – The rise of remote work provides several advantages and is extremely relevant to Hong Kong startups. Startups can now recruit employees from all around the world, increasing the chances of a high growth rate and business expansion. It eliminates geographical limitations and provides a wide range of talent to choose from. It also provides access to diverse skills, knowledge and viewpoints, which can help innovation and modifications in the startup. 
Importance of Effective Remote Management for Business Success – Effective remote management plays a vital role in the success of a business. It is very important how you lead and communicate with your remote team. The goals of the startup should be clear from the beginning only, providing the remote unit with transparent expectations, which may result in better coordination and a productive work environment. Moreover, it also builds a sense of trust and respect among remote team members. 
Establishing a Remote-Friendly Company Culture
The best practices for managing a remote team include establishing remote company culture.
Encouraging Communication, Collaboration, and Team Bonding – There are several ways to establish a remote-friendly company culture. These ways comprise communication, collaboration and team bonding. Virtual meetings and gatherings should be conducted regularly to encourage communication among team members. Moreover, collaborative measures such as sharing the same platform for communication and understanding the needs of other members provide a sense of similarity. Lastly, encourage team bonding by organizing online game-playing sessions, happy hours, lunch breaks and coffee breaks. 
Implementing Flexible Work Policies For Remote Employees – Remote employees are required to maintain a work-life balance constantly, and startups understand it. Implementing flexible work policies could be a great solution for remote employees. Entitle the remote employees to choose the work schedule according to their preferences so that they can maintain a work-life balance. Furthermore, modify the policies according to the feedback from the customers and employees to create a productive work environment. Also, provide them with adequate tools to complete the assigned work and communicate with the team efficiently. 
Setting Clear Goals and Expectations
The goals and expectations should be set from the initial take off of the project so as to reduce the chances of any confusion and misunderstanding later.
Defining Clear Objectives and Key Performance Indicators (KPIs) – The company objectives should be defined clearly to the remote workers. This furnishes them with a clear goal and allows them to focus and progress in the right direction. Defining clear objectives presents an evident picture of the vision of the startup. Key Performance Indicators play a vital role in tracking the progress of the purposes and provide valuable information to change the strategies to achieve those goals successfully.
Establishing Transparent Communication Channels for Feedback – Feedback is one of the most important aspects of a startup and to make full use of it, transparent communication channels for feedback should be established. Establishing fine communication channels reduces the diffidence among employees and allows them to give feedback without any hesitation. Taking feedback doesn't complete the work, as such, appropriate actions should be taken based on that feedback.
Regularly Tracking and Evaluating Progress Toward Goals – Tracking and evaluating progress towards goals regularly is crucial to verify that the projects are advancing in the right direction. It also ensures that all the deadlines are met and builds a positive and reputed image of the startup. Make use of various progress-measuring techniques like KPIs to accurately track the progress, align with the objectives and make required modifications.
Essential Remote Tools and Technologies
Utilize essential remote tools and technologies to complete the work proficiently and without any delays.
Communication Tools for Seamless Virtual Collaboration – Communication tools can be very handy for seamless virtual collaboration. Communication tools provide the facility to share real-time information, conversations over projects, work progress and track work improvement. It also helps in reaching global talent to hire the best of the best employees for the startup and also helps in maintaining a positive work ecosystem. By communicating, several misunderstandings that could harm the startup can be avoided. 
Project Management and Task-Tracking Software – Project management tools and task-tracking software are very crucial for managing a remote startup in Hong Kong. Being a remote startup, the teams might be distributed in different locations, making it difficult to manage projects and keep track of tasks. It equips the startups with a centralized platform to collaborate, plan and monitor a project. 
Cybersecurity Measures for Protecting Sensitive Data – With digitalization in every field, cybersecurity has become very important for protecting sensitive data. Cybersecurity measures should be implemented in remote work to safeguard information and build trust among customers and employees. Use virtual private networks(VPN) to encrypt the data and save it from potential cyber-attacks. Issue security guidelines for using company devices and sharing essential information. 
Challenges in Managing Startups Remotely
Below are a few challenges in managing your Hong Kong startup remotely and strategies to counter them.
Overcoming Time Zone and Cultural Differences
Time zone and cultural differences are the first challenges in remote team management.
Strategies for Coordinating Work Across Different Time Zones – Coordinating work across different time zones is a very important task to maintain productivity in the work. Analyse the time zones of all the team members and choose a common time to conduct conferences and meetings to discuss the progress and get feedback from them. Respect the time of every team member to develop a feeling of inclusiveness in the team. 
Cultural Sensitivity and Understanding in a Diverse Remote Team – Understanding the culture of all the team members is very important to overcome cultural differences in a remote team. Cultural sensitivity and understanding is a critical part of a remote startup. Respecting the culture of team members builds harmony and enhances the team's performance. Receiving ideas from different viewpoints brings creativity and innovation into the work.
Building Trust and Accountability
Building trust and accountability can be a challenging task for a remote team.
Empowering Remote Employees and Trusting their Capabilities – Empowering remote employees is one of the most important things for building a positive remote work environment. Providing remote employees with authorization for the project motivates them to complete the task on time and makes them responsible. Trusting their capabilities allows them to be creative which might enhance the quality of work and conveys the impression of respect towards the employees. 
Encouraging Self-Discipline and Accountability in a Remote Setting – Encouraging self-discipline and accountability is paramount in a remote setting. Set clear goals and expectations right from the start to avoid any misconceptions and deadline delays. Furnish employees with all the required equipment so that they can complete the projects smoothly and on time. Make the startup communicable so that the employees can give ideas and feedback without hesitations. 
Recognizing and Rewarding Remote Team Members' Contributions – Recognizing and rewarding the contribution of remote team members encourages them to work passionately and shows that the company cares about them. Praise the members and acknowledge the achievements of the team members in virtual conferences and meetings, give them confidence and motivate them to work efficiently. Reward them with gift cards or hampers for their contribution. It builds a productive work culture in the company. 
Addressing Remote Team Challenges
Addressing some more challenges in a remote team.
Promoting Work-Life Balance for Remote Employees – Work-life balance could be a major issue for remote employees but it could be easily solved by some simple measures. Clear guidelines for employees related to projects and deadlines allow them to focus on the work. In such a way, they might not need to work after hours and be able to maintain a balance between personal and professional life. 
Mitigating Potential Miscommunication and Conflicts – Miscommunication and conflicts can dramatically impact the operations of a startup and might also harm them financially. It can be readily countered by implementing efficient communication channels, regular progress meetings, project discussions and other measures to increase coordination in the team and decrease the possibilities of potential miscommunications and conflicts. 
Implementing Effective Performance Evaluations and Feedback Mechanisms – Regularly communicate with the team to get updated reports on the project advancement and what the challenges in completing the project are. This will allow you to solve the problem way before it arises. Conduct one on one sessions to get individual progress reports. Build a collaborative environment so that the employees can freely present their ideas. Receive feedback from the employees to take action based on their feedback to finish the projects before the deadline. 
Cybersecurity Measures to Protect Company Data and Information – Impose strict rules in using the company devices and network to protect the company data and information from getting leaked or stolen. Use different encryption while sharing the data to save it from potential cyber threats and attacks. Issue guidelines for devices that the devices must use updated software and applications for remote work. 
Simplify Remote Operations with Startupr's Expert Company Services in Hong Kong!
Managing your Hong Kong startup could be a challenging task, but there are some simple solutions to it. The best practice for managing a remote work team is explained in detail in the article. Furthermore, the challenges of managing a remote work team and strategies to counter them are mentioned above. If you want to effectively manage your Hong Kong startup remotely, then follow the above guidelines to do so.
Moreover, if you are in search of a trusted partner for your remote work in Hong Kong, then Startupr is the partner you are looking for. Startupr provides remote work services, which are second to none. Startupr's expert company services in Hong Kong can simplify your remote operations and help you reach new heights in the market.