Hong Kong Standard Industrial Classification Code (HSIC) – Guide
April 19, 2022
Many of you who are starting a business in Hong Kong might not be aware of the term HSIC. The Hong Kong Standard Industrial Classification Code is a system that allocates the economic units in Hong Kong. One such code divides all the units into their relevant industry categories based on the nature of their major economic activities. This concept is similar to Singapore's SSIC concept with a slight variation. This article will guide you more on HSIC, HSIC code list, and why they are essential for your business. Keep on reading to learn more.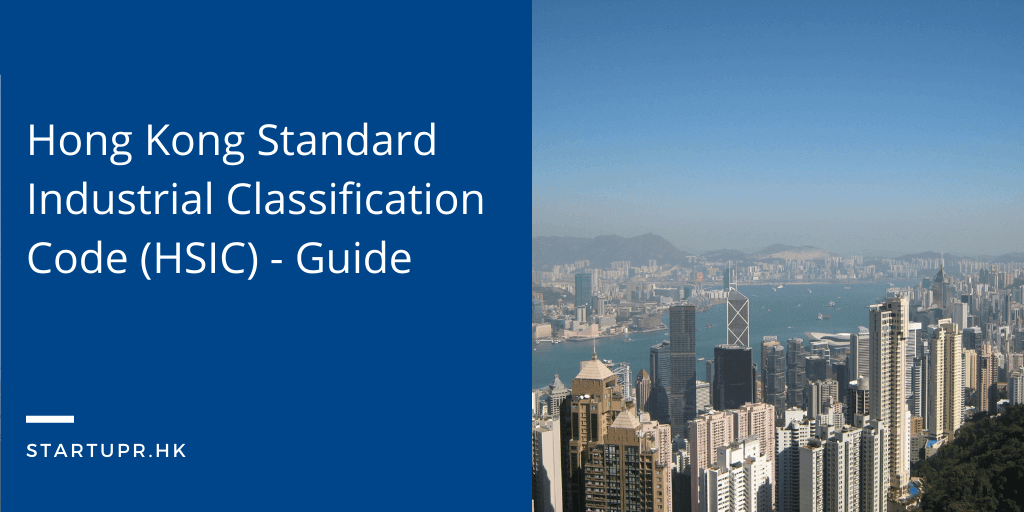 Hong Kong Standard Industrial Classification Code (HSIC)
Hong Kong Standard Industrial Classification Code also referred to as HSIC, is a list of all the business activity types. Many free search portals are available online, where you can find the code that defines your business activities at best out of all the HSIC code lists. 
What is HSIC code?
Hong Kong Standard Industrial Classification Code (HSIC) indicates all the major activities conducted by your business. Every Hong Kong Company needs to choose an HSIC code. This code will be used by the Census and Statistics Department to compile, analyze, and disseminate the industry statistics. HK Standard Industrial Classification Code (HSIC) has many versions. The primary variant of the Hong Kong Standard Industrial Classification Code (HSIC) was displayed on the ISIC Revision 2 that was presented formally to the public in 1990. An improved edition of HSIC V1.1 was presented in 2001. In this way, the current version (HSIC V2.0) was delivered in 2008 and has been used starting around 2009.
HSIC V2.0 was created because of the massive changes in Hong Kong's economic structure. There were such a large number of new financial exercises arising, and management expected to grasp the region's economy better. HSIC V2.0 depends on the International Standard Industrial Classification (ISIC) of All Economic Activities Revision 4, which the United Nations Statistics Division proclaims. It strives to accomplish better importance, similarity, and coherence. HSIC V2.0 changed in structure from a 4-level to a 5-level hierarchical framework and currently has 21 high-level groups.
Regarding changes intended to improve global comparability, HSIC V2.0 has a serious level of conformance with ISIC Rev. 4 (up to even out 4). HSIC went from 886 to 1,000 6-digit codes at its detailed level to meet local requirements. As one would see, it is like the codes of different countries, however, it is better crafted to suit the economy of Hong Kong.
How do Hong Kong businesses use HSIC?
Logically, both privately-owned organizations and government entities have these codes for various reasons:
Organizations use HSIC codes to distinguish their current clients and potential clients by industry.
HSIC codes can be used to sort organizations for tax purposes.
Specialists and organizations utilize HSIC codes to make targeted marketing campaigns.
Organizations can identify the opposition in their industry or region by looking for comparable organizations through HSIC codes.
The government can use HSIC codes to sort out and standardize information for public agencies such as the Evaluation and Statistics Department and privately owned businesses.
Where to find the full HSIC code list?
It is essential to pick an HSIC code that is the most ideal for the vital exercises of your business. You ought to choose a code that best reflects the activities for which you need to obtain a license from the state. To get a better idea, investigate the rundown of industry codes that are accessible in both Chinese and English.
For instance, assuming you have a business that produces spices, sauces, and food condiments, it would just seem OK to select a SIC code 107904. To examine a particular SIC code in Hong Kong, use a code search tool. When you select the code, you will want to apply for the necessary permit that will permit you to work within the borders of Hong Kong. Detailed explanatory notes are also there for the industries covered in the HSIC that you may need to check for more information.
Structure of HSIC V2.0
HSIC V2.0 has a 5-level hierarchical system:
The top-level categories are industrial areas.
Under every industry segment, there are different second-level categories called industry divisions.
Next, industry groups are under industry divisions.
The fourth level refers to pertinent industry classes.
The fifth level alludes to industry sub-classes made for refined business classification.
Given below is 5 level hierarchy system; take a look:
The top-level is the industry section and it consists of 21 categories with a 1-digit alphabet [A-U] HSIC code format. For example, G – Import/ export, wholesale and retail trades.
The second level is the Industry Division and it consists of 88 categories with a 2-digit numeral [01-99] HSIC code format. For example, 47- Retail trade. 
The third level is the Industry group and it consists of 221 categories with a 3-digit numeral [011-990] HSIC code format. For example, 472 – Retails sale of food, beverages and tobacco in specialized stores.  
The fourth level is the Industry class and it consists of 483 categories with a 4-digit numeral [0110-9900] HSIC code format. For example, 4721 – Retail sale of food in specialized stores. 
The fifth level is the Industry sub-class and it consists of 1001 categories with a 4-digit numeral [011000-990000] HSIC code format. For example, 472105 – Retail sale of fruits and vegetables, fresh. 
Top-level industry section 
We have stated that the HSIC V2.0 acts in accordance with a 5-level hierarchical framework, and as mentioned above, the top-level category is the industry section. Besides, remember that there is an aggregate of 21 industry segments which are recorded down below:
Industry Section A– Agriculture, forestry, and fishing
Industry Section B-Mining and quarrying
Industry Section C-Manufacturing
Industry Section D– Electricity and gas supply
Industry Section E– Water supply; sewerage, waste management and remediation activities
Industry Section F– Construction
Industry Section G– Import/ export, wholesale and retail trades
Industry Section H– Transportation, storage, postal and courier services
Industry Section I– Accommodation and food service activities
Industry Section J– Information and communications
Industry Section K– Financial and insurance activities
Industry Section L– Real estate activities
Industry Section M– Professional, scientific and technical activities
Industry Section N– Administrative and support service activities
Industry Section O– Public administration
Industry Section P– Education
Industry Section Q– Human health and social work activities
Industry Section R- Arts, entertainment and recreation
Industry Section S– Other service activities
Industry Section T– Work activities within domestic households
Industry Section U– Activities of extraterritorial organizations and bodies
Register Your Business in Hong Kong?
Developing a business in Hong Kong is a brilliant idea as Hong Kong's economic environment is very startup-friendly. Nonetheless, before you can begin your business tasks in Hong Kong, you want to register your Hong Kong company and signify your business activities. This is vital, so take as much time as is needed to decide the code that best reflects what's genuinely going on with your business. 
If you have a question or need assistance choosing your Hong Kong SIC code, make sure you reach out to Startupr. Startupr can assist in registering the business and help find unique names with the online name checker and has several other online business registration services. Contact us now!