Reduced Hong Kong Business Registration Levy Rate
January 11, 2023
Hong Kong is one of the ideal places for business owners across the world. When it comes to the most favorable and satisfactory business environment, Hong Kong is the first preference of entrepreneurs for startups and business establishments. However, if you also wish to have your business in Hong Kong, then you need to understand the strict rules and regulations this prestigious place offers you while welcoming you in. 
On the other hand, you must know everything from business restoration levy rates to how they are going to profit you in the whole process. Having doubts? Need not worry! In this article, we will clear all your queries regarding the business registration levy rate, eligibility, and everything! What to expect further? Here's a list!
Understand business registration in Hong Kong
Benefits of business registration in Hong Kong
Types of business need registration in Hong Kong
Requirements and eligibility to incorporate a company in Hong Kong
What is the cost of incorporation in Hong Kong?
Cost of registering other business types in Hong Kong
Hong business registration fee reduction
So, let's begin with learning about business registration in Hong Kong.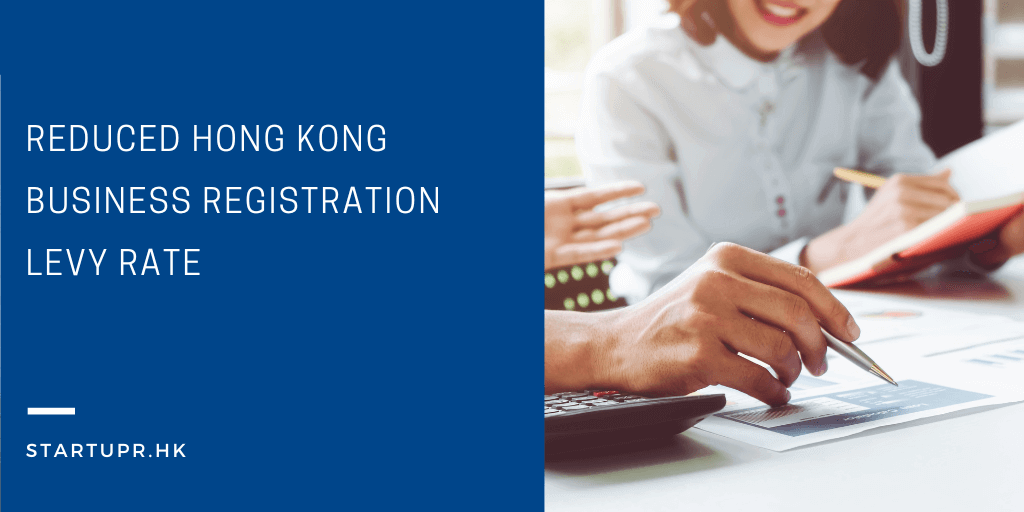 Business registration in Hong Kong
Business registration in Hong Kong is a dream of many entrepreneurs around the world. Hong Kong is a city and special administrative region of China known for its lucrative and remunerative markets and attracts business owners to initiate their businesses. However, there is a long tiring procedure if you also want to register your business here. Hong Kong furnishes many opportunities but also requires a lot of assurance if you are an outsider and ready to set up a company here. The procedures would be strict and time-consuming since Hong Kong is thorough in its provisions. Hence, to ignore mistakes and get into any trouble, it would be better for you first to understand the Hong Kong business registration ordinance and then only apply further. Also, you can hire professional agencies to get your work done professionally without any hassle.
Understand business registration in Hong Kong
Being the boss of an organization requires understanding and a lot of knowledge. So, you better understand the rules properly to rule the kingdom because lacking knowledge can lead you to unnecessary trouble. And here, understanding means learning A to Z, everything about registering your company in Hong Kong. For instance, you must know the answers to these questions! What is the procedure involved while registering? What are the advantages of business registration in HK? Are you eligible for business registration, and if so, what expenses do you need to spend to register? These are some questions you must ask yourself while planning a business. Let's begin by knowing the benefits of registering a business in Hong Kong.
Benefits of business registration in Hong Kong
Many companies set up their businesses in Hong Kong for several reasons. Here are some business registration benefits in HK that might be useful for you in deciding whether you want to set up your business here:
Free Economy – Hong Kong has been the world's freest economy continuously for 18 years. It is well bestowed with low taxation, free markets, and a stable small government. The economy in Hong Kong is highly developed and furnishes its citizens with almost free port trade. 
Lower tax rates – Low taxation is one of the major reasons why CEOs and business owners of the world are attracted to Hong Kong. Registering your business here means getting low tax bills. Low taxes are usually rare in other developed countries compared to Hong Kong. Moreover, the reason for charging low taxation is the agreement signed between China and Hong Kong, known as the Double Taxation Agreement. Tax rates in Hong Kong are usually between 2% to 7%. 
Low currency restriction – Being an international trader, you may have to do several transactions in different currencies, which is not a problem in Hong Kong. Hong Kong's regulatory system offers you a special feature where you can exchange money unhindered worldwide. Also, the Hong Kong monetary system allows you to pay the company's capital in any currency rather than Hong Kong Dollars. It is something that fascinates business owners the most. 
Double taxation avoidance agreement – The Double Taxation Avoidance Agreement is the agreement between Hong Kong and China for low taxation for traders and business owners having their business in Hong Kong. The Double Taxation Agreement came into existence in 2007.  
Asia Pacific Economic Cooperation (APEC) – Hong Kong is a member of the Asia Pacific Cooperation, also known as AEPC. Being a member of AEPC gives Hong Kong various benefits that involve paying lower tariffs on the exchange of goods and various services that happen within the state. 
Western regulatory system – We know that Hong Kong is a part of Mainland China. However, despite being part of that, Hong Kong follows the western regulatory system. Now you might be wondering how it is beneficial for business owners. Well, Hong Kong is continuing its previous regulatory system, and it is a blessing for CEOs who belong to the western part of sovereign nations. People from there seem to show more interest in registering for business in Hong Kong. 
Major financial institutes – You will find various varieties in terms of financial institutes, like major banking features and their benefits. You will find major banking beneficiaries and payment services that will admire your comfort. Payment in any preferred currency is acceptable. There is flexibility in terms of business establishment. 
Business types that needs registration in Hong Kong
You must be wondering if you fall under the category of those businesses that need registration to establish a business in Hong Kong. However, the one thing you must be sure of is that not all kinds of investments need registration. Certain categories need registration if someone is setting up their company there. Below is the list of types of businesses that need registration in Hong Kong.                                                                                
Private Companies Limited by shares are also known as private limited companies.
Private Unlimited Companies with share capital are also known as private unlimited companies.
Public Companies Limited by shares are also known as public limited companies.
Public Unlimited companies with share capital are also known as unlimited public companies.
Companies are limited by guarantee without a share capital.
Now, let's move on to find out the requirements and eligibility to incorporate a company in Hong Kong. 
Requirements and eligibility to incorporate a company in Hong Kong
So if you are wondering whether you are eligible to set up your business in Hong Kong or not, then here is everything you want to know! So, while registering, some rules are required to be acknowledged. You can register your firm if you have a minimum of one director, shareholder, and company secretary. On the other hand, you should have a registered business address. Let's discuss these aspects in detail further. 
Shareholders – The law states that a maximum of 50 shareholders and a minimum of one shareholder are permitted to register for a business in Hong Kong. Consequently, the nationality of the shareholder does not matter. They can belong to any country, and also, 100% ownership is completely allowed. 
Requirements of Directors – The minimum requirement for directors in forming a company is one. However, the legal age to be a director is 18 years and above, and it can be any normal person. Also, the director should not be bankrupt. 
Company Secretary – The company secretary should be the minimum of one in a company at the time of registration. However, the secretary can also be a corporate body or any normal person. But, a point that should be noted is that a director or shareholder of the company can never be the company's secretary. 
Registered Business Address – A local address must be registered with the company registrar before registering a business in Hong Kong. 
What is the cost of incorporation in Hong Kong?
You should be aware of all the business registration fees Hong Kong brings you while registering your company here. The business registration office is accountable for providing certificates to the company owners after registering their company in Hong Kong. When it comes to incorporating, firstly, you need to be aware that there are two kinds of certificates available. 1-year registration and three years registration. Their cost is given below–
The cost of 1 Year's registration is HK$250.
The cost of 3 Year registration is HK$866.
Hong Kong business registration fee reduction
There has been a reduction in the business registration fee. Let's know how you can have the benefit and whether your company is eligible for the levy rate or not.
Hong Kong business registration ordinance – So, you might be wondering what the Hong Kong Business registration ordinance is. Well, it is an amendment act that was passed in the legislative council. Basically, this ordinance is responsible for cutting down the Hong Kong levy rate and reducing the annual business registration fees. It reduces the business registration fee from $250 to $150. 
The situation that qualifies the reduction in the levy rate – The two major situations that qualify the reduction in the levy rate are if you have the Incorporation submission for simultaneous business registration application on or after June 17th. On the other hand, if you have a business or branch registration certificate effective on or after June 17th. Hence, you will have a reduction in the levy rates only if you qualify for these two situations.  
Things to keep in mind when reducing your company registration levy rate – First of all, you must keep track of the 1-year and 3-year certificate validity periods. Then you must have knowledge of other aspects like what is the fee for a one-year validity certificate and a three-year validity certificate; otherwise, you can pay the wrong funds. However, the amount that needs to be paid can be specified on the date of the certificate registration. 
Why choose Startupr to register your Hong Kong company?
Registering your company in Hong Kong can be tiring and confusing work for you. Let us handle that! We at Startupr are experts in Accounting and Bookkeeping services and numerous other metrics that can help your business thrive. Our company can assist you with various services, including Business Registration, Company Secretary services, Business Address & Mail Forwarding, all based in Hong Kong. Let us help you with registration and paperwork management for your business. 
It would be best if you had assistance in both running a business and building a brand. Startupr can help you with filing the application to register your business in Hong Kong. In addition, we will ensure you don't have to worry about dates and certificate arrivals. We are here for you, so what are you waiting for? Contact now!