How Can I Start My Hong Kong Business With Very Little Capital?
July 25, 2018
Do you have an excellent idea for a business in Hong Kong, but you're short on cash? It's a common myth that all new companies need a large amount of capital to start. However, this may make the business more complicated and challenging, with more shareholders and staff in the beginning. This article will explain exactly what you need to do if you don't have a lot of starting cash.
Due to the myth of needing a large amount for opening a business, many entrepreneurs put themselves on hold because of the lack of funds. Moreover, they also reckon that their approach will never get far off the ground unless they have significant funding behind them for the growth of the business.
As a matter of fact, starting a new business is risky and with little capital, it makes the process more challenging. So, how will you start your business in Hong Kong with a tiny amount of capital? Well, lack of funds may deter you from not pursuing your entrepreneurial dreams. But, with determination and a clear vision of how you are going to follow up, this will help you to create a new path for a successful business.
Below are some tips to start your business in Hong Kong with very little capital and ensure you make it through the important things in the very first years of business.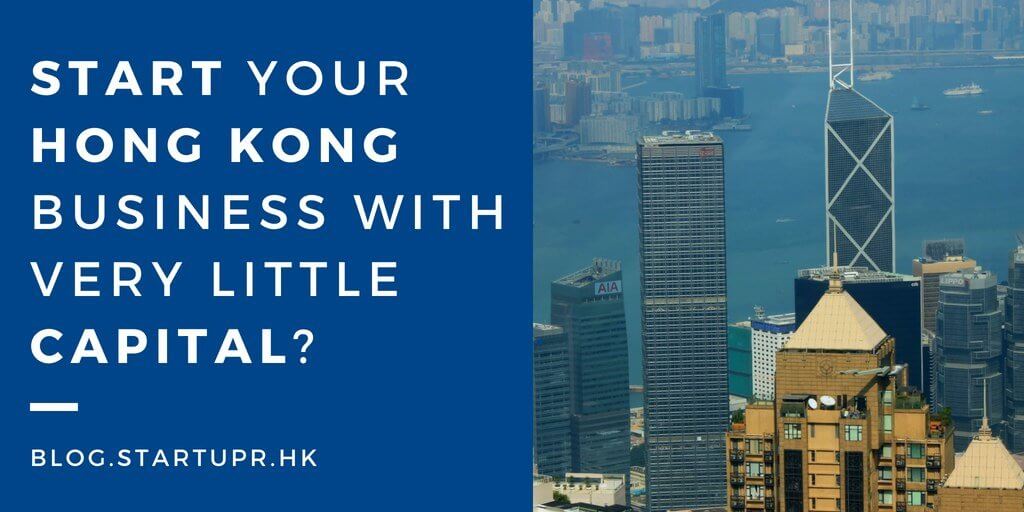 1. Build the Business around something that you know
The first and foremost thing to start a new business in Hong Kong with limited capital is that make sure you are building the business around your values, knowledge and skills.
The less you depend on employees or outside references, the better will be the results. You will save costs as you won't need to seek a business assistant or to hire a consultant, as you are already an expert in that field. In fact, you can use that money to get the licenses, take courses and much more.
More importantly, having that knowledge is sometimes all that is needed to successfully take the plunge into entrepreneurship. So, if you are serious about starting a Hong kong business, all you need to concentrate on is what you can do now.
2. Avoid Overspending
Opening a startup always requires a lot of investments, and you cannot be able to avoid some of those expenses. However, make sure you are not overspending. It's vital that you save as much money early on.
For example, consider about the concept of business cards. You can easily spend a great amount of your hard-earned money on purchasing fancy business cards, which may not add great value to your company at first. On the other hand, you can save money on buying normal business cards, and spend your money on other parts of your company.
Hence, before you start spending, think about how your costs will help you in growing the business profitably. This will make a difference in the end. As a matter of fact, frugality is one of the most important factors that will help you in determining whether your business fails or succeeds. Therefore, keeping a lean mindset will keep you focused and humble, and make every dollar count.
3. Avoid Credit Card Debt
The third aid is you have to be very intelligent with the way of handling your credit card. There is always a good and bad way to manage a credit line while starting a new business. The expenses of furniture, phones, supplies, and computers can all quickly add up to increase your stress for funds. So, instead of purchasing everything at one time and driving it all on the credit cards, use your business's resources to support your expenses.
For instance, if you can easily rent a piece of equipment within the price range of $50/month, then what's the profit of buying it for $1,000? In fact, you can use the rest $950 on something else that is essential for the business. Hence by eliminating the pressure, stress and burden of debt this will significantly increase the chances of creating a successful business.
4. Spread the Word
When you don't have the excess money to start your Hong Kong Business, it's essential for you to find the right person for funds. Contact your family members, friends and even your past colleagues, as you require as many people for marketing and in generating plenty of free press for the company.
There are several ways to generate the buzz for your business without breaking the bank. Social media is an exceptional way to gain the exposure and interact with users or potential customers.
In addition to it, you can also attend trade shows and events where you can easily find potential investors for your company. This is the form of grassroots marketing that can go a long way in making your business profitable, and doesn't cost a penny.
How Can I Start My Hong Kong Business With Very Little Capital?
Click To Tweet
5. Build Up Sweat Equity
The next tip you need to follow while opening a Hong Kong business with little or no capital is that you have to work hard around the clock in order to handle every phase of the business, such as growth and marketing.
After all, you are putting your hard earned money and long hours in order to develop a brand name, to make the company more valuable. This is all about "sweat equity," and it can only come into action when you ever decide to sell off your company or take on a partner.
6. Do all the Work Yourself
Opening a company with little or no capital means that you have to learn all the things yourself instead of delegating the work to an outside sources or employees. The more work you do by yourself and more importantly, advertising and free marketing, the lesser the cost to run your company.
Hard-work is the basic necessity of making a business successful. This might include handling customers support, cold calling, dealing with accounting and billing, and every other aspect part of your business.
You will have to wear many hats, and all of it will require the majority of your energy, time and hard-boiled money, if you are willing to make your business successful. However, running a company with little funds is all about overcoming the expenses and cleverly managing your company.
For example, If you want to hire an outside source for the growth of your company, you can easily hire freelancers and business services as they will do almost the same work as a full-time employee. You would also have the flexibility to add or take away hours to these workers, according to your business needs.
Conclusion
Even though starting a Hong Kong business with little capital is quite challenging, you have to take care of every aspect of your business. Don't let limited capital prevent you from making a great idea and running with it, as it is a part of entrepreneurship.
On the plus side, the habits you learn while growing a lean business will assist you well in the future. As a matter of fact, by having too much starting funds is worse for a company, as it provides the early illusion of success and prosperity, and leads to the path of destructive business practices and processes.
By starting a Hong Kong business with a little capital, you'll be more apt to maintain disciplined commercial and financial practices as your business expands in the future.
So, don't sit worrying about the funds that you assume are needed to open a business in Hong Kong. And if you have the plan ready and haven't registered or incorporated your business yet, head towards Startupr today!