Hong Kong Business Formation Statistics 2021
March 18, 2022
One of the significant aspects of an area's economic growth is its startups. As indicated by the Annual Startup Survey led by Invest Hong Kong (InvestHK), the most recent couple of years have seen a predictable solid expansion in the number of startups across Hong Kong.
Somewhere between 2018 and 2020, the number of startups rose 28% to 3,360, employing 10,688 individuals. They cover a broad scope of areas, with financial innovation (fintech), e‑commerce/supply change management, and professional and consultancy services representing the overwhelming majority. This article will give a brief about Hong Kong business statistics for 2021, the increase in the number of Hong Kong company registrations, and why business people are choosing Hong Kong for business formation. Keep on reading if you want to have more insight into the Hong Kong business ecosystem.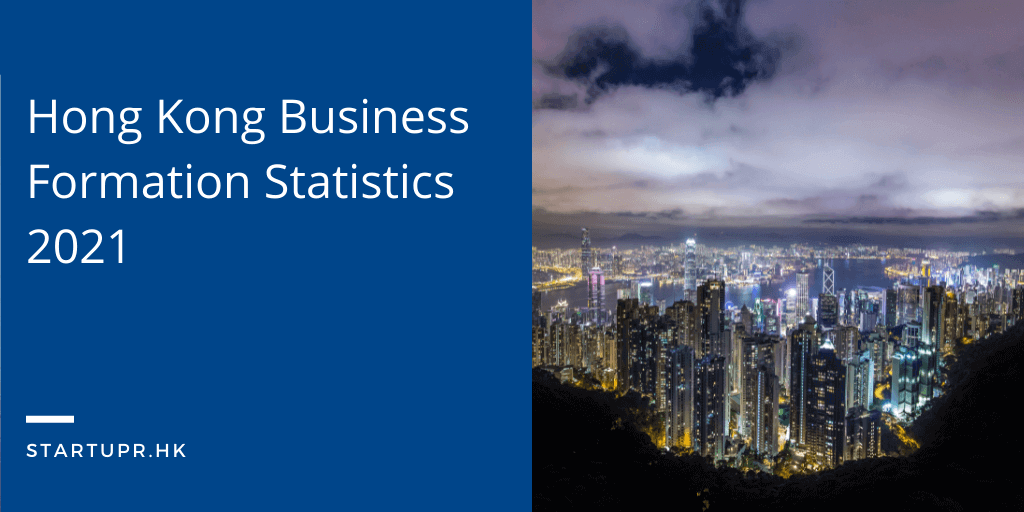 Companies Registry releases Hong Kong business formation statistics for 2021 
As per the statistics delivered by the Companies Registry, in 2021 Hong Kong registered an aggregate of 110,840 companies. Out of the total number of companies, Hong Kong incorporated 66,538 online. These companies build themselves online through the e-Registry portal (www.eregistry.gov.hk) or the "CR eFiling" application that is available on mobile. By the end of 2021, the total number of registered companies reached 1,375,172. 
1,316 non-Hong Kong organizations have recently established a place of business in Hong Kong and were registered under the Companies Ordinance in  2021. The number of non-Hong Kong organizations that were registered became 14,348 by the end of 2021, which is up to a 4.33 percent hike. The number of charges on properties of organizations received for registration in 2021 was 18,701, which is 19.86 percent up from those in 2020. 
In 2021, an aggregate of 190 outlines was registered, which is the same as in 2020. The number of documents obtained for enrollment in 2021 grew by 3.59 percent to 2,913,395, compared with 2,812,471 in 2020. 
On the enlistment of LPFs, an aggregate of 342 LPFs were enrolled in 2021. The complete number of LPFs before the finish of 2021 was 409. A total of 725 licenses were granted in 2021 by the licensing of trust or company service providers under the Anti-Money Laundering and Counter-Terrorist Financing Ordinance. The number of licensees reached 6,711 by the end of 2021.
Entrepreneurship Culture Growing Strong in Hong Kong
To get an adequate understanding of the Hong Kong business ecosystem development, HKTDC Research performed a questionnaire survey and in‑depth interviews with local startups in mid‑2020. The survey findings were used to construct an analysis of the strengths and drawbacks of the startup ecosystem in Hong Kong, based on the six critical elements of entrepreneurship: culture, policy, human capital, support, finance, and markets. 
In recent years, the Hong Kong government has devoted significant efforts to advance innovation and technology development. It was suggested that R&D spending as a proportion of GDP be raised from 0.73% to 1.5% in five years or less during the policy address in 2017. Furthermore, upgrades R&D tax deductions would be granted to businesses.
To promote innovation and technology development, the SAR government has so far injected over HK$100 billion. This money is used to increase R&D resources, attract technology talent, provide investment funding, provide technological research infrastructure, review existing laws and regulations, open up government data, change procurement arrangements, and strengthen popular science education. Respondents were also happy to see the entrepreneurship culture developing and growing stronger. The survey discovered that many young and highly educated entrepreneurs characterize the local start‑up ecosystem.
Why Register Your Business in Hong Kong in 2022? 
Now that you know about the logistic changes taking place in Hong Kong, you might be wondering why so many business people are interested in registering a business in Hong Kong. Well, the answer is simple, the benefits! The Hong Kong business ecosystem offers enormous benefits that make it ideal for running businesses. Here are some of the top benefits that will make you register your business in Hong Kong! Let us dive deep into it. 
Strategic Location – The first and foremost benefit that the place offers is its strategic location. Hong Kong business formation can offer you a strategic location as it is located near China which plays an important role in accessing the Chinese market. Clearly, Hong Kong has taken multiple measures to position itself as a gateway to China with developments like The Hong Kong Innovation Circle, which encourages Chinese enterprises to perform scientific research in Hong Kong.
Ease Of Doing Business – Hong Kong is an effortless place to set up a business. One can set up your company in Hong Kong in around 3 to 5 days, which is the fastest any place would offer. This is not the only reason, another is that Hong Kong also has different dispute resolution channels that can be used by businesses, like ADR For Financial Disputes. Foreigners who wish to set up businesses in Hong Kong can quickly relocate by applying for an appropriate work visa.
Attractive Tax Regime – Taxes and policies are the primary concern for business people who wish to set up a business in a given jurisdiction. Hong Kong business formation offers business people relish working with one of the lowest tax jurisdictions on the globe. Due to the prevalent business culture in Hong Kong, there is a business-friendly tax and legal infrastructure.
Apart from the above-mentioned benefits, there are many others on the list but these are the top ones that really attract entrepreneurs. 
Need Any Help in Starting Your Company in Hong Kong?
Now that you have an idea about Hong Kong business statistics and the Hong Kong business ecosystem. You might want to start your business in Hong Kong. Without a doubt, the process with Hong Kong company registration requires your complete attention. To avoid any mistakes, you need to make sure that everything is done correctly. To ensure that the Hong Kong company registration is done smoothly, hire a professional.
Startupr is an expert in incorporating companies in Hong Kong. Also, the company offers a mail forwarding service in Hong Kong, which allows business people to work and manage their HK business from a different country. Feel free to contact Startupr anytime to get your queries answered!