Tips For Setting Your Own Hong Kong Employment Agency
February 24, 2023
If there is one way to promote growth, showcase scalability and eventually raise your company value, it is to expand your recruitment firm globally. Exploring new territories can assist your company in outperforming its rivals. That way, setting up your employment agency in Hong Kong can be the best decision for your business. 
Serving as an internationally recognized commercial and business hub, Hong Kong encourages new business establishments. Also, since the country has an advantageous tax system and access to great labor, starting a new employment agency is reasonably simple here. This article will help you understand the requirements of an employment agency in Hong Kong, and the application procedure to secure an employment agency license.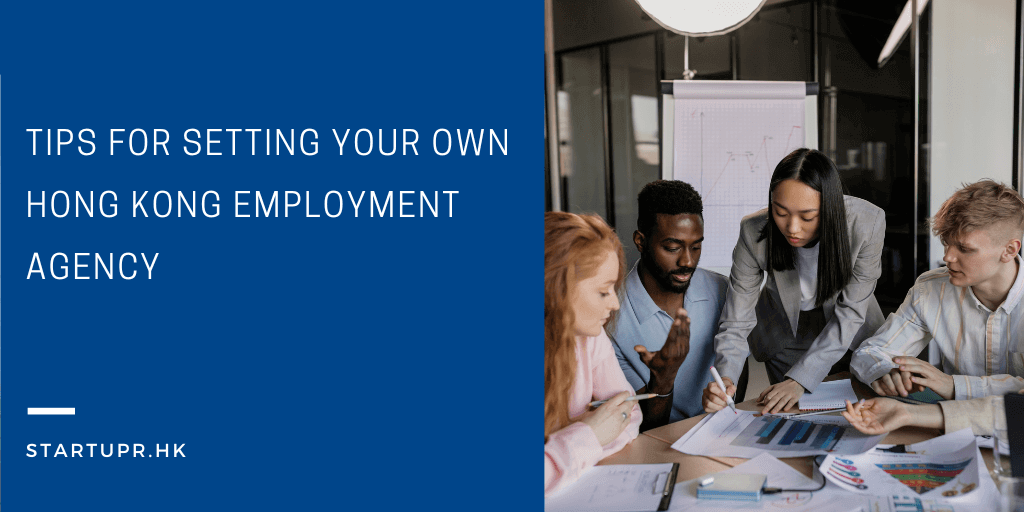 Employment Agency in Hong Kong
A CPO Magazine study of 2020 reveals that there are 3,148 employment agencies active in Hong Kong with a business license. Setting up your own licensed business will be your gateway to exploring the Chinese business market. Apart from having a well-connected network and expertise in the industry, there are a few requirements to fulfil before you establish your recruitment firm.
Understand Employment Agency
An employment agency helps in recruiting and staffing for other businesses. These entities can be public, private, or even functioning at the federal or municipal levels. The positions that they help hire may vary from full-time, and part-time to temporary or permanent. The data of every candidate's skills and work history are recorded and maintained. The work of employers becomes easy when they outsource their hiring processes to such employment agencies. This allows both employers and employees to experience flexibility in being associated with a particular business or candidate. 
Employment Agency License
It is important to apply for an Employment Agency License to ensure the proper establishment of an employment agency in Hong Kong. The Hong Kong Labour Department takes care of the issuance process. So, before you start the application process, you must know what the license requirements of the employment agency in Hong Kong are.
Who Requires an Employment Agency License?
An employment agency license is crucial for individuals and businesses handling recruitment operations. Employment agencies do not need to secure a license if they fall under any of these categories:
A company functioning under Merchant Shipping (Seafarers) Ordinance.
A company run by or for the Government of Hong Kong
A company run by employers, exclusively operating to hire employees for their business
A company under publication owners for charitable purposes
A company of contractors or subcontractors serving employers by supplying manual labor for construction purposes
An educational company exclusively working to hire their alumni
Also, it is important to remember that to be exempt from licensing, the agencies must have a Certificate of Exemption of License. This is also done through the Labour Department of Hong Kong.
When is the Employment Agency License Required?
A licensing requirement begins the moment you plan to launch your employment agency business. This is because job seekers in Hong Kong are advised to check the validation of an agency's license. If an agency is found to be handling recruitment services without a license, it may have to plead guilty before the Commissioner for Labor. 
Requirement For Employment Agency Before Applying For a License in Hong Kong
You must have a checklist of requirements to fulfill before proceeding with the license application. They include registering your business, nominating an agency operator and following domestic worker recruitment policies. Read on to understand each of them better.
Company Registration
If you need to apply for an employment agency license in Hong Kong, you must register your company with the Inland Revenue Department. This is a prerequisite no matter what type of company you run – partnership, limited, sole proprietorship or limited partnership. Another important criterion is that the company needs to be registered or incorporated in Hong Kong. The registration must be done with the Companies Registry (CR). 
Securing the Certification of Incorporation from the CR is a crucial step. Also, the way these criteria work varies depending on the business structure. For example, if a limited company needs to be registered with the Companies Registry (CR), the directors or chief officers must appear in person. Similarly, in the case of a sole proprietorship or partnership agency, the founder or operator must be involved in the application process (online registration is provided).
You can also get your company registered through our online platform, for any assistance, you can get the help of our experts as our unique SameDay technology double-checks all of your entries as you type them into a Companies Registry application, which we subsequently submit on your behalf to the governmental portal. Wondering if the name chosen by you for your company is available? Check here, we got you for that. 
Nominated Operator
The next requirement is to appoint a real person as the operator. This nominated Operator can have any number of associates perform regulatory activities under his supervision. An essential qualification of this operator is his Hong Kong citizenship. If he does not have permanent residence in Hong Kong, he must have an Employment Visa. This person can be the director or officer of the company, without any criminal history or records of bankruptcy in the past. 
Overseas Domestic Worker Placement
There are a specific set of regulations for overseas domestic workers, formulated by the Hong Kong government. The employment agency must verify if these helpers fit the criteria. The agency staff should also be active in recruiting overseas domestic helpers.
How to Apply For an Employment Agency License in Hong Kong?
Before beginning any kind of job placement business, the employment agencies in Hong Kong are first obliged to submit an application to the Hong Kong Labor Department for an employment agency licence. If the agency does not need a license, it is recommended to secure the Certificate of Exemption sooner. Here are a few steps you must follow to ensure a smooth application process.
Application Procedure For Employment Agency License in Hong Kong
The application process for an employment agency license in Hong Kong is straightforward. It just involves two steps, name approval and document submission. Read on to know how you can follow them.
Get Approval of the Proposed Name
Your employment agency must have a unique name. Its uniqueness depends on the following factors.
The name should not be similar to any of the competitors' agencies.
No infringement of other companies' trademarks is allowed.
The name should not have any controversial or offensive element in it.
After verifying if all the conditions are met, you can submit the proposed name for approval to the Hong Kong Labour Department. If any of the above conditions are not met, the board can reject your name.
Submit Required Documents
This must be done by the nominated operator or agency director. They may undergo a simple interview process at the Labour Department before submission. The following certified documents will be required to proceed with the application process.
Application form for Employment Agency License
ID cards and travel records of the nominated operator. The records should reflect no restrictions on overseas employment.
Articles of Association
First secretary and Director's notification
Notification of changes in secretary or directors, if any
Nominated Operator's appointment confirmation
Things You Should Consider For Employment Agency License Application
Apart from the requirements of a license application, there are other factors you must keep in mind. These include understanding how much time the application will take to process, what happens if your documentation is rejected and when to apply for renewal.
Compilation Time
After your documents are verified and require no more revisions, your application process will need just 3 – 4 weeks to complete. The verification is done by the Labour Department of Hong Kong upon your submission. If all goes well, you will receive your employment agency license in hand with a year's validity. You will be required to display this document inside your company as long as you operate.
Rejection Handling
The Labour Department will usually approve accurate document submissions and applications. But if your application is rejected for any specific reason, you must seek an appeal by approaching the Administrative Appeal Board of Hong Kong's Labor Department in 28 days.  
Renewal
The validity of your employment agency license will expire 12 months from the date of operation. You must renew it 60 days before the expiration date. The renewal process requires you to submit the following documents and a fee of HKD 2,000.
A duly filled application form
Proof that no bankruptcy charges have been claimed
Consent to run a criminal background check
Business Registration Certificate
Obligations of an Employment Agency in Hong Kong
Here is a list of non-negotiables you need to follow after you have been issued an employment agency license in Hong Kong.
All the laws of the Hong Kong government must be followed with due diligence. Employment Agency Regulations, Employment Ordinances, Prevention of Bribery Ordinances and Immigration Ordinances are a few of the mandatory regulations.
Job seekers must be given authentic guidance regarding employment rights in Hong Kong.
The agencies must adhere to the Code of Practice formulated by the government.
Well-defined service agreements between employers and job seekers must be in place. Any payments received must also be included.
Choose Startupr to Register Your Company in Hong Kong Today!
Although launching an employment agency in Hong Kong is simple, it can be overwhelming to document and track all the records on your own. This is why you can seek the assistance of an expert incorporation service provider like Startupr. With our customized services, you can now do anything from opening your business bank account to having a registered office address, in a single platform. If you want to know more about registering your company with Startupr, contact us right away!