6 Must-Know Tips For Doing Business In Hong Kong
August 31, 2022
Are you starting a new business in Hong Kong? Or Do you want to know what business benefits Hong Kong can offer you? If yes, then the article will guide you to various benefits of doing business in Hong Kong, challenges of doing business in Hong Kong, and Hong Kong business tips. Keep on reading this article to learn it all.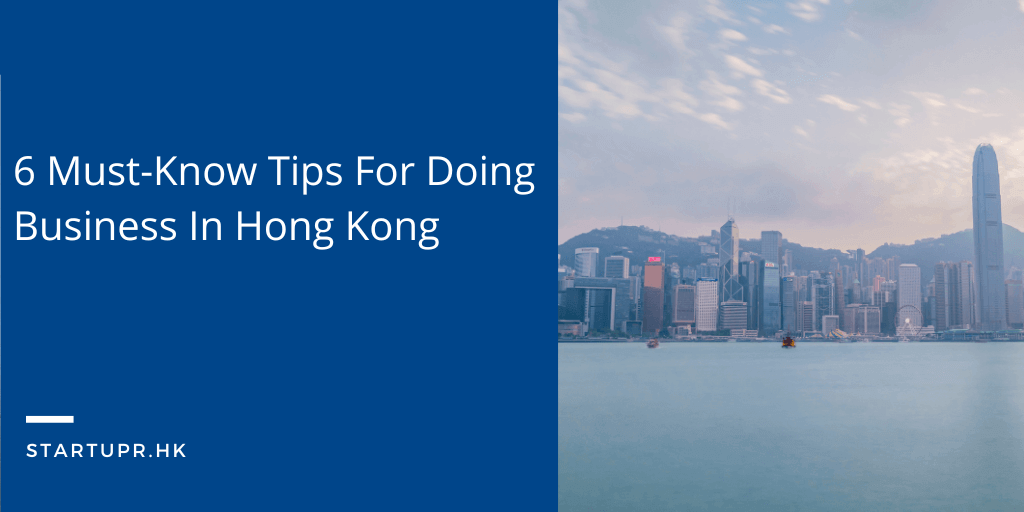 Doing Business in Hong Kong
Doing business in Hong Kong is much easier than in many other countries. You must have an understanding of the business environment in Hong Kong and what benefits it offers. Let us dive into that.
Understand the Hong Kong business environment
Hong Kong is a unique worldwide passage that associates local and foreign investors with the Chinese market. The valid justifications for why this dynamic city is not the same as the others are given below,
It has a unique position on the map, making it the ideal area to develop your organisation as it is effectively placed within a significant business city. It is placed as the "World's Freest Economy" because of the seamless company formation. Hong Kong has a tax regime with a low and simple tax rate framework. It has competitive and highly advanced telecommunications and cheap yet proficient transportation. The city has a strong workforce that is exceptionally trained, skillful, useful, and well-versed in English. 
What you have read above is just a basic walkthrough into a genuine business. Below are the benefits that will help you nail your business in the Heart of Asia.
Benefits of doing business in Hong Kong
It is not easy to set up a business just anywhere in the world. You need to make sure that your work location offers you various benefits. Doing business in Hong Kong can offer you tons of benefits. Below are several highlights of the benefits of doing business in Hong Kong. 
Prudent Location – Hong Kong is viewed as the core of the Asia Pacific. Its location is close to Mainland China, one of the world's most elite business sectors. There are an enormous number of every day flights between Hong Kong and significant business centres of the world, meaning financial specialists get more opportunities to incorporate their business.
Free Economy – Hong Kong is the world's freest economy, per the Index of Economic Freedom 2019. In Hong Kong, foreign investors have a lot of advantages thanks to its free trade policy, no restriction for onshore or offshore investment, free movement of capital, no tax on products imported or exported, and no unfamiliar trade controls.
Simplicity and Ease Of Doing Business – Hong Kong is ranked third in the "Ease of Doing Business" by the World Bank, following the second position of Singapore. This high ranking has mirrored a few decent parts of Hong Kong, particularly the smooth, streamlined, and time-saving company formation process. One can set up a Hong Kong organisation within 24 hours.
Tax – One of the biggest attractions of Hong Kong is its tax system. When you do business in Hong Kong, tax is applied on only the income derived from the country. Three primary kinds of tax in Hong Kong incorporate the profits tax, salaries tax, and property tax.  Hong Kong follows the two-tier profits tax system; the principal HK$2 million of assessable profits for the two enterprises and unincorporated organisations is just charged at one-half of its ongoing tax rate.
Challenges of doing business in Hong Kong
Regardless of these benefits, Doing business in Hong Kong also has its own share of challenges. Given below are common challenges that are faced by the business people in Hong Kong:
Culture – Due to a large Chinese population, culture can be one of the major challenges faced by many. 96% of the population speak Cantonese which is the main language, followed by Mandarin at 48%, and 46% of the Hong Kong population can speak English. It may be necessary for people to get familiarised with Chinese culture in order to carry out their businesses smoothly. 
Market Saturation – Hong Kong is one of Asia's most prominent business centres, and a large number of business visionaries decide to put resources into Hong Kong. Thus, the Hong Kong market is pretty much soaked, intending that there are now countless services or products on the market. Except if you are offering a genuinely new thing, it might potentially be hard for new organisations giving similar items or administrations as the generally existing organisations in Hong Kong to lay out a business presence. Therefore, one must really have a unique product in order to succeed. 
Must Known Tips for Doing Business in Hong Kong
Now that you have learned all about the tips for doing business in Hong Kong. Given below are the tips you should take note of when starting a business. 
Learn about the business culture and etiquette in Hong Kong – It is important to learn the etiquette of a particular area. Doing business in Hong Kong will also lead you to learn its etiquette. In Hong Kong, people enter a meeting in order of importance; the highest ranking person arrives first, and so on. The same goes for introductions. Do your best to be punctual, and be sure to give an apology for your delay or if you are late. Negotiations must be keen and shall not offend a potential business partner. 
Establish a strong network of local contacts – It is important to start by building a network if you are doing business in Hong Kong. Networking doesn't stop at handing out and collecting business cards. It's about connecting, establishing, and building mutually beneficial relationships for you and others. One can ask for referrals, tap into the local community, and attend events to network more. 
Be prepared for a competitive business environment – For you to progress in business, you should be in consistent touch with your cutthroat competition. You want to ensure that your actions match the developing client's assumptions. This is not exactly simple or easy. You can't adjust your strategy to address the issues of the changing business sector elements except if you see them correctly. Therefore, when doing business in Hong Kong, be prepared for a competitive business environment. 
Understand the legal system and regulations that govern business in Hong Kong – When doing business in any field, it is important that you understand the legal system and regulations that govern business in Hong kong. Business law is a very broad area of the law. It predominantly addresses matters related to the innovation of new businesses, which arise as existing companies deal with the public, government, and other companies. 
Invest in local talent to help grow your company – By investing in training and education, businesses are forming a younger pool of 'wider talent' to reduce pressure on existing trained resources. This strategy is valuable in developing regions. By tapping into and upskilling this population, businesses can widen their talent pool and assist with economic development in these regions. Numerous business investors should consider this a major part of doing business in Hong Kong. 
Make sure you have a good understanding of financial and accounting principles – Wondering what Accounting Principles are? Accounting principles are the rules and guidelines companies and other bodies must obey when reporting financial data. Being a newbie, it is important to have complete knowledge of the accounting principles when doing business in Hong Kong. Learning these rules makes examining financial data easier by standardising the terms and methods that accountants must use.
Get Started Your Business in Hong Kong Today!
Now that you know all the major benefits of doing business in Hong Kong and the challenges of doing business in Hong Kong. It is time to make a note of the above tips for doing business in Hong Kong and get started. Startupr can assist you in making your dream business come to reality easily. We at Startupr have expertise in forming businesses  in Hong Kong and many other services. Get in contact with us now to learn more!