Company Formation in Hong Kong from the UK
June 26, 2019
Do you have an establishment in the UK? Thinking about launching a new business in some other overseas countries to make a global presence? Or perhaps, do you want to grow your business beyond the boundaries of the UK? Why don't you think about Hong Kong? This place would be the best choice when any businessmen want to have an impressive development in business. 

Even though while setting up a business in the UK, you will experience maximum benefits, Hong Kong rules and regulations will help you to reap utmost benefits so that you can operate your business without any legal system problems.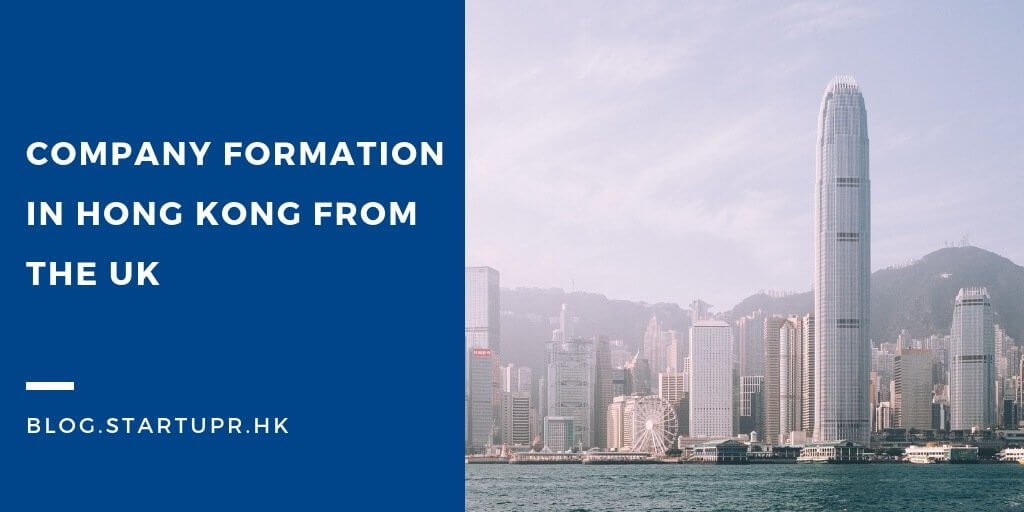 Hong Kong is one of those many places where East proverbially meets West, a synergy of ethnicity and foreign practice. What's more, Hong Kong is following a principle of 'one country, two systems,' which gives the city a high level of autonomy. 

Eventually, the Hong Kong government is responsible for several factors such as immigration, customs, legal systems, and police forces policies. The best part of incorporating the business in the freest economy of the world- Hong Kong is that place in the world where the official language to handle various rules is English.

So, while company formation in Hong Kong, you don't have to suffer just because of language. And that's another reason why HK is known as an interesting place for everyone's dream plan. 
Why do you need to start a business in Hong Kong from the UK?
Are you serious about setting up your business outside of your national barriers, UK? If so, then let's have a look at some reasons to start scouting Hong Kong for an office:
Mainland China's Gateway
Over approximately 150 years, Hong Kong has been nominated as the best place for the business owners who want to have access to embark their business in Mainland China.

Moreover, there is a special provision given to Hong Kong businesses such as courtesy of the free-trade Closer Economic Partnership Arrangement, and exports to China are tariff-free.
World-Class Infrastructure
Hong Kong is also famous for having a world-class infrastructure for company formation. With more than 85 airlines are operating out of Hong Kong International Airport, (world's fifth-busiest international passenger airport), resulting in the city in a global hub. This place is also remarkable for having an e-ready economy in the world, as per the Economist Intelligence Unit.
 Business-Friendly Tax System
Taxes are one of the most important factors that make every entrepreneur in the business world worry. If you are the one who wants to have a sense of relief from this particular factor, then Hong Kong is the perfect option for you.

In Hong Kong, you only need to pay 16.5% as a corporation tax (8.25% for the first $2mil HKD in profits, 16.5% thereafter), and income tax at 15 %. That's why the Hong Kong tax system is clearly in favor of business. You no longer have to worry about taxes on capital gains, offshore income, inheritance, and even wine or beer during company formation in Hong Kong.
Global Financial Centre
Another connected reason for company formation in Hong Kong is to enjoy the benefits of having a business in the global financial center. And you must be pleased to know that Hong Kong is known as the best global financial hub for the investors and business owners.

As per the most recent report of Global Financial Centres Index names, Hong Kong has been nominated as one of the world's top four financial hubs, alongside London, New York, and Singapore.
World's Freest Economy
Since the foundation of Index of Economic Freedom since 1995, Hong Kong has been ranked on the number one position as the freest economy in the world.

Due to this, Hong Kong is famous as an ideal place and liberalized economy to build and sustain an enterprise, with preferable investment options, movement of goods, and climate for trade.


Hong Kong Government Support
By now that you must get a better idea about why several enterprises are spending their hard earned money for company formation in Hong Kong. Undoubtedly, the company formation in the UK is also bringing benefits to the business owners, but still, in order to make awareness for the establishment, Hong Kong would be your best choice. So, this part of the section will let you know about the support of the Hong Kong government for the entrepreneurs.

As stated earlier, the Hong Kong government is responsible for several factors such as immigration, customs, legal systems, and police forces policies.

So, let's discuss this factor in a more detailed manner-

Over the past 20 years, Hong Kong has been successfully able to maintain a constant growth of their economy, which resulted into the expansion of their cities exactly doubled in size, with GDP growth at an average annual rate of 5% in real terms.

Well, the government of Hong Kong basically follows a strategy of "big market, small government, " which means that the state has limited power and that individual rights are protected.

Hong Kong is also doing a brilliant job in developing the trading system. The total trade of Hong Kong is nearly divided between imports and exports system, and its dominant markets are the US and China. In short, Hong Kong handles China's foreign trade by more than 20%.

Several associations such as Invest Hong Kong, the Hong Kong Productivity, and the Hong Kong Trade Development Council are imparting their full efforts and energy in order to assist the business trade of Hong Kong, supporting the country to remain competitive in the world market. 

Along with this, an additional body, the Hong Kong General Chamber of Commerce is also playing an important part in the promotion and support of business interests and integrity. This chamber is also known as the world's largest chambers for supporting the interests of business owners.

As a part of the evidence of the United Nations' latest World Investment Report, foreign investment has grown in Hong Kong. Due to this report, it has paved a way for Hong Kong to become the second largest recipient of foreign investment in Asia, after China, and the 6th largest recipient in the world. in the same report, it has been proved that Hong Kong is the primary locations in the 'Inward FDI Performance Index'. 
Company Formation from the UK to Hong Kong
Being a dream place of several individuals, and entrepreneurs, the UK has attracted several investors to invest their money. That's why it has become one of the finest centers for business trading among business people.

In fact, strong governance, well-implemented rules and regulations, well-equipped infrastructure, and fundamentals facilities have made this place a favorite destination for office location of people across the globe.

So, if you want to set your business in the UK, you can register your company via online or post by just submitting the necessary form. Moreover, you can also appoint a professional agent or third-party software for preparing your documents.

Since business people in the UK have a wide range of options for selecting the type of their business structure, similarly, in Hong Kong, they can set up their business as per the objectives and goals.

The process of business registration in Hong Kong is straightforward and inexpensive too. The company formation in HK is commonly used as a fast gateway to doing business in China and Western Countries.

However, the most pertinent difference between the corporate regimes of the jurisdictions of the UK and Hong Kong is the corporate income tax. The tax rate in the UK is higher as compared to that in Hong Kong. That is 20% versus 16.5% (8.25% for the first $2mil HKD in profits, 16.5% thereafter) or 15% for unincorporated businesses.
The Facts and Procedure for Company Incorporation in Hong Kong
Here we will let you know about the facts and procedures for the company incorporation in HK. 

As we all know that 'Time is Money', and more importantly, 'half knowledge is always dangerous,' keep on reading to know about the procedure so that you will stay away from the problems.

Hong Kong is one of the most popular jurisdictions for setting up a company because of the following benefits-

Low tax regime
Political, and economic stability
Absence of foreign exchange controls
Ease of offshore company setup.

Let's dive into the part to get more insights about incorporation facts of Hong Kong Company.

Name of the Company
First and foremost thing that you need to do for venturing a business is to propose a unique name for your organization. But before the incorporation of your business in Hong Kong, it must get approved by the Companies Registry.
Directors
The minimum limit for directors is one, and the maximum limit for directors is unlimited. 
Directors can be of any nationality (Hong Kong residents or non-residents).
Directors can be a natural person or corporate body (minimum one natural person). 
Nominee directors allowed.
Shareholders
The minimum requirement for the shareholder is one, while the maximum limit is 50 for private limited company. 
Shareholders can be of any nationality (Hong Kong residents or non-residents).
Shareholders can be natural persons or companies, or sole director of the company. 
Nominee shareholders allowed.
Company Secretary
As per the law, it is mandatory to hire a company secretary.
A Company secretary can be a local individual or TCSP Licencee.
Any sole director can't play the role of the company secretary.
Registered Address
It is also mandatory to have a local address for the incorporation of Hong Kong company. Business owners may use the agent's office address for register the company and receive Government mails.
Share Capital
the share capital can be deposited into the company's bank account, but this is not compulsory.
No bearer shares allowed.
Taxation
Business entities are not reliable to pay a corporate tax in Hong Kong as long as the income is derived outside of Hong Kong.
Only income "derived from or arising in" Hong Kong is subject to a corporate tax rate of 16.5%.
There are no VAT, sales tax, or dividends taxes in Hong Kong.
On-Going Compliance
All the companies are required to follow all the requirements of ongoing compliance for Hong Kong including the following-

Company account's annual audit;
Filing annual returns with the Companies Registry;
Intimating the Companies Registry of any changes to the company or its members;
Holding timely AGMs;
Renewing business registration certificate;
Filing Profits tax returns with the Inland Revenue Department;
Maintaining company records, accounting records, and other business documents;
For details refer to Annual Compliance and Filing Requirements for Hong Kong Companies, browse here.
Incorporation Process for Hong Kong Company
Now, the turn comes for getting brief insights about the incorporation process for the company formation of Hong Kong. Well, the procedure for company formation in Hong Kong involves two distinct steps-

Company's Name Approval- The name of your Hong Kong company must be unique, and approved by filing an application with the Companies Registry.

Documents Required- All the business owners are also required to submit the following documents for incorporation:

Hong Kong company's Articles;
Hong Kong Incorporation application form;
Copy of valid passport, national identity card, and residential address proof, for all natural person directors and shareholders.
Copy of parent company registration documents for corporate directors or shareholders.
It will normally take 3 to 5 business days for processing the application and incorporating the Hong Kong private limited company. 
Once your Hong Kong company is incorporated, you need to pay attention to the following formalities-

Open a Corporate Bank Account:
While setting up a business in Hong Kong, you will come with a plethora of options of banks with whom you can launch a corporate bank account. Although some banks require you to be physically present while opening an account, some others don't ask for it. 
Apply for Business Licenses (if required)
If you are planning to have business operations in Hong Kong which some business activities may require a license. Before embarking into business operations, please refer to our webpage to find out what types of business activities require a business license in Hong Kong.
How can Startupr Help you?
Startupr is TCSP Licensee No. TC003638 of Registry for Trust and Company Service Providers, Companies Registry

Now that you get a better insight into why you should form a company in Hong Kong from the UK, about the facts and procedure for the company formation in Hong Kong- a financial and global hub of business. Moreover, you must understand why several people are setting up their dream project in the freest economy of the world.

Are you ready to set your dream project in Hong Kong? 

Let Startupr help you in handling all the compulsory procedures in Hong Kong. As we all know that every business owner needs to appoint a company secretary for their business. In fact, there are several reasons for choosing us-
Our actions are Prompt and Quick
Since everybody wants a quick and prompt response, but in the business sector, it becomes even more pertinent. We understand all your needs, come up with our unique same day check system and ensures that all the information is checked on the same day as it is entered in the form.
Affordable Rates
The best part about our services is that we offer our services at the best prices, our rates are comparatively lower, due to the efficiency of the system. Because we always communicate directly with the clients in a reliable way so that there will be no mishap.  The prompt and orderly arrangements leave you more time for your own business.
Advanced Technology
Backoffice, our system will help you to keep track of all your company's details and required filings, all in one place so that you can remain updated with any new developments. 

In short, our creative, and flexible approach, unwavering focus on client's satisfaction, transparent pricing will help to provide you the best services possible. Contact us today so that you can help you!