Choosing the right business location: Consider these tips
July 17, 2019
Ecommerce business is the best way to reach out to the maximum amount of global clients with the privilege of flexible timings and 'work from home' option. Known to be the best place to have a large e-commerce sector, Hong Kong caters various opportunities to businesses from media to electronic goods to other miscellaneous items.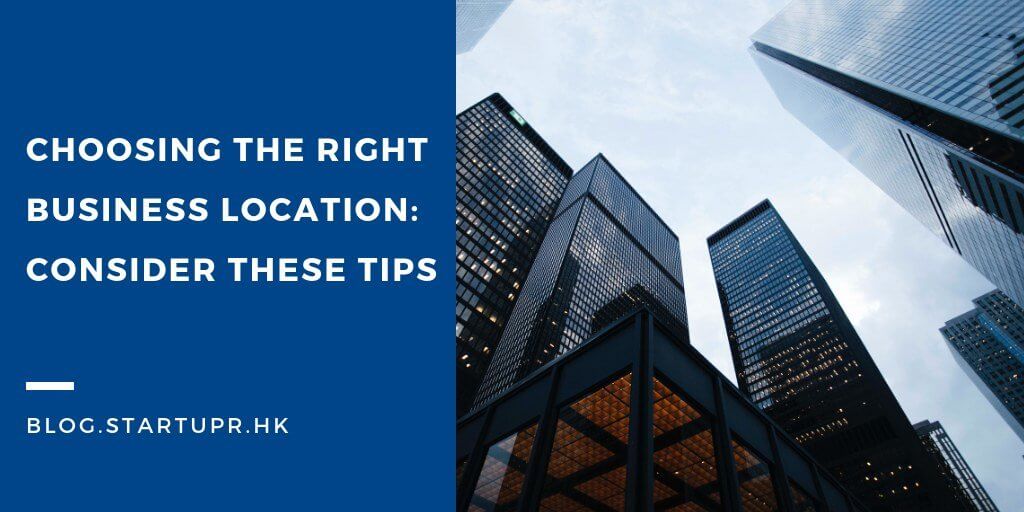 These sectors include personal items from toiletries, care products, and investment opportunities via B2B transactions to vast markets. Based on the reviewed statistics from Statista shown by yahoo News revealed that Hong Kong is ranked on number 15 as per the UNCTAD B2C E-commerce Index 2018, which is quite impressive compared to other Asian countries. This shows that Hong Kong's economy is growing faster than in other developing countries.

Since the heavy taxation scheme of the company's base location could make a path for the failure, but in Hong Kong, business owners don't have to pay attention to this factor. Hong Kong has been encouraging business companies to develop their business with better taxation rates, and substantial client base of the country. 

Choosing Location for your Business

An organization's place of business is that particular place where they are luring its customers to evaluate and receive their products or services. Well, this factor may not be valuable for several business owners, if they are running a virtual office.

But still, whether you have a virtual business or running a brick or mortar business, you need to select a perfect location for your business. This is the place where you can actually gain the trust of your customers and even increase your business networks.

However, selection of business space is not a simple procedure. You have to come across different situations. Before you start looking for the business space, you need to present a clear picture of your business. What do you want for your business? What would you like to have? And what you absolutely won't tolerate? And last, how much you're able to pay.

Indeed, it will take time to develop a clear picture of your business and then choose that place in this competitive world. But still, this process is exciting too, so it's essential you give it the attention it deserves.

If you are also serious about choosing a perfect location for your business like some companies who have set up their company in Hong Kong and achieve success, then this article will help you.

Tips for Choosing the Right Business Location

Be systematic and realistic as you consider the following location points.

Demographics
The first and foremost factor that you need to pay full attention to is the demographics of the place. This particular is divided into two angles, especially for first-time business owners. Firstly, you need to consider who your loyal customers and how essential their proximity to your company's location is.


After having a look at this factor, the next thing you need to take care of your community. If you are targeting the local customers for your business, then you need to check these questions-

Do the local customers are matching your customer profile in order to support your business?
Does the local community have a stable economic base to provide you with a healthy environment for your business?
When considering the communities for your business, you need to pay full attention whether these are primarily dependent on a particular industry for their economy; a downturn could be bad for business.

Competition
While selecting a location for your business, you are also required to look at your competitors so that you could have an idea of how you will beat them. Your research for a specific location for your business is not limited to check how essential your customer's proximity to your company's site is.

Your business proximity to other competing businesses could play an important role to earn your brand reputation in the marketplace. And then ask yourself this question- whether they are offering various benefits to your business or causing a hindrance?

Setting up an establishment in that area where there is too much competition, then it may be a warning sign to expand your horizons to a new location. However, this factor is also dependent on the type of business.

If you are running a car dealership business, then you must want to be surrounded by your competitors as customers compare and choose the best car deal, hence their close proximity.

Furthermore, if you have an element of your offering that is unique and innovative, then it could be an ideal way for your business to choose an area that already has a ripe market so that your customers very quickly and establish a presence in a new area in a relatively short time frame.

And if you are thinking about setting an e-commerce business in Hong Kong, then it would be better to choose Hong Kong for your business. With its peak broadband speeds and low internet censorship, Hong Kong has a highly developed infrastructure for online companies.  

The place is also coupled with a population obsessed with convenience, mobile phones, and shopping, and you've got the perfect breeding ground for an online shopping platform.

Look for the Workforce
The next thing that you need to consider before choosing a place for your business is the workforce. Do proper research work about the skill base in the selected area and then figure out whether they can fulfill the needs and requirements of your business. Also, take into account employment rates as well.

If your business relies on a skilled workforce, then it would be better for you to choose that place where there is a high bank of talent. Over time, employees have become a greater asset of the organization; therefore, selecting a location that is lacking the required talent may be the start of your business downfall.

And if you choose Hong Kong for your business location, then you will be pleased to know that ample expertise and skilled workers surround this city. Here, employees are generally considered to be hard-working, competitive, and are continually seeking to improve themselves.

Potential for Growth
The next factor that you need to concentrate while choosing the best place for your business is to look at the potential for the growth of your business. And ask yourself- whether the premises will be able to support the growth of your business or a spike in demand? Shifting your business from one place to another is a big change for every business owner and sometimes can be quite time-consuming and expensive.


Accessibility and Parking
Another connected pillar for choosing the right location for your business is to check the accessibility for your business and parking spaces. Consider how accessible the facility will be for everyone who will be using it, whether they are your customers, suppliers, and employees.

And if you are thinking about setting a business on a busy street, then check the status of parking over that place.

How easy or difficult is it for cars or two-wheelers to get in and out of your parking lot?
Also pay attention to the disabled people's accessibility? Are they able to get the things which they want?
What kind of deliveries are you likely to receive, and will your suppliers be able to deliver or get the materials quickly and effectively to your business? As a matter of fact, the small-package couriers need to get in and out quickly; trucking companies need adequate roads and loading docks if you're going to be receiving freight on pallets.

Apart from this, also figure out the answers to these questions-

Is there any particular time or days of services and access to the locations which you are considering.
Do you need to keep the heating and cooling systems left on or turned off at night and on weekends?
Are they offering you the spare keys to get inside an office building, when you need to do some urgent work?
Renting a beautifully infrastructured office building at a high price is not a good idea if you are planning to work on weekends. So, you can also look for coworking spaces in Hong Kong in order to cut down your expenses and leverage your business networks.

Image and History of the Site
What does the address of your business depict about your company? If you are targeting a local market, then you need to be more certain about the location of your business. Does the location accurately provide the users with a perfect image of your project?

To find out the answer to this question, it would be a great idea for you to have a look at the history of the site. Consider how it's evolved over a period of time. You can also ask about their previous tenants.

For example- If you are opening a restaurant where five hotels have already failed, then you may be starting off with an insurmountable handicap. The reason can be the location or the public who don't like visiting restaurants. So, if several kinds of companies have been there and failed too, then do proper research work about this particular factor.

And then find out what was the problem, businesses, or the location? That previous occupants have been wildly successful is undoubtedly a good sign, but temper that with information on what type of companies they were compared to yours.

Utilities and Other Costs
And last but not least, the factor which plays an important role while selecting the best location for your business is utility and other business expenses. Although the rent composes a significant portion of your ongoing facilities expense, you also need to consider extras such as the utilities- they are also included in some leases but not in others.

If you are not asked for including the utility in the rent of your space, then do ask the utility company for a summary of the previous year's usage and billing for the site. Moreover, also figure out the kind of security deposits the various utility providers require so you can develop an accurate move-in budget. On the other hand, your company may not need to deposit any further fee, if you have an established payment record with the company.

Apart from these utilities, you are also required to ask for these questions-

Do you have to pay extra for parking?
What are insurance rates for the area?
Consider all your location-related expenses, and factor them into your decision.

Conclusion

By now that you must have gathered various ideas and tips while selecting a particular place for your business. There are several business owners in the world, who think that they can achieve success in any location in the world. But trust us, this is not like that. You have to think about all these tips mentioned above and then look for the perfect place where you can set up your dream project.

As we all know that a perfect business location is different for every company, and covering these crucial areas will certainly give you the best chance of beating the odds and keeping your business on track for future success.

However, in Hong Kong, you will come across several opportunities while launching up the business. Whether you want to set up a restaurant, cafe, or any other sort of business, you will need to appoint professionals.

And as a one-stop service provider for company formation and company services in Hong Kong, Startupr offers an array of services to fit your business needs and provide a convenient way of starting a business in Hong Kong and managing it online for new entrepreneurs. For more information, contact us!